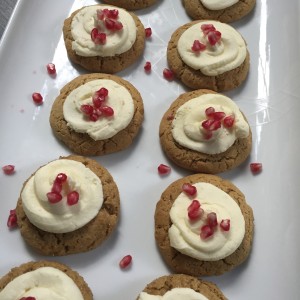 Have you ever heard the phrase "trial and error"? It  certainly could  be more positive than that as it leaves you with the feeling "try this and you will fail". I think it should be called "trial and error until you succeed"! Such is the case with these amazing cookies!
They are a take on the traditional molasses cookie, but with a twist. They are made with Pomegranate Molasses. Since I've been in London I have dined at many Middle Eastern restaurants and this is a staple in their cooking. It is naturally sweet and tangy with a beautifully rich color. It is made from a reduction of the pomegranate fruit. It takes me back to our pilgrimage to the Holy Land. There were loads of stands where you could buy freshly squeezed pomegranate juice made right in front of you. So delish and refreshing!
Even though I have a wicked sweet tooth, if I can incorporate some healthy element into my baking I will. And adding some pomegranate which is loaded with antioxidants just might off set the decadent vanilla butter cream topping!
It took a bit of 'trial, error and success' to get the ratio of ingredients right in this recipe. The pomegranate molasses is a major flavor yet you have to make sure it is balanced with the spices. And that is what we have here…I think you will agree.  If you make these it's possible you'll go straight from trial to success and skip the error all together!
Ingredients:
2 cups flour
2 tsp baking soda
3/4 tsp ground ginger
3/4 tsp cinnamon
½ tsp kosher salt
1 egg
½ cup (1 stick) butter, melted
⅓ cup pomegranate molasses
¼ cup granulated sugar
¼ cup packed brown sugar
demerara sugar for rolling
Optional: Vanilla butter cream and fresh pomegranate seeds
Method:
Preheat oven to 375F
In a small bowl, whisk together flour, baking soda, ginger, cinnamon, and salt.
In a large bowl, combine melted butter, egg, pomegranate molasses, and sugars and beat until incorporated.
Add dry ingredients to wet and mix until just combined.
Chill dough for 30 minutes.
Scoop dough by the tablespoon and roll in demerara sugar.
Put onto parchment-lined baking sheets at least two inches apart as dough may spread. Bake for 8-10 minutes, until cookies crack on top and are set around the edges.
Remove to wire racks to cool.
When cool top with vanilla butter cream frosting and add some fresh pomegranate seeds for garnish.
In successful love,
YDP