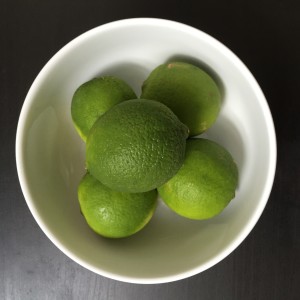 Have you ever heard that song by the Carpenters called "Rainy Days and Mondays"? Well today was both of those days in one! I had every intention of getting a multitude of things accomplished and life had other plans, which included some limes. But I was bound and determined not, as the song suggests, to let it get me down!
The story goes that I took our dog Stella out for a short walk to do her biz, and since one of the things I had planned to do was go to the gym, I was dressed accordingly. I didn't bring my phone or purse,  just my keys and away we went. We got back home and when I put the key in the door it neither opened the door nor came out of the lock. It was literally frozen! I worked away at it for quite some time before I realized I was up a paddle without a creek!
Lucky for me I tend to think solution rather than problem. And also lucky for me that the property management office is nearby. So I went over to get some help. Their handyman couldn't budge the key either! Next step, locksmith! But on a Monday morning the wait was a bit long (it took nearly 3 hours for your man to arrive). Because it was raining at this juncture Stella and I  couldn't go for a long walk (in lieu of a workout), so we had to just hang out. No reading material, nothing to do but chill out sitting by the front door. Not a bother, 'cuz I never ever get bored. I'm not joking, I can entertain myself for hours. For instance, I love to do some "mental time travel" thinking about the future, or reminiscing about the past. I also play word games where I take a word and think of all the other words you can make out of it. Last but not least there is always the old stand by, people watching…its amazing, but I think when you grow up poor you're forced to be creative with next to nothing!
I wasn't fussed or stressed but the fella at the property management was so worried about us. He never let his emotions show but I could tell by his behavior. For example, he gave me a tenner to get some brekkie (Stella had eaten before our walk but I hadn't)  at the local cafe. Then he kept coming back over to the house to check on us and offer some sort of comfort (the use of his phone etc). I realized that there was nothing that my stressing out would accomplish so I accepted things. And I knew the day wasn't going to be like I had planned. But oh well!
The good news is, I'm back inside and back in action at the computer typing away. The locksmith earned his pay doing some major surgery on the door. He had to cut the key and and dissect the whole lock. The culprit was a very tiny magnet that goodness knows how but lodged itself in the lock.  How long had it been in there he couldn't say,  but today, on a rainy Monday, it decided to keep us locked out!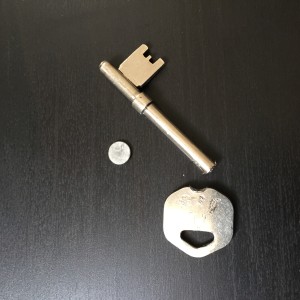 While I was waiting, I thought about a billboard I had seen in Dublin not long ago. Not only did it make me SMILE, but I played my word game and noticed that if you move the letters around a bit you get another word all together, LIMES.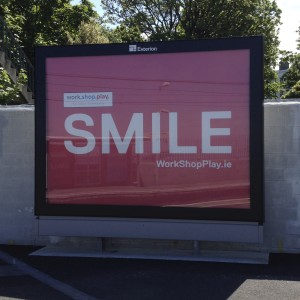 Now I'm about to offer up some total stereotypes, but just go with me here… in tough times the English are known to cope with a "stiff upper lip", American's tend to let the emotions flow, but I love the Irish mentality….when faced with struggles, they tend to smile and say "Sure it'll be GRAND!"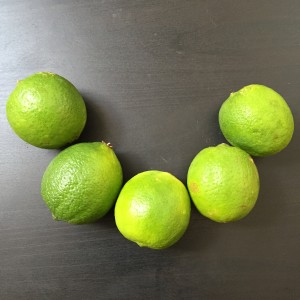 So today, I am taking the LIMES life gave me and re-arranging them into a SMILE! And as a thank you to the fella at the property management office, I am baking some Lime Squares! I'm not kidding you, along with a good cuppa these indeed taste grand!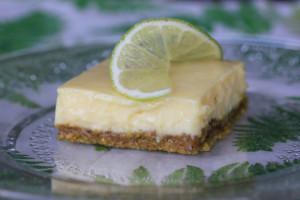 Ingredients
For The Crust:
4 tablespoons (46 g)  unsalted butter, melted and cooled, plus more for pan
2/3 cup (about 80 g) shelled pistachios
1 cup (4 ounces/118 g) graham-cracker crumbs, or you can use digestive biscuits (these can also be made with gluten free biscuit crumbs)
1/4 cup (54 g) sugar  (I use caster sugar, but granulated is fine too)
1 tablespoon grated lime zest (about 3 limes)
For The Filling:
2 large egg yolks
1 can (14 oz) sweetened condensed milk
1/2 cup (4 oz) fresh lime juice (about 3 limes)
Preparation
1. Preheat oven to 350 F/180 C degrees. Brush an 8-inch square baking dish with melted butter. Line bottom with parchment paper, leaving a 2-inch overhang on two sides.
2. In a food processor, finely grind pistachips with graham-cracker crumbs, sugar, and zest. Blend in butter. Press mixture into bottom and 1 inch up sides of prepared pan. Bake until lightly browned, 8 to 12 minutes. Cool crust, 30 minutes.
3. To make the filling: In a large bowl, whisk together egg yolks and condensed milk. Add lime juice; whisk until smooth. Pour filling into cooled crust; carefully spread to edges.
4. Bake until set, about 15 minutes. Cool in pan on rack; then chill at least 1 hour before serving. Using parchment paper overhang, lift out of pan, and transfer to cutting board. With a serrated knife, cut into 16 squares, wiping knife with a damp kitchen towel between each cut. (Recipe adapted from Martha Stewart)
You've got the key to my heart,
YDP