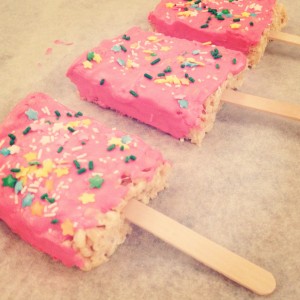 While I have never actually been to beauty school,  I clearly would have been a drop out.  I love being a feminine female and getting dressed up from time to time it's true.  But since I changed careers from entertainment to the food business I don't get the opportunity very often anymore.  And when I do it's tough since I own very little in the way of make up and fancy clothes.  But one thing I do for a treat is get my "hair did." And though my hair has had many different styles over the years, as evidenced by this video taken at my son's wedding, the color has pretty much been the same.
Though a "toe head" blonde as a child, I eventually grew up to be an auburn brunette.  I always thought that I looked a bit out of place in California with light blue eyes, pale skin and darkish hair. Then I went to Ireland and fit right in.  But even when I lived in California I never had a desire to go blonde.  And when I started to get grey hairs and my friends and even my hair dresser urged that going lighter would help to conceal the grey, I resisted.  I think, like many things,  it stems from my childhood.
My mom was what you would call a bottle blonde.  A bleached platinum blonde.  But because we were poor she couldn't go to the hairdressers.  So she did a DIY deal at home, late at night, while she was in the bath.  But she would call me in during the wee hours to get to the back of her head that she couldn't reach.  I did the best I could with my little girl hands, but I never liked it.  It was the way it smelled and the fact that it hurt my fingers, since we didn't have rubber gloves.  And I would usually get teased when I went to school the next day.  Not from the dark circles under my eyes from being kept awake because of the bathroom beauty salon, but because my fingers would literally be burned white…like this…well actually this pic is pretty tame, but I didn't want to gross you out too much!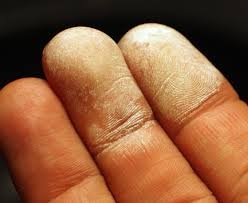 When your fingers are in pain it makes it hard to eat and I love to eat!  I  would wish that I could eat things on a stick as I figured I could hold it in the palms of my hands.  But since that didn't happen I said, someday I'm gonna grow up make every food I can on a stick!  Okay, well maybe I don't make everything on a stick these days, but the few things I do are pretty cool!  In fact for one of my cooking classes I did an entire menu of "foods on sticks" which when you think about it is pretty handy for entertaining, no forks, knives or spoons to clean. And even the film "There's Something About Mary"  had a memorable scene about the topic.
Now, when I go to the hairdressers for a root color touch up (NOT blondie, as you now know why) I like to take the girls a little treat.  They barely get time to have lunch and so I figure that a goodie on a stick would be a safe bet.  Not that they have bad bleach burn fingers from working on their clients, as they of course use gloves.  But just for the ease and novelty of it!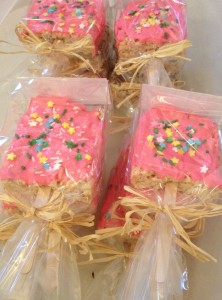 And for some of the girls that want to take their treats home I make sure they are all wrapped up pretty in pink!  These treats are easy to make and likely most people have made Rice Krispie Treats at some juncture.  The only difference here is that, you guessed it, it goes on a stick!   If you are so inclined you can also dip in melted chocolate or melted color candy drops and put sprinkles on top like I have.  You probably know the recipe by heart, but just in case here goes…
INGREDIENTS
3 tablespoons butter
1 package (10 oz., about 40) JET-PUFFED Marshmallows OR 4 cups JET-PUFFED Miniature Marshmallows
Wooden popsicle sticks
DIRECTIONS
In large saucepan melt butter over low heat. Add marshmallows and stir until completely melted. Remove from heat.
Add KELLOGG'S RICE KRISPIES cereal. Stir until well coated.
Using buttered spatula evenly press mixture into 13 x 9 x 2-inch pan lined with parchment paper (wax paper). Cool. Cut into 2-inch squares.  Put a wooden popsicle stick in one end. Drizzle with melted chocolate and sprinkles if desired.
MICROWAVE DIRECTIONS: Though I don't own a microwave, this is an easy hack!
In microwave-safe bowl heat butter and marshmallows on HIGH for 3 minutes, stirring after 2 minutes. Stir until smooth. Follow steps 2 and 3 above. Microwave cooking times may vary.
Note
-For best results, use fresh marshmallows.
-1 jar (7 oz.) marshmallow crème can be substituted for marshmallows.
-Diet, reduced calorie or tub margarine is not recommended.
-Store no more than two days at room temperature in airtight container.
-To freeze, place in layers separated by wax paper in airtight container. Freeze for up to 6 weeks. Let stand at room temperature for 15 minutes before serving.
So whether you are a natural blonde, or not so much, someone young, or not so much, you can still enjoy these treats on a stick, very much.  And sharing is always a good thing too!  Sharing is caring!
Beautiful Marshmellow-y Love!
YDP