I woke this morning with 90's tunes in my head!  It was strange because they were flying at me from one song to the next…Rumpshaker, No Diggity No Doubt, This Is How We Do It, Regulate, and Motown Philly…and it got me thinking two things.  Of course the first was food related!
I had some fig and walnut bread and some fresh figs so I decided to create a brunch theme around them.  For the baked french toast I made a batter of eggs, milk, vanilla, and cinnamon.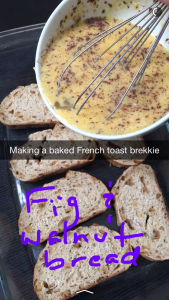 Then I roasted some fresh figs in butter and maple syrup. Absolutely beautiful!
Besides being a gorgeous looking fruit, figs have so many health benefits.  They are high in fiber, so they are good for digestion.  They have loads of calcium and potassium which are essential for strong bone density.  And they are naturally sweet, though adding a touch of maple syrup just helps to make them nice and gooey!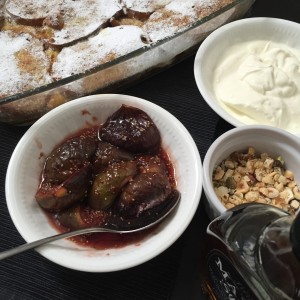 End result, schamazing!  I topped it with some natural Greek Yogurt and toasted nuts.  I served it with a side of bramley apple sausages, and well, let's just say my hubby and I are both still in a food coma!  And I even shared a bit with Stella the Pretty Pit!  She was making this face while we were listening to the TLC song, I'm Figgin on You!  Okay, well, we might have changed the lyrics just a bit to go with our theme!   Oh, and I did a little music accompanied tutorial on snapchat (user name blissbakery).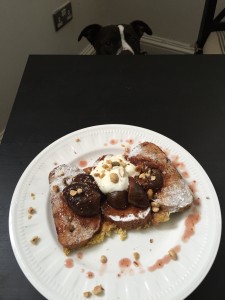 Besides the food, the 90's tunes got me thinking about all the times I took my kids to concerts in that decade.  One of the benefits of being a young mom I guess, but we loved going to hear live music together and still have fond memories.  It started in September of 1990 when I took my then eight year old daughter to see New Kids on the Block at Dodgers Stadium.  I bought floor seats, the most expensive ones available.  It was part of her birthday gift so I wanted it to be special.  But everyone was standing and we couldn't see a thing!  So I put her on my shoulders and then stood on my chair.  Not so safe looking back now!  But she was able to see the whole show and loved every minute of it.  Sleeping on her New Kids' pillowcase that night was all the more sweet!
We also went to see Debbie Gibson, Janet Jackson and Smashing Pumpkins just to name a few.  But one concert in particular was most memorable, but for other reasons.  It was an outdoor concert at the Irvine Amphitheater in the O.C.   It was an hour south from where we lived in LA.  It was at the height of Boyz2Men's success so they were the featured act, but Montell Jordan and TLC were also on the bill.  Sadly, TLC cancelled at the last minute due to health issues of one of the members.  My daughter was so bummed because they were her favorite band at the time and their song, "Waterfalls" was at the top of the charts.  But the place was packed and the crowd enjoyed the show nonetheless.  Maybe a bit too much.
At one point during the show, my son, ten years old at the time, blurted out, "What's that smell, did someone let the horses in?"  What he didn't know was that "someone" was smoking marijuana.  Since I grew up in a house with people who did that, I knew that what we were smelling at the concert wasn't a stampede of horses!  I politely let our concert going neighbors know that ours was a family outing.  Ah, hello! Ahem!
Situations like those only provide us parents an opportunity to talk about some major life's lessons .  Just not until the End of the Road after the concert.  I still prefer my highs to be sugar highs, truth be told.  So I'm gonna be Getting Figgy With It and sign off for now to enjoy some more figliciousness!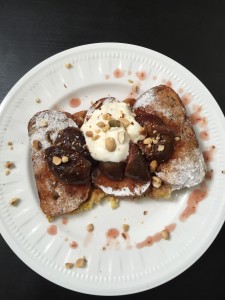 With big fig love,
YDP
ps. It has been brought to my attention that apparently there are technical difficulties (surprise, surprise) with my blog.  When I post the content on my laptop computer everything looks swell.  But from what I've been told, the photos look wonky on a mobile device.  Okay, 'scuze me!  I'm a "special needs" computer person at best.  I will see what I can do about it, but I really appreciate your understanding in the meantime.