Another Wednesday, another crush.  Gotta keep the female foodie infatuation going.  And this week's star is a superstar!  So of course I had to do a snapchat tutorial/love fest in her honor!  If you haven't joined yet, you should! You can find me at user name: blissbakery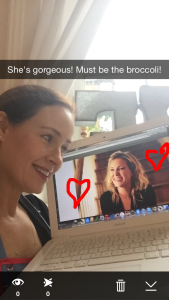 With the weather getting cooler, the days getting shorter, and everyone I know suffering from the flu, I thought a nice healthy soup was in order for today.  Specifically, Broccoli Soup!  Who better to show us the way than none other than my former Ballymaloe Cookery School teacher.  The amazing Rachel Allen is our Woman Crush Wednesday and not only is she pretty on the outside, she is gorgeous on the inside too!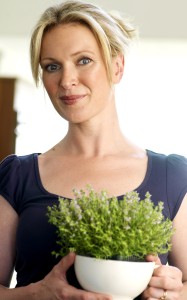 And it's not just from eating all the super delish Broccoli soup, though I am sure it doesn't hurt.  Why?  Because Broccoli is certainly nutritious and talk about a superfood, it has even been embraced by mainstream medicine for its benefits.  In spite of former U.S. President George Bush Sr.'s vocal dislike of the brainy veg, it has come through stronger than ever!  Even my four year old granddaughter loves it and though she can now say "broccoli" we still call it "gocki" which is how she pronounced it when she first started talking.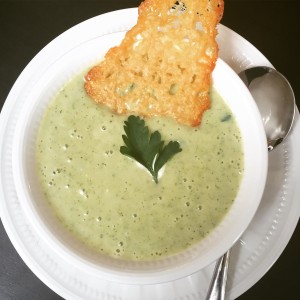 Rachel, originally from Dublin, moved to Ballymaloe as an eighteen year old cookery student and has made it a permanent home.  Now married with three children, she is carrying on the tradition of strong Allen women who've helped define and direct one of the most recognizable Irish brands.  Her eleventh cookbook called Coast just recently hit the market and like all of her books, the recipes are as accessible as she is.  The photography shows off her unctuous food, the rugged Atlantic Way, and her own natural beauty.
I speak from my heart when I say that Rachel Allen is truly one of the most lovely people I have ever had the pleasure to meet in my fifty years!  That she was also one of my cookery teachers during my three months at the Ballymaloe Cookery School is a true blessing.  Rachel is an extremely hard worker.  It could be because she has big shoes to fill, but also because she takes her role as a foodie expert seriously.  Certainly with the success of her television shows she could have rested on her laurels.  But she is still up at the school everyday working alongside it's formidable founder (and her mother-in-law) Darina Allen and the talented Rory O'Connell.
One thing a lot of people might not realize about Rachel is that she is very funny.  In our cooking demonstrations at the school she had us all in laughter on a regular basis.  One day in particular while prepping prawns for a lovely seafood platter,  the little crustacean flew up into the top of, and then down, her chef's jacket.  She let out a little girl giggle and had to surreptitiously remove it while continuing on with her instructions.  Of course the lads, though trying to remain professional chefs, still had the urge to offer to help "fish out" the runner.  But it was a moment when I realized that she is utterly human!
Another time she was in charge of teaching all 55 chefs the details of filleting fish.  She bravely admitted that when she was a student there herself she didn't pay much attention during that particular demo.  Unfortunately, when she began working at the Ballymaloe House after graduation, on day one she was given the job of filleting all the fish for the dinner service that evening.  She learned a lesson the hard way and wanted us to pay heed!   But I loved the fact that she was so honest with us about her own hard knock teachable moment.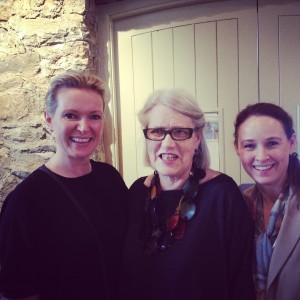 Whenever I go back to the school for visits, reunions or events (such as the Ballymaloe Lit Fest where the above pic was taken) Rachel is always warm, friendly and genuinely happy to see me.  Though I suspect a lot of people get the feeling that they are her best friend too.  She has that ability. It seems like you're the only one in the room when she talks to you.  It is quite endearing.  And you feel so included when she is there with the likes of Donal Skehan and makes it a point to introduce you.  I'm sure with her kitchen skills along with her people skills she will have continued success for many years to come.   And it couldn't happen to a nicer person!
And now the moment you've been waiting for, the famous Broccoli Soup Recipe!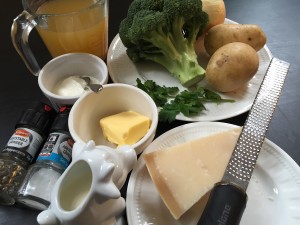 Broccoli Soup
 Serves 6
25 g (1 oz) butter
1 onion, peeled and chopped
2 potatoes, peeled and cut into 1 cm cubes (1/2 in.)
salt and pepper
1 head of broccoli, with stalk
800 ml/ 1 liter (2 pints) vegetable or chicken stock
175 ml (6 oz) double cream (called heavy cream in the US)
crème fraiche or natural Greek Yogurt and sprig of herb for garnish
Melt the butter in a large saucepan. When it foams add the potatoes and onions, season with the salt and pepper. Cover with a butter paper lid (to retain steam) and a tight fitting lid. Leave to sweat on low heat for about 10 minutes.
Meanwhile, cut the broccoli florets from the stalk. Using a small knife, removed the outer layer of skin from the stalk and discard. Then chop the stalk into 1 cm cubes and add to the onion and potato and sweat for a further 5 mins.
Remove the lid, add the stock, bring to the boil then add the florets. Boil without the lid until the vegetables are soft (5-8 mins). Add the cream.
Pour the soup into a liquidizer (or use a hand held). Puree until smooth. Taste and adjust seasoning.
Garnish with a swirl of crème fraiche and sprig of herb. Serve with Cheese Toasts.
This photo was taken the night of the Ballymaloe Cookery School graduation.  It was one of the most fun nights of my life and much of that is due to the fact that all of the teachers, not just Rachel, but Darina, Rory and all the instructors and staff from the school were there for the celebration.  It literally takes an army to keep the school going and yet they still know how to throw a party!  It was fab to hang out without our chef's whites on and share a glass of wine.  And Rachel's arm around my shoulder felt more symbolic to me than anything.  Once you have been fortunate enough to grace the halls of the school, cook in its kitchens and sit in the hallowed seats of the demonstration room, you are one of the family forever more!
Big love and thanks to you Rachel!
YDP (aka Karen, the 'American Lady from the Winter 2007 Course')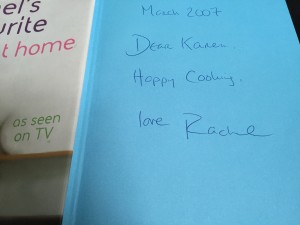 P.S. I have indeed been happy cooking!