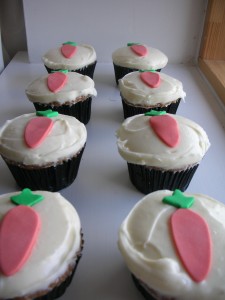 Most women I know love their precious diamonds and gold, and for them a carat or a karat are their best friends!  Not me!  For as long as I can remember the only gem I've had an obsession with is a glistening Carrot Cake.  Not only do I love it and I bake it often since it's my favorite cake, but I also research it.  One thing I like to do is look high and low for the best tasting carrot cake I can find, much to the chagrin of my kids sometimes.  When they were growing up we were always called the Three Muskateers.  But one day it was more like Three Muskatears as I was on the hunt for what was supposed to be the best sugar free carrot cake recipe in Los Angeles.  However, it wasn't in the nicest part of L.A.  Driving around in our GMC Suburban SUV with my son and daughter in the car she said, "Are you willing to risk our lives for a carrot cake?"  Okay, maybe that was a dramatic response because we weren't entering gang territory with a twenty-one gun salute.  It was just a scavenger hunt for a twenty-four karat carrot cake.
But all that research led to my finding the best recipe ever!  While my version has all the sugar, it is without a doubt the tastiest and moistest carrot cake you will ever have the pleasure of eating (I am already counting on you to bake it!).  I usually bake it into cupcakes, but have also used this recipe to make a two or three layer birthday cake as well (depending on the size of your baking pans).  And I somehow never feel guilty eating it as I think of all the carrots and raisins and nuts I am consuming, healthy right?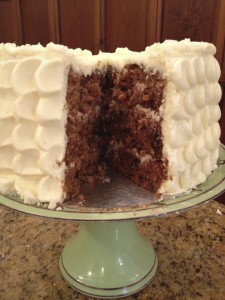 CARROT CUPCAKES WITH CREAM CHEESE FROSTING
Yield: 24 cupcakes
Prep and Cook Time: 1 hour plus about 40 minutes to cool and frost
Ingredients:
2 cups plain flour sifted
2 tsp. baking soda
1 tsp. salt
2 tsp. ground cinnamon
½ tsp ground nutmeg
1 tsp. ground ginger
2 cups caster sugar
1 ¼ cups canola (or veg) oil
4 large eggs
3 cups grated, peeled carrots
1 cup coarsely chopped pecans (optional)
½ cup raisins (optional)
Preparation:
Preheat oven to 350 F/180 C degrees. Whisk flour, baking soda, salt, cinnamon, nutmeg, and ginger in a medium bowl.       Once blended set aside.
In a large bowl whisk sugar and oil until well blended. Add eggs one at a time and mix. Add flour mixture and stir until well blended. Stir in carrots (and walnuts and raisins if using).
Divide batter among cupcake pans that have been lined with paper liners. Fill about ¾ full.
Bake about 14-18 minutes or until toothpick inserted in center of cupcake comes out clean. Let cool in pans about 5 minutes then transfer to a cooling rack. Cool completely before icing them.
For the Cream Cheese Frosting:
Ingredients:
250 g of cream cheese cold
100 g unsalted butter, room temp
600 g Icing sugar sifted
pinch of salt
drop of vanilla extract
In a stand mixer beat icing sugar and butter with paddle attachment on medium speed until mixture comes together and is well mixed. Add the cream cheese in one go and beat until it is completely incorporated. Turn the mixer up to medium high and continue beating until the frosting is light and fluffy, at least 5 minutes. Do not overbeat or it will become runny.
I am such a carrot cake fiend that my Hubby and I even had it for our wedding cake!  And my son and daughter in law asked me to make it for their wedding too, though the top of their three tier cake was a red velvet cake.  Even if I'm not baking it, I think it is fascinating to actually look back in history to learn when the carrot cake was invented and by whom.  There is even a carrot trivia website if you are interested.  And you might even want to know the difference between a carrot, carat and karat.  Carrots are important to eat all year, not just for Easter to impress the Easter Bunny.  Certainly incorporating them into savory and sweet dishes is the ultimate way to add vitamins and flavor.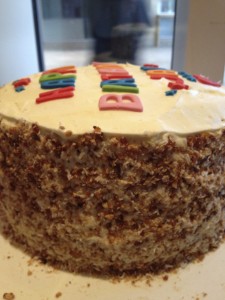 Carrot, Carat, Karat Love,
YDP