It is all festive and fall-ish around here.  The clocks have turned back an hour now in the U.S. (we did it over in this part of the world almost two weeks ago) and it is getting dark earlier and earlier.  The leaves are a million shades of color and there are more of them on the ground than on the trees.  We made it through Halloween and that means we are nearly to my favorite holiday, Thanksgiving.  But first, today is Guy Fawkes Day.  Say what?
I know I had the same reaction. Here is a little ditty to jog your memory…
Remember, remember, the fifth of November
Gunpowder treason and plot
We see no reason
Why Gunpowder treason
Should ever be forgot ….
So, basically the upshot is that on this day 410 years ago a guy named Guy Fawkes (and that IS where we get the term 'guy' that we use today) tried to blow up Westminster on the opening of Parliament in an attempt to assassinate the King and his ministers.  G-Fawk led a group of Catholic activist who were tired of being persecuted by the Protestant Regime. The plot was foiled (Guy and his men were executed) and every year since then the British have celebrated the day by blowing off fireworks and having bon fires.  As a way to say "In your face dude (or rather "guy") if we want explosives we'll do them ourselves!"  And indeed they do!  They even sell them at the neighborhood Tesco at 2 for 1!
And so tonight whilst the rest of London is out partying and pyromania-ing, I'll be home comforting my pretty pit Stella (dogs don't' like fireworks, hello) and making something nice and pumpkin-y.  Lest we forget that Americans celebrate the last Thursday in November as a way to give thanks for having food, family and friends as well as to honor our history.  When the Pilgrims left England and sailed to the New Land it was only for the help of strangers, the Native American Indians, that they were able to survive.  Not that it is a somber holiday, but it is reverential.  We save the hoopla and fireworks displays for our Independence Day which is July 4, 1776.  It is still amazing to me that the U.S. is such a baby country in comparison to this part of the world.
I've already shared with you a pumpkin cheesecake recipe and a pumpkin pancake recipe which are both beyond delish.  And last week I shared a super tasty smashing pumpkin penne pasta recipe as well.  Note to yourselves, all of these can be enjoyed through the year my friends!  But this recipe, for pumpkin bread pudding, will seriously make you want to freaking go out and have a bon fire, like, tonight. Then you can use it to make smoke signals to say, "Hey, guys, come on over to my pad and eat the best tasting dessert you've ever had in your entire lives.  Now that is something we can really celebrate."  Well, maybe that is too long for a smoke signal message.  In fact it is probably too long for a twitter 140 character message.  But the recipe is so quick and easy you have that to look forward to!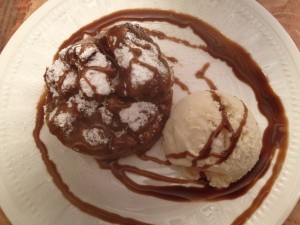 Pumpkin Bread Pudding with Caramel Sauce
Serves 6
For the bread pudding:
2 cups (500 ml) Single Cream
1 15 oz (425 g) can of pure pumpkin puree (or fresh)
2 large eggs
1 cup plus 2 Tbsp packed dark brown sugar
2 tsp ground cinnamon
½ tsp ground nutmeg
¼ tsp ground ginger
¼ tsp ground cloves
1 ½ tsp Vanilla extract
10 cups (10 oz) ½ in. size cubes of white yeast or brioche bread
*optional ½ cup golden raisins or pecans
For the caramel sauce:
1 ¼ cups packed brown sugar
½ cup (4 oz) unsalted butter
½ cup (4 oz) double cream
Preheat oven to 180 C/350F/Gas mark 4
Whisk the single cream, pumpkin, dark brown sugar, eggs, spices and vanilla in a large bowl. Fold in the bread. Stir in the raisins or pecans if using. Transfer mixture to an 11×7 inch glass baking dish. Let stand for 15 minutes. Then bake for approx. 40 minutes until a knife inserted in the center comes out clean. Let sit for few minutes before slicing.
Meanwhile make the caramel sauce. Whisk the brown sugar and butter in a medium saucepan over medium heat until the butter melts. Whisk in the cream and stir until the sugar is completely dissolved and the sauce is smooth, about 3 minutes.
Serve pudding warm with a dusting of icing sugar and the caramel sauce. You can add vanilla ice cream as well for an extra indulgence!
In the pic above, I made the pudding in the large tray but used a round cutter (usually used for scones) to make the single serving size.  Totally not necessary, as you can just use a spatula to serve a portion.  I was just trying to be fancy.  But defo make sure you douse it in the caramel sauce.  And if you are like me you will be transported into a caramel coma! Vanilla Ice Cream is super nice with it too, especially if you can make homemade like I did! MMMMmmm!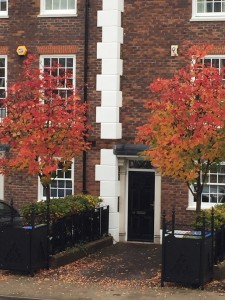 Remember to savor the flavor! Or savour the flavour, as you would do in this part of the world. Especially cuz it's a British holiday I'd better defer on the spelling.  Which by the way, most holidays are for something that has been accomplished, not something that wasn't.   And this holiday is for something that wasn't.  Does that make sense?   Well, you will surely accomplish making this pumpkin bread pudding and eating it all!  Then you will be thanking me like a Pilgrim!
Pump up the pumpkin!
YDP
ps. In no way am I being disparaging of this country's national holiday.  I have great respect for the United Kingdom.  In fact if you look at its size relative to its influence in the world, it is actually astounding.  English might well be considered the global language as it is spoken literally everywhere!  And a recent visit to the Greenwich Observatory reminded me that even our time keeping has been impacted by the genius of the British.  So maybe because they don't have an Independence Day like the U.S. or a St. Patrick's Day like the Irish, this is their one day to kinda go a bit bonkers and have a some of fun (or craic as the Irish say).