Living in Los Angeles for many years, I would have dined at the famous Cheesecake Factory on a number of occasions.  But I never actually ate a cheesecake there.  Because their food portions are so large I was usually too full for dessert.  I know, for a sweet tooth like me that says a lot!  On one visit there I did order a slice of cheesecake, but asked for it in a "to go/take away" container.   Then I tucked into it later on that evening, with help of course.  It too was so big!  We Americans do like our super sized portions!  However, it got me to thinking that it would be fun to have a mini sized cheesecake. One that didn't leave you feeling so full and/or guilty!  And since I am a cupcake aficionado I thought why not do a mash up of the two!?  Oh yea!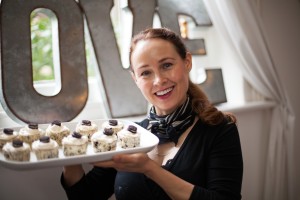 When one hears the name OREO there is an instant brand recognition and a sense memory experience.  In fact, some have gone so far as to analyze the various ways of eating the well known cookie.  Some people eat it whole, some dunk it in milk before taking a bite, some even eat it in stages by first opening up the sandwich cookie with a twist, then scraping off the white frosting in the middle and finishing off by crunching the outside wafer.  However anyone else eats it, I like to take mine and create a new BABY all together.  I've made it into a cake, a pie, a lollipop, a shake and into a mini sized cheesecake.  Aha so this is how today's recipe for "Baby Bakes" Cheesecake came into being!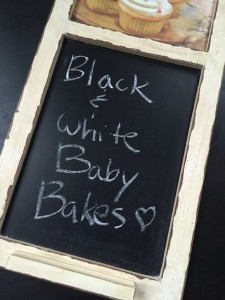 Most people like to refer to any Oreo creation by the moniker "Cookies and Cream" as I too have done on here.  There are competing theories as to when and how that came to be, but I wonder if it has anything to do with the branding rights?  I know if I was Oreo I'd be delighted people were taking my product and pumping new life into it with various reincarnations.  That's a compliment in my book!  In fact it might have even helped it to retain its status as number one selling cookie in America.  Nevertheless I like to call my cheesecake/cupcake hybrid blended with Oreos "Black and White Baby Bakes"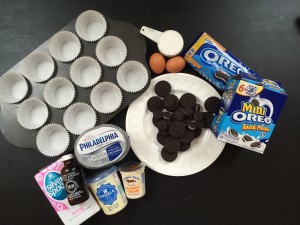 Black and White Baby Bakes
Makes 12
For the cakes:
19 Oreo Cookies
2 pkg, 8 oz each, Philly Cream Cheese (total amount needed is 456 g)
½ cup sugar (100 g)
2 large free range eggs
½ cup Sour cream (119 g)
½ tsp Vanilla extract
For the topping:
12 mini oreos (or you can use some regular oreo crumbs)
110 ml/(2/3 cup)  double cream (also called heavy cream)
2 Tbsp icing sugar (also called confectioners or powdered sugar)
½ tsp vanilla extract
Preheat oven to 180 C/350F/Gas mark 4
Place one cookie in each of a 12 paper lined muffincupcake baking pan.  Coarsely chop remaining cookies (you can put the last 7 cookies in a Ziploc plastic bag and bash with a rolling pin or use a food processor) and set aside.
Meanwhile for the filling, beat cream cheese and sugar in a large mixing bowl until blended.  Stop the mixer and scrape down the sides.  Add the sour cream and vanilla extract and beat until just mixed.  Add in eggs on low speed, one at a time and scrape down the sides between.  Stir in the coarsely chopped cookies.  With an ice cream scoop, spoon batter into muffin cups.  Bake in the preheated oven for 20 minutes, or until the center of cakes are almost set.  Remove from the oven and cool on a rack. Then refrigerate for 3 hours. When ready to serve, remove from the refrigerator and discard the paper liners from the cakes.
For the topping, beat the cream with the icing sugar and vanilla.  Top the Baby Bakes with a bit of the freshly whipped cream and a mini oreo or a sprinkle of oreo crumbs.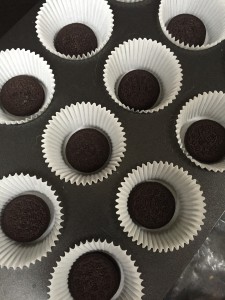 What I love about these treats is that they aren't too sweet.  The base is quite clever as it is a whole Oreo cookie!  No fussing with the usual graham cracker (or digestive biscuit) crumbs  as you would on an ordinary cheesecake.  And the lovely softly whipped cream on top with the slightest hint of vanilla is the ideal way to finish off the Baby Bakes.  Unless of course you want to add a mini Oreo as I have done (or some crushed Oreo crumbs if I can't find the minis).  One time I actually used a round cookie cutter and cut out the very middle bit of the Oreo, the part that has the logo on it.  But that was very time consuming!  Thank goodness I discovered there were Oreo minis in the store.  That left me more time to indulge in my tasty treats!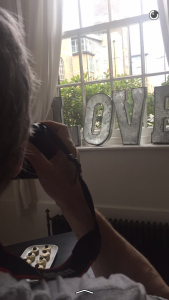 My hubby filmed me demonstrating the process of making these gorgeous goodies.  The video is on the Yankee Doodle Paddy Youtube Channel!
 If you decide to give them a go, the recipe is pretty straight forward.  And if you have a listen of the Michael Jackson song "Black or White" you too can dance around and sing along, it makes baking that much more fun!  To get you in the mood I'll even put in a black and white version of the final pics!
With Baby Baked Love!
YDP
P.S. Isn't it cool how the Oreo cookie makes such a great base for the Baby Bakes? You can even see the logo if you look close! I get very excited about things like this! LOL