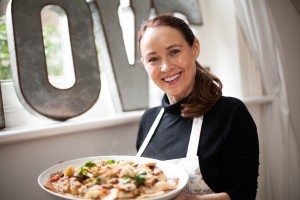 One of the most fun things about teaching cookery classes is when you get feedback from the students.  Any feedback is helpful, but of course hearing that they were able to successfully master a recipe is always a good thing!  This recipe is without a doubt number one on the list of "I did it and it was fabulous". It is delicious, easy and great for entertaining. And what I like about it best is its adaptability. You can eliminate ingredients, substitute ingredients and alter the recipe to accommodate those with food intolerances.  So when you have a dinner party and need a go to recipe, this one will take you on the no stress express!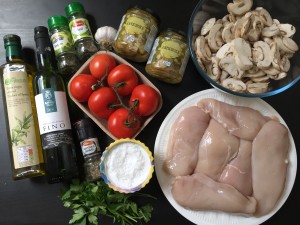 Italian Chicken with Artichokes
Serves 6
2 small jars of marinated artichoke hearts
4 Tblsp olive oil
¼ cup plain flour (can use gluten free if needed)
6 chicken breast fillets (skinless and boneless) free range and organic if possible
6 tomatoes (peeled and quartered)
4 small cloves of garlic (minced)
1 lb. fresh mushrooms (trimmed and sliced)
1 cup (8 oz) dry sherry
2 Tblsp fresh parsley (minced)
1 ½ tsp salt
¾ tsp pepper
1 tsp dried oregano
2 tsp dried basil
Drain the artichokes, saving them for later, and combine ½ of their liquid with    the olive oil in a skillet.
In a bag, place the flour and chicken together, and shake to coat the pieces well.
Brown the chicken in the skillet with oils, over medium heat for about 5 minutes per side. When finished, transfer the chicken to a casserole dish.
Combine all the other ingredients except artichokes and simmer over medium/low heat for 10 minutes.
Pour the sauce over the chicken and bake uncovered in a preheated oven
(180 C/350 F) for 20 minutes
Sprinkle the artichoke hearts on top and continue baking for another 10 minutes.
Remove from oven and serve with orzo pasta or rice pilaf and a veg such as roasted asparagus spears. Or just some nice crusty bread and a lovely dressed mixed leaf salad.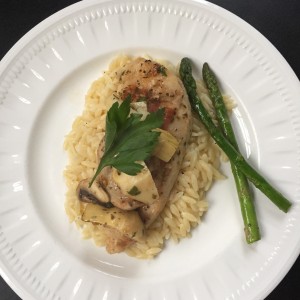 If you happen to have access to fresh herbs you can use them instead of the dried oregano and basil if you prefer.  Just double the amount.  And if you have a crowd that doesn't like artichokes (but don't know why they wouldn't) you can substitute marinated sun dried tomatoes instead. My son in law is allergic to mushrooms, so when I make this dish I omit the mushrooms in the batch, but just sauté some separately. Then anyone else in the family wanting that earthy flavor can just sprinkle them on top after it is served.  I also like to sprinkle some freshly grated parmesan cheese on top just before serving for some extra deliciousness!
The cool thing about this recipe is that you can make it in advance and keep it in the fridge for a couple of days before you need it (or it can be frozen).  Dare I even say it tastes better then the first day it is made because the flavors have time to deepen.
This is also a nice dish to make for a family with a new addition. It is a challenge sometimes for a mommy with a baby to get dinner on the table.  Many times I would make this dinner and take it to a friend just home from the hospital and they would say it was the best gift they could have received.  More practical than flowers.  And if you know someone with a bereavement, it too can be just the bit of homemade love and comfort to help them get through a difficult time.  Food is healing!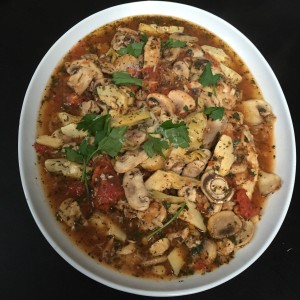 Easy Peasy Love,
YDP