I'm a rebel.  I always have been and I always will be.  It's the Irish in me, so they say.  As most teens I was rebellious, but in a strange sort of way.  My mom and her clan were bell bottom hippies, so I was a plaid preppy.  They were hanging out with bongs, I was hanging with my Bible.  Some of her friends were on the most wanted list, I was on the Dean's list.  Yet, I was still obedient.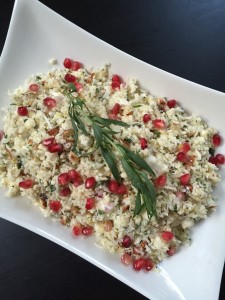 So today, while the rest of the world is celebrating Black Friday, I will be obedient and recognize the day, but still be a bit rebellious too.  Practically every blogger is posting tips on the perfect products that can be found at which super sales  And the news media thrives on showing police in riot gear while shoppers duke it out for the latest Dyson Mini Vac.  Me? Well,  I'm not out in a mall or online shopping, but I am online posting the most incredible salad recipe ever.  And just cuz I gotta be different, I made it with cauliflower, hence, the White Friday.  None of those iceberg or rocket salads, which is about what you can find this time of year!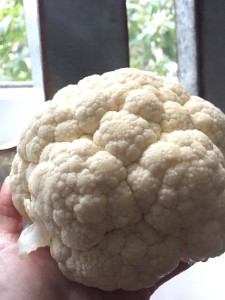 Cauliflower is finally seeing a blossoming (pun intended) in superfood popularity after being previously bypassed in the produce aisle.  Sure people would cook it if there was nothing else, but of course they would then have to douse it with cheese sauce to make it palatable.  I even have a friend who once said that she thought cauliflower was a pointless food.  Okay, that hurts.  But who in their right mind woke and said, "I'm craving me some cauliflower?".  That, my friends, will be you once you taste this quick and easy, healthy and pleasing salad made with our star, none other than the CAULIFLOWER!  It's the other white veg.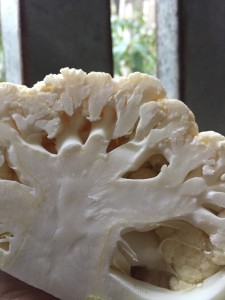 This recipe is loaded with vitamins and antioxidants, great brain food.  I think its shape even resembles a brain!  It is gluten free and can be made dairy free if you eliminate the cheese in the recipe.  It is also super adaptable.  So if you don't care for tarragon, substitute fresh parsley or even mint.  Also you can jazz it up, like I have here by adding pomegranate seeds, or some dried cranberries if you want to get all festive.  It makes it super colorful.  If you prefer hazelnuts to almonds, then have at it!  And if you are all paleo you can add some chicken or tuna while you dosey doe!
This Yankee Doodle Paddy got the recipe from a German friend of mine when I was living in Dublin!  Now I am sharing it with you from London.  Talk about Global Gourmet!  The trick to it all is making sure you grate the cauliflower. If you have a food processor with a grater attachment like I do, then fab. Otherwise you will have to use one of the old standby box graters.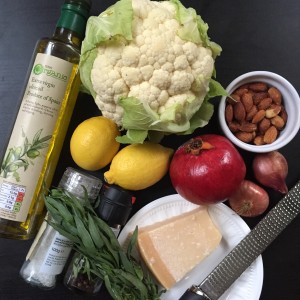 Fake Cous Cous Salad (aka White Friday Cauliflower Salad)
Serves 4
500 g Fresh Cauliflower, cleaned and divided into florets (basically, 1 head)
6 sprigs of fresh tarragon, leaves only, chopped
1 large handful of watercress, roughly chopped (if you can't find watercress, you can omit or substitute with spinach or another leafy green)
100 g almonds, roasted and roughly chopped
100 g parmesan cheese, grated
Juice and zest of a ½ lemon
100 ml olive oil
2 Tbsp shallot, minced
salt and pepper
Chop up the cauliflower in a food processor (or use a grater) to look like crumbs. Transfer into a bowl.
Add to the cauliflower the next 7 ingredients and toss. Season with salt and pepper (and a pinch of sugar only if needed to sweeten..unless you are sugar free ). Serve!
How simple is that?  After all the cooking my American friends had to do yesterday, this is a nice break.  Plus this recipe is oven free!  Yipee!  This is great too if you just aren't big on Thanksgiving leftovers (and if that is the case, I'll be right over to foil up a doggie bag).  Or maybe you over indulged so much on turkey you need something that won't weigh you down.  That will give you ample space to carry out that giant flat screen tv from the big sale over at Walmart this Black Friday!!
Love and TGIWF,
YDP
P.S. Just to mention that most salads need to be eaten soon after they are made as they go soggy.  This recipe is so handy because it is still nice and crunchy the next day, so you'll have a healthy food choice for your lunch box.  That's assuming you don't eat it all before you get to that juncture like we did!