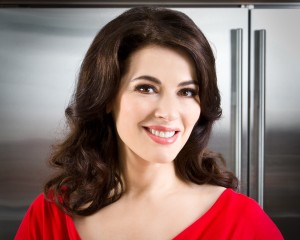 With a little break from the popular Woman Crush Wednesday series (due to YDP's participation last week in the Great Blogger Cookie Swap) we are back with passion!  This is the day we honor one of the wonderful women from the culinary world.  And who is getting crushed on today?  Well, we are infatuated with one of the U.K.'s most recognizable foodies, none other than the amazing Nigella Lawson!  For the first time, this week readers and snapchat followers joined in with their suggestions to help choose which cook should get the Yankee Doodle Paddy Spotlight of LOVE.  And with Christmas just a couple days away, Nigella has been chosen to get all sorts of fondness showered on her today!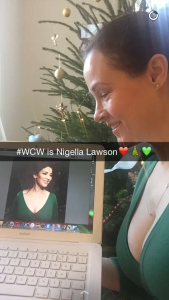 Nigella's new book, Simply Nigella seems to be on everyone's Christmas list.  It is called the "Feel Good Food" book and pretty much anything she makes will leave you feeling good!  She already has nine best selling cookbooks to her credit, numerous television series under her belt, a popular app, and umpteen awards such as the 2014 Observer's Readers' Award as Best Food Personality, just to mention a few of her phenom accomplishments.  She really is a Domestic Goddess (as was the title of one of her books) and has been a 'go to' for many looking to up their kitchen game. She has made cooking and eating an unabashedly beautiful art form.  And all of this from someone who doesn't even like to be called a chef.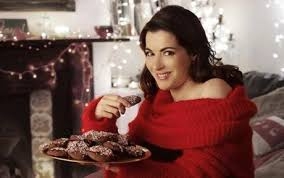 Nigella didn't study culinary arts but she has perfected a way to translate them to the masses.  Adored by women, men, well known chefs, people here in the U.K. and all around the globe.  Her warmth, openness and willingness to engage with her fans has really helped create a protective net around her.  Which is why when she went through some recent difficulties she had a legion of supporters behind her wishing her well.  And this latest book and accompanying television series has been just the thing to get back on track, for all of us!  Cuz life does have its ups and downs.  I can relate to Nigella's notion of cooking being a wonderful way to make sense of the world around us as I have shared on here before.  I love her quote in a recent article, ""I was thinking how ushering forth this cake induced in me a feeling of cosiness and serenity, and I felt I'd got to the stage in my life that what I was creating in my new home and my new kitchen… it's about feeling an enormous sense of light. The food is uplifting and the comfort you get from it makes me feel restored and full of vitality."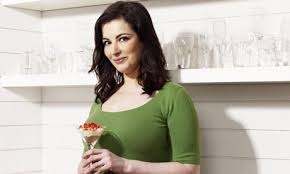 So I am going to create some light with her amazing Christmas Rocky Road recipe.  It is currently being featured on her website as a "Cookalong Competition" whereby you make one of the suggested monthly recipes and upload a photo for a chance to win a signed cookbook.  And I will be doing it live on snapchat (username: blissbakery) if you'd like to follow along.  It will be viewable for 24 hours until it disappears, but I would urge you all to give this delicious recipe a try yourself and enter the contest.  Because what Nigella has nurtured is a wonderful sense of community both on her website and her social media.  She includes a regular "#follow of the day" on her Instagram that certainly gives those chosen a massive boost.  I'm not just talking about more followers to their account,  it is the overwhelming sense of joy that someone as wonderful as Nigella Lawson would lend her seal of approval.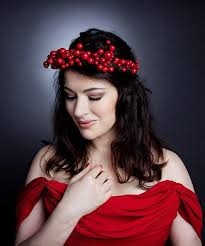 Christmas Rocky Road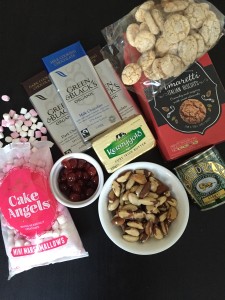 Ingredients:
250 grams (8 oz) dark chocolate
150 grams (6 oz)  milk chocolate
175 grams (1 1/2 sticks) soft butter
4 tablespoons (1/4 cup) golden syrup or light corn syrup
200 grams (7 oz) amaretti biscuits
150 grams (1 cup) brazil nuts (shelled)
150 grams (2/3 cup)  red glace (candied) cherries
125 (2 1/2 cups) grams mini marshmallows
1 tablespoon icing sugar
edible glitter
Method
Chop both sorts of chocolate small, or use chocolate buttons made for melting, and then put into a heavy-based pan to melt with the butter and syrup over a gentle heat.
Put the biscuits into a freezer bag and bash them with a rolling pin to get big- and little-sized crumbs; you want some pieces to crunch and some sandy rubble.
Put the Brazil nuts into another freezer bag and also bash them so you get different-sized nut rubble.
Take the pan off the heat, and add the crushed biscuits and nuts, whole glacé cherries and mini-marshmallows. Turn carefully to coat everything with syrupy chocolate.
Tip into a foil tray (I use one 236mm x 296mm / 9¼ x 12 inches), smoothing the top as best you can, although it will look bumpy.
Refrigerate until firm enough to cut, which will take about 1½–2 hours. Then take the set block of rocky road out of the foil tray ready to cut.
Push the icing sugar through a small sieve to dust the top of the Rocky Road. Then, if you like, add a sprinkling of edible glitter for some festive sparkle.
With the long side in front of you, cut into it 6 slices down and 4 across, so that you have 24 almost-squares.
MAKE AHEAD TIP:
Make the Rocky Road and refrigerate to set. Don't add the icing sugar yet, but cut into bars, then store in an airtight container in a cool place for up to 1 week. Decorate with icing sugar and edible glitter about 1–2 hours before serving.
FREEZE AHEAD TIP:
Make the Rocky Road as above and freeze for up to 1 month. Thaw overnight in a cool place. Decorate as above.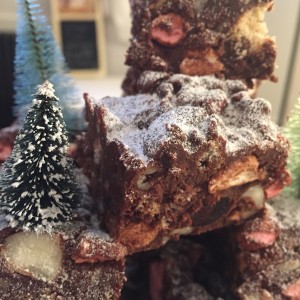 One of the things I love most about Nigella is her willingness to offer help and suggest tips for finding success in the kitchen.  For me, one of my kitchen challenges has been the transition from America to this side of the pond where everything is in metric!  It would do your head in trying to sort out all the conversions.  But she effortlessly (as with everything) has both versions available with the click of a button. Thanks Nigella!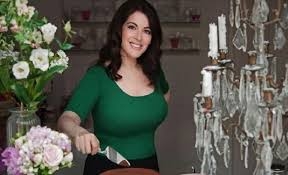 Being a mom of two kids myself, I know how important the holiday time is for family.  I just want to take this opportunity to wish you Nigella a most wonderful Christmas and send lots of love and light your way.  I also want to thank you for being an inspiration in more ways than one.  There are so many of us out there that appreciate the passion and respect you have for food and cooking.  And your humility about your influence in the culinary world is as beautiful as you are!  But trust me, when loads of your fans eagerly tear off the wrapping paper on Christmas morn to find they have received your cookbook, you'll likely hear the sound of many ovens being fired up!  Cuz there will be a whole lotta Nigella's recipes on the go!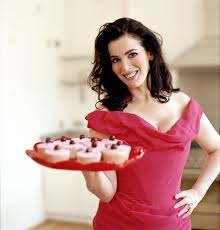 Lots of love to THE Domestic Goddess,
YDP
P.S. True story, it was destiny that Nigella would be today's #WCW because besides the help from the snapchat followers, my friend (who also made our moving announcements) the awesome Holly Shortall and her BFF Jamie Tuohy met Nigella in Dublin not long ago!  As well when I was on one of my Foodie Fieldtrip Friday's recently, I spotted a giant billboard ad for her book and I had to take a picture.  So it is a lovefest that has been marinating!