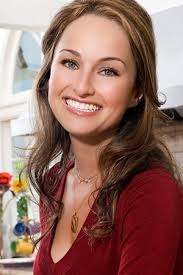 As a chef and baker one of the best parts of my job is of course the tasting…mmmm!  But these days, the best part is doing these Woman Crush Wednesdays.  Giving props to the ladies in the foodie world is not only fun, but also informative.  I really get to learn so much about them and what they have accomplished in the culinary world.  I get to try a new recipe and demo it for my snapchat followers (username: blissbakery) and Hubby gets to reap the benefits of all these tasty treats!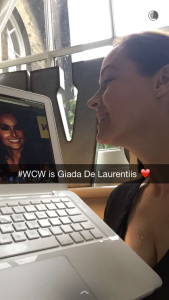 Most of you will be familiar with Giada De Laurentiis, unless you've been living under a rock. She is a world famous television chef with numerous best selling cookery books.  She is also a restauranteur with her own self titled  brick and mortar in Las Vegas!  But what you may not know about her is that she was actually born in Rome, Italy.  While she has spent most of her life in Los Angeles, my former home, she still has a great Italian style food ethos.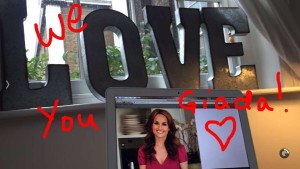 I've been a fan of hers for quite some time as her food is really delicious and not too complicated to prepare.  As a busy wife, mom and career person, it is important to try new recipes that don't leave you too exhausted to enjoy the food yourself.  And Giada's recipes are just the answer.  Herself a mommy to a gorgeous mini-me daughter named Jade (which is the English version of Giada) she also has to balance so many things in her life.  Yet, she seems to balance pretty well on the paddle board.  I mean, what a rock star #WCW,  as she is super gorgeous, talented and sporty!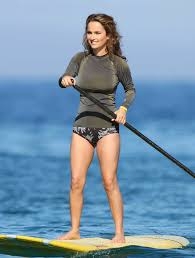 I had a hard time deciding which of her recipes to demo and then when I received one of my Great Blogger Cookie Swap packages it sparked an idea.  The cookies I received were almond ricotta cookies, but I remembered that Giada is famous for her Lemon Ricotta Cookies.  And since it has been so stormy and grey here in London, I thought between her cookies and that mega-watt smile of hers, we might have a bit of sunshine today after all!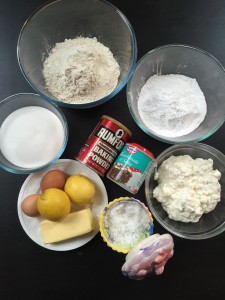 Lemon Ricotta Cookies
2 ½ cups (350 g) plain flour
1 tsp baking powder
1 tsp salt
1/2 cup (1/4 lb, 4 oz, or 115 g) unsalted butter softened
2 cups caster sugar (410 g)
2 eggs
1 container (15 oz or 427 g) of whole milk ricotta cheese
3 Tbsp lemon juice
Zest from 1 lemon
Glaze:
1 ½ cups (235 g) icing sugar
3 Tbsp lemon juice
Zest from 1 lemon
Preheat oven to 190 C/375F/Gas mark 4. In a medium bowl combine flour, baking powder and salt. Set aside.
In a large bowl of an electric mixer, beat butter and the sugar until creamy, light and fluffy, about 3 mins. Add eggs, one at a time, beating until incorporated. Add the ricotta cheese, lemon juice, and lemon zest. Beat to combine. Stir in the dry ingredients.
Line 2 baking sheets with parchment paper. Spoon the dough (about 2 Tbsp for each cookie) onto the baking sheets. Bake for 15 mins, until slightly golden at the edges. Remove from the oven and let the cookies rest on the baking sheet for 20 mins. .
Make the glaze by combining the icing sugar, lemon juice and the zest in a small bowl, stirring until smooth. Spoon about ½ tsp onto each cookie and use the back of a spoon to gently spread. Let the glaze harden for about 2 hours. .
Serve with a nice cuppa!
These are probably one of the most scrumptious and lemony treats you will ever taste!  I know I'm gonna win some big points from Hubby tonight when he walks in the door.  It smells incredible in the house from baking them.   Plus, anything with lemon happens to be his preferred flavor of dessert.  Given the fact that my secret santa cookie blogger's almond ricotta cookies shipped in good shape, I think these will as well.  And since the recipe makes about 28 cookies, you'd better check your mailbox cuz you might be in for a surprise.  Just click on the comment button on this post,  and tell me why you think you'd be the best recipient of these delicious delectable goodies!  You'd better do it quick though, cuz Stella my pretty pit has her eyes on them!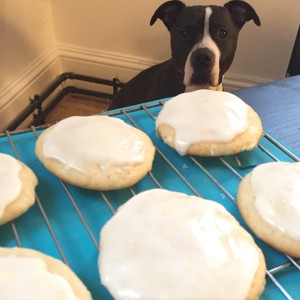 A massive thanks to Giada for being our #womancrushwednesday!  What an inspiration she is to all of us female foodies. She is such a hard worker, a talented chef,  a dedicated mom and a beautiful woman inside and out.  I'm not a big Vegas person, but I seriously want to go just to eat at Giada's restaurant!  But unlike the slogan, "What happens in Vegas, stays in Vegas" you'd better believe I'll be shouting from the rooftops about my foodie fieldtrip!  I'll just try to tone down the bad singing and bad dancing that I do on my snapchat tutorials! LOL!
Sunshine Love,
YDP