Fri YAH! The weekend is here! And for some of you, it might even be date night.  But I have an idea for you.  Since so many of you are dealing with the cold weather, why not skip the restaurant meal all together.  Instead you can have a restaurant quality meal in the comfort of your own home while staying warm and toasty.  No need to worry about a babysitter, and you can both enjoy the glass of wine without having to spend your week's wages for a taxi!  The key is to prepare a dinner that is quick, simple and not creating too much of a mess in the kitchen.
Let me introduce you to the delicious Chicken with Balsamic and Fig Sauce!  While January is the month that most of us try to stay on the straight and narrow, this recipe isn't too naughty. And when served with some sautéed kale and steamed baby potatoes, you won't feel guilty!
Ingredients
4 (6-ounce) skinless, boneless chicken breast halves
1 1/2 tablespoons fresh thyme leaves, divided
1/2 teaspoon salt, divided
1/4 teaspoon freshly ground black pepper
1 tablespoon olive oil
1 tablespoon butter
3/4 cup chopped onion
1/2 cup fat-free, less-sodium chicken broth
1/4 cup balsamic vinegar
2 teaspoons low-sodium soy sauce
1/2 cup finely chopped dried figs (such as Mission)
Preparation
Sprinkle both sides of chicken evenly with 1 1/2 teaspoons thyme, 1/4 teaspoon salt, and pepper. Heat oil in a large nonstick skillet over medium-high heat. Add chicken; cook 6 minutes on each side or until done. Remove from pan; keep warm.
Reduce heat to medium; add butter to pan. Add onion; sauté 3 minutes. Add broth, vinegar, soy sauce, and figs. Simmer until sauce is reduced to 1 cup (about 3 minutes). Add 1 tablespoon thyme and 1/4 teaspoon salt. Cut chicken breast halves lengthwise on the diagonal into slices. Serve sauce over chicken. (recipe from Cooking Light)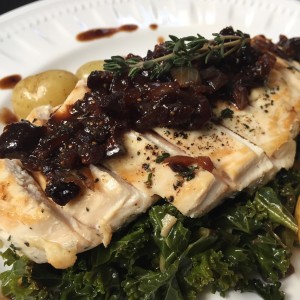 My Hubby loved this recipe when I made it for our date night in.  He even asked for seconds! The recipe makes enough for four people, so I saved my "seconds" for lunch the next day. It is very earthy and moreish, hearty and at the same time light.  Eating figs gives your body a great boost of fiber to aid your digestion. Figs really are so good for you, but sometimes it is hard to find fresh ones. And with this recipe, you don't need fresh, just the dried ones. So win, win, win all the way around!
I am a typical girly girly and do like to get dolled up for a proper date night out every now and again.  Hubby is a bit more of a home body.  But this ended up being perfect for both of us as we got to enjoy a quick but delicious meal, a nice glass of wine and a fab movie at home.  I could still get a bit dressed up without worrying about making a mess of myself cooking.  And not only were we able to stay healthy but it was a night that was gentle on the pocket book.
We are getting through all the Awards seasons movie screeners that get sent to me (I am still a member of the Screen Actor's Guild) so a dinner like this is much better than a tub of popcorn and M&Ms at the cinema.   I'm going to do a recap of all the films we have been able to see on another post. But a little heads up, the film Room by the Irish director Lenny Abrahamson is riveting! As well, Brooklyn with the Irish actress Saoirse Ronan was absolutely dreamy! Both are deserving of their nominations.  And this recipe is deserving of your next Date Night In!!!
Couple Cuddle Love!
YDP
P.S. Since starting this blog, when we go out to eat I feel obliged to take photos to share with you all on here or my other social media. So when I saw this cartoon I had to laugh. Restaurants are so used to people taking snaps that if you don't this is the reaction! OMG!