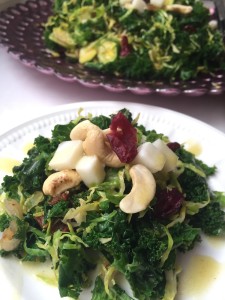 Whenever I hear, read or see the words "I Feel Good" I can't help but think of James Brown.  His song of that title instantly jumps into my head and I start boppin' around not a bother!  I had the pleasure of meeting him at the 1997 Super Bowl in New Orleans when I was helping with the production of the halftime show.  Even though my hometown boys the Blues Brothers, as well as the legendary ZZ Top were also performers, it's James I remember most.  I mean he was already 64 years of age at that juncture!  Wow talk about energy. And he was quite nice, smiling all the time and a very humble person.  But when he hit that stage, WOOWAAH!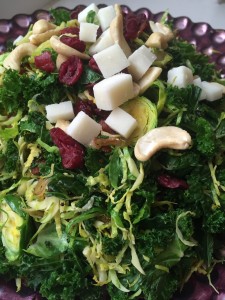 While not all of us are born with natural energy, we CAN choose to eat foods that make us feel alive and feel good!  Since this is Salad Scentral Week, and it is wintery, cold and rainy outside, I decided a warm salad would be just the thing!  As I mentioned in yesterday's post, the benefit of most salads are they can be made quick, easily and are adaptable.  This salad for instance includes bacon, so if you don't eat meat, just omit it from the recipe.  That is the only "naughty-ish" thing in the ingredients list.  Everything else is packed with a vitamin punch!  Kale, the holy grail of super foods at the moment (being touted as the most nutrient dense food in the world) is the star, along with Brussels Sprouts.  Though many want to forget about those little round smelly fellas after their perfunctory appearance at your Christmas dinner, you might want to have a re-think about that.  They are known to boost your DNA, and assist with detox (HELLO HOLIDAY HANGOVER remedy).  As well, they are meant to help reduce cholesterol, so maybe you won't feel so guilty keeping the bacon in the recipe after all!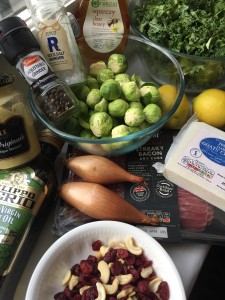 Warm Winter Salad (aka I Feel Good Salad)
Serves 4- 6
9 oz kale (1 large bunch) center ribs removed and thinly sliced
1 lb 2 oz Brussels sprouts, finely shredded (I use my food processor)
½ cup dried cherries (or you can use dried cranberries like I did)
1 cup cashews, chopped
3 Tbsp olive oil
2 large shallots, sliced into rings
3 slices of (streaky) bacon, chopped
30 g goat cheese, cut into cubes
Freshly ground pepper and sea salt to taste
For the dressing:
2 Tbsp Dijon mustard
2 Tbsp honey
6 Tbsp extra virgin olive oil
Juice of 2 lemons
Generous pinch kosher salt
Prepare the dressing by whisking together the mustard, honey, olive oil, lemon juice and salt until emulsified, then adjust taste if needed. Set aside.
Meanwhile, heat the oil in a frying pan over medium high heat and fry shallots until golden brown. Remove to a kitchen paper lined plate to drain. Add the bacon to the pan and cook until browned and crisp. Remove bacon to another kitchen paper lined plate to drain. Remove all but 2 tsp bacon grease from the pan.
Add the kale to the pan and sauté for 30 seconds. Then add the Brussels sprouts and sauté for another 30 seconds. Toss back in the bacon and add in the cashews and stir around.
Remove to plates and drizzle with a bit of the dressing. Then sprinkle with the crispy shallots, dried cherries and a crumbling of goat cheese.
I think this salad is near perfect in terms of flavor combination and texture!  The saltiness of the bacon with the sweetness of the dried cherries (or cranberries which I used) is amazing. And the crunch of the cashews with the nice bite of the kale and Brussels sprouts (because they aren't cooked too much) is sublime.  My fav part though is the nuttiness of the Gouda goat cheese (harder than normal goat's cheese) with the smoothness of the cooked shallots, amazo!  It makes me feel good inside, and I think that translates to feeling good on the outside too!  It makes me wanna dance (which I did on my snapchat tutorial, username: blissbakery).  So go ahead, try this salad and you'll be feeling so good you may want to bust out some of your own James Brown moves!
LOVE! CUZ I FEEL GOOD! HEY!
YDP