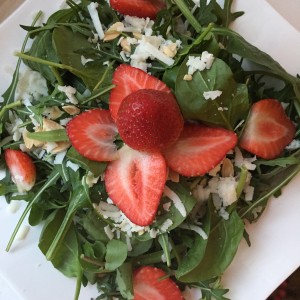 No, that isn't a typo in the title.  Scentral is my own concoction of the words central and scent. Cuz today, and every day this week, we are gonna be going salad scentral crazy over here.  This, being the first Monday of the new year, is the day most people perceive as walking the tightrope of "to do" things: To detox, to give up alcohol, to quit sweets, etc etc etc.  And because many people have been off work during the holiday period, this day is also the big "to go back to work" day.  Argh!  Lots of grumpsters out there with a HOLIDAY HANGOVER!  With so many self imposed demands and restrictions no wonder the sad faces.  But I have a recipe for you to brighten your week with colors and flavors that look good, smell good, and taste good.  These tick all the boxes of the revamped food resolutions too.  And they might even make going back to work a bit more pleasant!  Either pack them in your lunchbox to save a few bucks, or, instead of going to the burger joint for lunch, pick up a salad to go.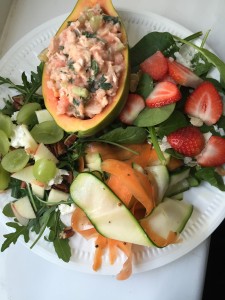 I am an admitted salad addict. Therefore it is easy for me to be a cheerleader for the gorgeous greens.  I've even posted several salad recipes here on the blog: Cauliflower Salad, Fig and Green Bean Salad, Butternut Squash Salad, Brussels Sprout Salad, Sweet Potato and Chorizo Salad.  Truth be told, I have to have one with every meal. Even with breakfast, I'll have a fruit salad (or at least a selection of berries and bananas on my porridge).  I just love the way fruits and veg make me feel.  Without them, my meal seems incomplete.  And since I don't own a scale, don't believe in diets (as I have said before I try to avoid things with the word "die" in them) and only recently began taking vitamins, I rely on the goodness of salads for my health.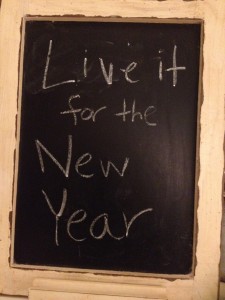 When you read all the magazines and newspaper articles this week recommending you drink more water and cut the crap out of your daily routine, having a salad is actually a bit of both.  It is proven that fruit and veg are naturally loaded with water. And because of their fiber content they help you feel full so you are less likely to crave the crap.  But the best advert for a good salad in my book is how it affects all of your senses.  Does it taste, smell, and look good? And does it feel good in your mouth when you are chewing it?  If it has lots of different textures it will defo give your daily calorie intake some pizazz. Today's recipe is all of those and more! Normally I am going on about how good the house smells with all the baking I do. Well today the scent is actually fresh, bright, crisp and farmlike! A healthery instead of a bakery!
Often as we begin the school/work week we hear about Meatless Mondays.  I think it is great notion. But personally, I need a bit of protein too.  Salads can easily be modified to add a bit of that with some leftover roasted chicken, or by adding nuts and cheese to it. It makes it more substantial (and is about the only way I can get Hubby to eat a salad by the way).  I've told you before about the Flavor Bible which is a great resource for understanding flavor combinations and foods that work as alternates.  So say for instance if you found a cool recipe online for roasted pumpkin salad and you can't find any in the shops, you'll have learned that you can substitute it with butternut squash.
If I were an artist I would draw an interactive diorama of salad ingredients to show you how you could mix and match depending on your taste, dietary restrictions,  and what is available in your fridge/pantry.  Basically, a salad schematic.  I would break it into six sections:  1. Greens (spinach, kale, iceberg, arugula/rocket etc) 2. Veg (broccoli, cauliflower, butternut squash, courgette/zucchini etc) 3. Fruit (strawberries, pomegranate, dried cranberries etc), 4. Cheese (blue, parmesan, goat's etc), 5. Nuts (pine nuts, pecans, almonds etc), and 6. Protein (salmon, chorizo, chicken, bacon etc). This would also have an addendum that included different salad dressing options as well.  It could be on your iPad for reference or even as a handy kitchen gadget that resembles an artist's color wheel thingy that you could hang on your refrigerator door.  But there are some other good helpful salad visuals available here and here to get you going.
It is also important to note, some salads are also best served warm (which I appreciate since living in Dublin and now London, where winters are not cold salad conducive).  I would urge you to not only try incorporating more salads into your life, but also to be creative with your plate and put together your own combos depending on your likes and dislikes.  In other words, if you see a salad recipe and you think, that sounds pretty good, but I don't like blue cheese. Well then omit it or substitute it for a cheese you do like.  Go on, have fun with it!  Because all this deprivation, having to eliminating this or that, isn't fun.  But instead when you start adding things to your life (like a daily healthy salad) and make it fun like a game, then you're likely to stick to it for the long haul!
To start us off this week, I am going to give you a recipe for a super simple yet shockingly satisfying Irish Strawberry Salad.  This is actually my daughter's favorite salad that I make and she even posted it on her blog a few years back which you can see here.   I decided that it would be a good one to start with, especially in light of the fact that in two weeks time I will be traveling to America to see her and her family!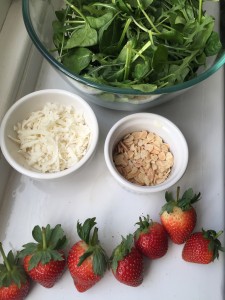 Ingredients: I have not put amounts as it depends on how many you are serving and how much of each element you want in it.
Salad greens of choice (I use a mixture of organic baby spinach, arugula/rocket and watercress leaves) washed and dried (important)
Strawberries (organic if possible and Irish Wexford strawberries if you are so lucky) washed and sliced
Nuts of choice (I like to use toasted flaked almonds, but you can use pecans or whatever you prefer)
Dubliners Cheese (okay no way are you allowed to switch up this ingredient) grated
Dressing of your choice (for store bought, I use Newman's Own) or homemade vinaigrette (see below).
Preparation:
Pop all the ingredients in a bowl, pour the dressing on and toss it all together. That simple! This is a good recipe to add some protein to such as roasted chicken if you have it on hand.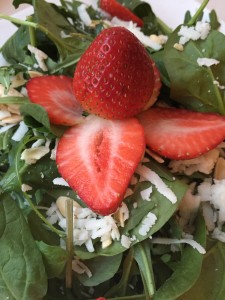 What is great about this salad is that it has veg and fruit together!  If you can't find fresh strawberries (or refuse to buy them in the shops in the middle of winter because they are flown in from Egypt) then exchange it for dried cranberries instead.  Again, have fun with it guys!  Speaking of cranberries, I have a great recipe for a vinaigrette which I make in a nearly empty cranberry sauce jar.  So it actually gives a bit of zing to the recipe!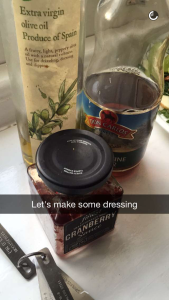 1/4 cup vinegar ( I used sherry vinegar)
3/4 cup oil (I used organic extra virgin)
1 tsp cranberry sauce
1 tsp minced shallots (optional)
1 Tbsp chopped parsley (optional)
Salt and pepper to taste
Shake everything up in the jar and pour over salad just before serving. There is a great resource for salad dressing combinations here. Basically, it is a 1:3 ratio of vinegar to oil. It is nice to use a third ingredient (also called an emulsifier) to help bind the oil and vinegar together. Such as my cranberry sauce, or you can use mustard, or honey for instance. Also, you can add minced garlic or chopped fresh herbs for more depth of flavor.
Again, have fun, play around, and make adding salads to your day dreamy not drudgery! Here's to a sensational week, month and year ahead!
Some Salad Love Slathered on Ya!
YDP
P.S. One of the best compliments a chef can receive is to see someone enjoying a dish they've prepared. This past summer when I was at my daughter and son in law's I cooked dinner for some of their friends. One of their guests apparently doesn't eat salads. And I had made an acorn squash salad for a starter. Well guess what?  He ate the whole thing!  Everyone around the table, in fact, commented on it. So if you are one of those, thinking you just can't get into the fruit/veg trend, maybe try it with me this week and see if you join the salad scentral society (of which I am the founding member)!