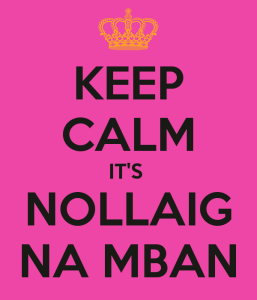 Today, my friends, it is not only Woman Crush Wednesday but it is also Nollaig na mBan (for my non Irish speakers that is Women's Little Christmas).  This is my perfect day with all the stars and moon aligned! January 6th is the Feast of the Epiphany and traditionally the end of the Christmas Season.   But in Ireland, tradition states that on this day the women would get a day to relax and men would do the housework.  Some people might also refer to this day simply as Little Christmas (or Nollaig Bheag) but I'm thinking since it's our #WCW day, we will stick with the more festive female title. Which means that we had to choose an amazing female foodie to infatuate over for the occasion!  And our lucky lady is the beautiful and talented Irish chef, award winning cookery book writer and well known television star Catherine Fulvio!!!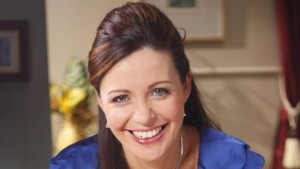 Catherine was born and raised in County Wicklow, Ireland and is part of the Ballyknocken House and Cookery School family.  Though less than 30 miles south of Dublin, this well respected Victorian House (and almost 300 acres of farmland) is a holiday retreat for anyone wanting a great Irish experience of delicious food and warm hospitality.  Catherine is involved of course, but also busy raising a family of her own with her Italian born husband.  And she travels the globe doing cooking demos, promoting Irish brands and filming fabulous television programs.  Plus all the exploring gives great inspiration for her cookbooks.
I met Catherine personally at the Ballymaloe Lit Fest back in 2014.  She is what you would expect and more.  Absolutely stunning, and truly the nicest person ever!  I attended a cookery demo she did with Martin Shanahan (of Fishy Fishy) and Paul Flynn (of the Tannery). They are all presenters for RTE television and you would think it was for cooking AND comedy.  I have never laughed so hard at a cooking demo. Yet they all take their food seriously.
Catherine is so calm, nurturing, caring and detailed when she demonstrates a recipe.  After the demo I asked her to sign one of her cookery books that I bought as a gift for my daughter. She was very sweet and gladly chatted away, even introducing me to her husband and her young son who were with her.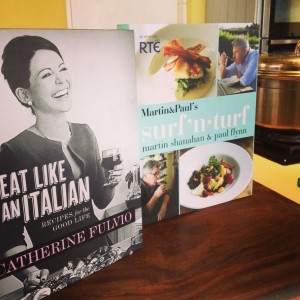 Though on the day she made a gorgeous chocolate breadcrumb almond cake,  since we are doing a Salad Scentral week on Yankee Doodle Paddy, I decided we would recreate her totally Irish style, Smoked Salmon, Watercress and Mango Salad.  It is simple, light and very healthy.  It has a super homemade salad dressing (all of Ballyknocken's salad dressing are well regarded by the way).  I love the colors of this salad too!  Especially during these dark days of winter we need something to brighten our plates!  Since I visited some smokehouses when I was a student at the Ballymaloe Cookery School, I learned that Irish Smoked Salmon really is the best!  Here is a link if you want a look see at my blog from back in the day where I share the smokehouse experience.  And did you know that watercress is seriously the Irish grandfather of superfoods? Yep, as I mentioned on here before, St. Brendan was eating it daily and lived to be 180!  So well done Catherine for creating a supercharged healthy salad to get us all reset for the New Year!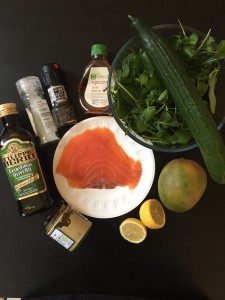 Ingredients
100 g smoked salmon or smoked trout, torn into strips
150 g watercress
0.5 cucumber, cut into ribbons
0.5 mango, thinly sliced
for the dressing:
4 tblsp extra virgin olive oil (or rapeseed oil)
zest of lemon
2 tblsp lemon juice
2 tsp wholegrain mustard
1 tsp runny honey
salt and pepper to taste
crusty bread to serve with the salad
Method
Using a vegetable peeler, cut slices of the lemon and then cut again into narrow strips. Cook for a couple of minutes in boiling water. Remove and allow to cool.
In a small bowl whisk together the dressing ingredients. Check for seasoning and add salt & pepper as desired.
Place the mango, lemon strips, cucumber and watercress in a separate bowl.
Drizzle the dressing over the salad and toss gently.
Plate the salad and arrange the smoked salmon on top.
Finish with cracked black pepper and serve with crusty bread.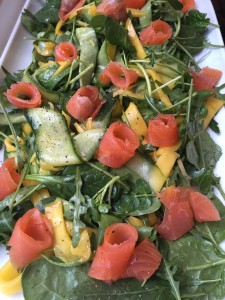 As I have said before, the thing about salads is besides being quite easy to prepare, they really are good for you.  And our gorgeous gourmet gal Catherine Fulvio is also good for you!  All of her recipes are wholesome and made with real unprocessed ingredients.  While she is super accomplished as a chef, she makes even hard techniques seem easy for the masses with the way she guides you through step by step.  I am so excited that she is our #WCW this week and I do hope that her sweet hubby is spoiling her today on Nollaig na mBan!
Thank you Catherine for being an inspiration. You are such a hard worker, yet you do it all with the utmost grace! You have a lot fans out there cheering you on!  Several of my snapchat followers in fact requested that you be one of our honorees, so I hope you feel the LOVE today and always!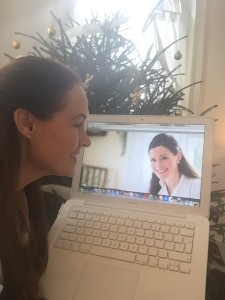 Le grá agus buíochas,
YDP
P.S. If you want to follow along on Snapchat my username is: blissbakery.  I do a bit of bad singing and dancing, but there is always a good recipe like this one today!  I like to have background music in the Woman Crush Wednesday tutorials, but this is the first time I have used the music from one source.  A couple of weeks ago my sweet Hubby discovered TG Lurgan and shared it with me.  It is an all Irish Youtube channel. These young kids take popular songs and redo them with the Irish language. They are stunning!  I was a bit concerned I might tear up during the snapchat today because somehow this language penetrates my Irish soul (the Paddy part of Yankee Doodle Paddy).  I really miss Ireland and so today was a great day celebrating Catherine, Nollaig na mBan and this fantastic music!!!!  I am putting the Youtube links to the songs below, but the artists and titles are in English.  Funny how after seven years of living in Ireland its only now that we've just moved to London that we are enjoying this!