How fun is it to see that another Wednesday has rolled around, which means that another female chef is gonna be getting some love!  This week is a bit different as I am traveling today from L.A. back to my daughter and family in Washington State. Spending many hours on planes and layovers, unless I commandeer the snack cart on board, our cooking tutorial will have to wait a day.  But I can still shine a light on another gorgeous gourmet gal, and recreate her recipe for snapchat (username: blissbakery) tomorrow.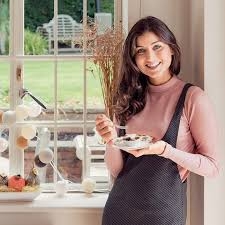 Though today's chef isn't from Los Angeles, her recipe was inspired by a popular treat found here at many bakeries. The lovely English rose Olivia Wollenberg from Livia's Kitchen is this week's #womancrushwednesday and her sweet treats will knock your socks off!  But the good news is they won't hurt you in the process because all of Livia's recipes are wheat, dairy and refined sugar free. Her desserts are wholesome and delicious and I've been eager to share her with all of you.  Her first book, Livia's Kitchen:  Naturally Sweet and Indulgent Treats,  is about to be released so I thought this would be the perfect time to introduce you. And when I read her intro to this recipe, the word "LA" jumped out at me.
"Blondies are a very American thing and something I have been wanting to recreate ever since I changed the way I ate. I was worried that I would never manage to make some as delicious as the ones I remembered from my time spent in LA but luckily, these are as good if not better! They are so moist and gooey but also crumbly and the chunks of raw chocolate make them the most dreamy things."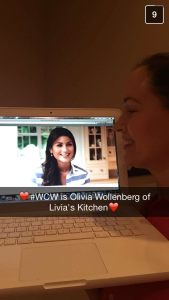 I suppose because I have been back here visiting for the past two weeks I've gone all "LA-LA Land!" Lots of blondes here, many are likely the bleached variety though!  But, not surprisingly, Los Angeles is a wonderful breeding ground for healthy foods, so all the stars were indeed aligned for these amazing Chocolate Chip Vanilla Blondies.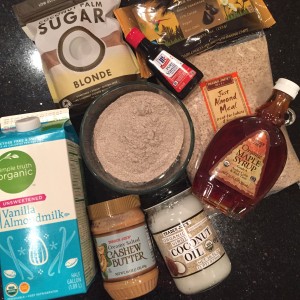 Ingredients:-
250g ground almonds
2 teaspoons vanilla powder
50g buckwheat flour
100g cashew butter
50g coconut oil
45g coconut sugar
130ml maple syrup
200ml almond milk
100g raw chocolate (I used ombar but you could use your favourite brand, make your own or just add chopped nuts instead)
Method:-
Preheat the oven to 180 degrees celsius and line a brownie tin with greaseproof paper.
In a bowl, combine the flour, almonds, vanilla and raw chocolate and set aside.
Cream together the coconut oil and coconut sugar in a food processor.
Add the maple and cashew butter to the processor and blend again until it's combined.
Add this wet mixture to the dry mixture and mix it really well.
Add in the milk and stir again until it's all completely combined.
Pour into the lined tray and bake for 35 minutes until golden.
Leave to cool for 10 -15 minutes in the tray before slicing.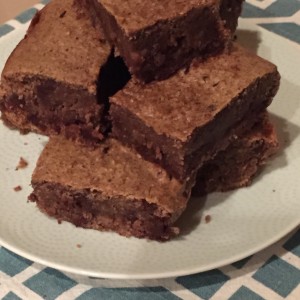 Besides her cookbook, Livia hosts super popular "Cream Free Teas" a nice alternative to the proper British Teas that might not be suitable for people with daily intolerance.  Livia also teaches healthy baking classes and runs a business baking delicious treats.  Her sought after  crumbles are now running neck and neck with an exciting new product to her range, the awesome Raw Millionaire Bites.  These come in three flavors (chocolate orange, salted date caramel, and almond raisin) and are packaged in a cute little bucket.  This girl is not only a fab chef, she is also a beautiful business woman!  Yet she is totally humble and very accessible to her loyal social media followers.
She has nearly 75,000 followers on Instagram alone, and shares pictures of stunning food, pretty friends and even a glimpse in the kitchen with her "elves" (as she calls her helpers) happily baking away!  It is indeed a family affair as she works out of her parents' kitchen and includes her mom and sister to lend a hand melting chocolate or sprinkling the oaty crumble on top of the fantastic fruit!  But what I love about her Instagram posts is that all of them are positive.  In the midst of a bad day, Livia reframes it as a challenge and provides so much inspiration and encouragement for those who look up to her.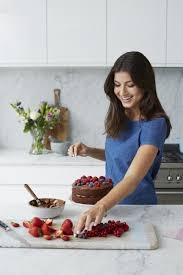 It is really lovely to see someone so talented and so nice, doing so well. And feeling well!  It was because of a diagnosis of food intolerances back in 2014 that spurred Livia on to create treats that she could eat.  I think I met my sweet tooth match with her!  But these Blondies are beyond yummy and while you feel satisfied after eating them, you don't feel guilty. The sky is the limit for her! She just so happens to be "besties" with another of our  #WCW recipients, Ella Woodward. And lo and behold, Livia is baking the cake for Ella's upcoming wedding.  Very eager to see that!
Thanks Livia for being not only an awesome Woman Crush Wednesday and sharing your sweet treats with us, but also for being such a sweet person! You're making the world a better place one bite at a time!
Millionaire Love!
YDP