Dr. Carrot Cake indeed, did you know I have a PhD in Carrot Cake? Yes I believe there is such a degree. My thesis/dissertation was all about the best tasting carrot cake in the world.  And while I don't have a paper certificate in a frame on my wall, I have years and years of training, testing, analyzing and perfecting the perfect carrot cake recipe. My daughter would even attest to that. In fact one quick read of a blog post of hers (click here) and you will see her sentiments exactly!  However, the silver (or maybe we shall call it orange) lining is that this recipe has been enjoyed by numerous and indeed high profile people. I made this cake for my son and daughter in law's wedding cake. And have made it for birthday cakes umpteen times. I even made it for this blog before (click here). But today, I finally made it for Snapchat (my username is blissbakery).  However rather than a layered cake, I made the same batter just baked them into cupcakes.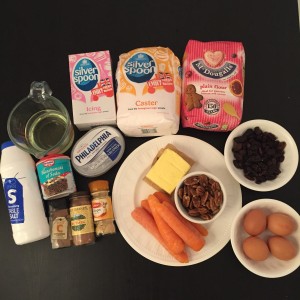 Ingredients:
2 cups plain flour sifted (305 g)
2 tsp. baking soda
1 tsp. salt
2 tsp. ground cinnamon
½ tsp ground nutmeg
1 tsp. ground ginger
2 cups sugar (420 g)
1 ¼ cups vegetable oil (300 ml or ½ pint)
4 large eggs
3 cups grated, peeled carrots (275 g)
1 cup coarsely chopped pecans (optional) (100g)
½ cup raisins (optional) (85 g)
Preparation:
Preheat oven to 350 F/180 C degrees. Whisk flour, baking soda, salt, cinnamon, nutmeg, and ginger in a medium bowl. Once blended set aside.
In a large bowl whisk sugar and oil until well blended. Add eggs one at a time and mix. Add flour mixture and stir until well blended. Stir in carrots (and pecans and raisins if using).
Divide batter among cupcake pans (tins) that have been lined with paper liners. Using an ice-cream scoop, fill the cupcake pans about ¾ full.
Bake about 14-18 minutes or until toothpick inserted in center of cupcake comes out clean. Let cool in pans about 5 minutes then transfer to a cooling rack. Cool completely before icing them. You can use a piping bag or an offset palette knife to spread the frosting on top.
For the Cream Cheese Frosting
600 g (1 lb 5 oz) Icing Sugar (called confectioners sugar in the U. S) sifted
100 g Butter (3.5 oz)
250 g (8.8 oz) Cream Cheese
Drop of vanilla extract
Pinch of salt
To make the cream cheese frosting, combine the butter and sugar in a mixer. Add the cream cheese all in one go. Beat on low until incorporated. Add the vanilla  and salt. Then increase speed of the mixer and beat several minutes until fluffy.
While I have traditionally made these at Easter time (as well as every other month of the year) I wasn't able to make them for the tutorial until today. Hubby and I took a quick weekend trip to Ireland and it was a bit hectic before we left. However, since the 1916 Centenary Celebrations were in full force while on the Emerald Isle, I was inspired to make a cupcake in honor of the angels that gave their life for their country. I even used angel cupcake paper liners/cases.  So while a few of the cupcakes will be adorned with my edible carrot decor (made from fondant icing) there are also some of the tricolor persuasion.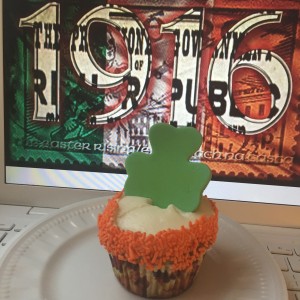 My favorite moment from what we watched on television while on the family farm in Galway, was Paul Muldoon's line " Let passion and compassion be the height of fashion". I love it because I do feel Ireland is so generous as a nation and as individual people. So I am going to tap into my Irishness and give away these cupcakes tomorrow for Random Act of Kindness Wednesday. A fellow snapper and Irish woman Miriam of www.bakemystyle.com has a weekly challenge to share some kindness on the day. I've participated before and love it! And I love these cupcakes. Hope they bring joy to some folks out there too!
Love from Yankee Doodle Paddy, PhD