As it turned out, Monday was not only Meatless but also it was a Museum Monday and a Margarita Monday with my Man!  I awakened with the notion to test out a new recipe I had dreamed up in my sleep:  A hearty stuffed mushroom.  More of a Sunday Brunch variety, but nevertheless eaten as my Monday main meal, minus the meat!   I used what I had on hand in the fridge (mushroom, spinach, feta cheese, sundried tomatoes and eggs) to create a super healthy and delish treat.  I posted the tutorial on Snapchat (username: blissbakery) and got some great feedback.  And my taste buds gave it a thumbs up too (see below for full recipe and pics).
Later, I met Hubby for an early evening date which started at Wahaca for margaritas and nibbles.  I've been wanting to share this place with Snapchat since I did my Woman Crush Wednesday of the founder of the restaurant Thomasina Miers.  I love the food (Mexican is one of my fav cuisines and she knows how to do it right) and I respect the ethos.  To be adventurous we ordered a passion fruit margarita and for the other one, a hibiscus margarita. That way we could share.  And we ordered our 'go to' sweet potato taquitos and shrimp tacos for our nosh before we took the tube down to our next stop.
My hubby and I have a tradition of seeing traveling exhibitions of world photography. This tradition dates back to when we lived in Los Angeles.  I am not a photographer but simply enjoy every aspect of them, the composition, the subject and the mood to name a few. However Hubby has always enjoyed photography as a hobby has been known to take some incredible photos.  Some day I'll have to swipe them and do a whole post on here!  But yesterday we went to the Somerset House for the Sony World Photography Awards Exhibition.  It was filled to the brim with photos from photographers of every age and every nationality and taken at locations all over the world.  It was a quiet enough night in terms of attendance, but that gave us loads of space to enjoy the plethora of pictures.  My favs included a heart made with water, a heart made with two women who had their hair braided together and an aubergine (eggplant) that was in the shape of a heart.  Yes I have a thing with hearts!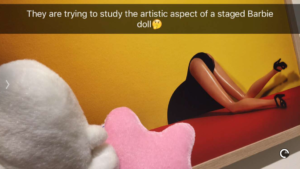 And now for the Egg and Spinach Stuffed Mushroom Brunch Boats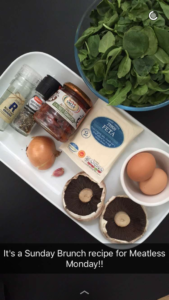 Ingredients:
4 free range eggs
200 g spinach (one bag, washed)
1/2 onion
1 clove garlic
4 sundried tomatoes (and some of the oil from the jar in which it is packed)
4 large flat mushrooms (such as Porabello) with the insides scraped out (you can use those bits to add to the spinach filling if you like)
Feta Cheese to crumble (or cheese of your choice)
Parmesan Cheese to grate on top
salt/pepper
Instructions:
Preheat oven to 200c/400f
Steam the bag of washed spinach. While that steams, chop your onion and garlic and sauté them in a frying pan with a little bit of the oil from the jar in which the sundried tomatoes come packed.  Season with a bit of salt and pepper.  Chop the 4 sundried tomatoes and add to the onion and garlic when they have softened.
When the spinach is done, pour the water left in the pan back over the spinach. Let this drain then squish the spinach with a potato masher. Get all the liquid out so that the spinach can be made into a ball. Then chop up the spinach and add to the onion/garlic/sundried tomato mix.  Crumble a bit of the cheese into this mixture and taste to adjust seasoning if necessary (feta can be salty so if using that type of cheese make sure you taste after you add as you may not need as much salt).
Put the mushrooms in a baking tray and season them with salt and pepper. Then fill them with the spinach mixture leaving a small well in the center.  Carefully crack each egg into the spinach well and bake for 10 minutes or until egg set.  A few minutes before it is done, you can grate a bit of Parmesan Cheese on top.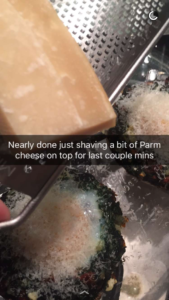 To serve you can spritz a bit of Siracha sauce on top of the mushroom if you want it hot and spicy or drizzle with some of your favorite pesto sauce.  If you're not afraid of carbs, this can be enjoyed with side of sourdough toast or some nice breakfast potatoes.
I hope you make some of your own special traditions on a Monday as I know it can be a day many dread on the calendar. You don't need to make it meatless, attend a museum or have it dripping with margaritas. But if you find an activity that you can stick with, that brings you joy and happiness, then you will start to look forward to the 52 Mondays we are blessed with each year and they won't be manic madness but instead mellow magic!
Much love of a Monday and everyday!
YDP
P.S. As I mentioned in my post yesterday, #snappy will be departing soon to stay with his new foster momma.  So before he goes we are having fun on these last few adventures with his girl Rose. They sure enjoyed the sights in London!