There is a song that goes "I'd drive all night to see you" well I am going change the lyrics to " I'd fly all night to get back for #WCW".  I love Wednesdays so much that no amount of jet lag is gonna stop me from giving a gorgeous gourmet girl some good old fashion props and attention!  And this week's female chef is so deserving that I am beyond excited to recreate her recipe and share more about her. And since I just flew home to London from Chicago, you won't be surprised who is the chosen recipient!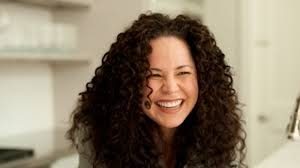 Stephanie Izard may only be 37, but her list of achievements in the culinary world is phenomenal. She was one of the youngest James Beard winners at 27, went on to become Top Chef's first female winner, and also the only winner of Top Chef to also win audience fan favorite. But with her delicious food, awesome smile and infectious personality it is no wonder she is the golden girl of the foodie world.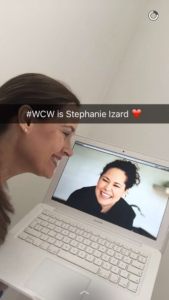 Born in Chicago (like I was) Stephanie has several successful eateries in the West Loop area near downtown. The famous Girl and the Goat and across the street the Baby Goat Diner and its bakery next door. She just opened another restaurant Duck, Duck, Goat several blocks away. Besides bringing to life these fab food creations, she and her husband have a baby on the way too!  The sky is the limit for this girl!
I was just in Chicago for 24 hours on my way back home to London from a visit to Tennessee to see my son and his wife.  But I did take time to visit two of her restaurants and was very impressed with the food, staff, vibe, all of it. On Monday night the line was out the door for the Girl and the Goat.  And on Tuesday morning I got to taste one of Stephanie's famous and yummy handmade "pop tart" pastries at the Little Goat Diner Bakery. So so good!  But for our Snapchat tutorial today (which you can watch with my username: blissbakery) I decided to make a savoury dish. Stephanie has a fab looking recipe for a Fish with a green curry sauce.  Healthy and tasty!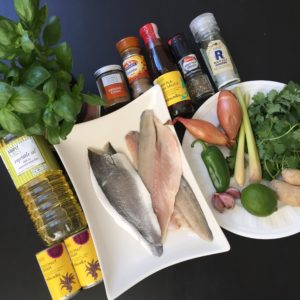 Serves: 4
Time: 30 minutes
3 tbsp basil leaves, packed
1 cup cilantro (also called coriander) , chopped with stems, about ½ bunch
¼ tsp ground cumin
¾ tsp ground coriander
1 tbsp garlic, chopped small
1½ tbsp ginger, peeled and chopped small
2 medium shallots, thinly sliced and divided
2 tsp jalapenos, chopped with seeds (omit seeds for less spicy version)
2 Tbsp lemongrass, peeled and bottom 1/3 only, chopped
1 14 oz can (400 g) coconut cream
2 tbsp grapeseed or canola oil
4 (5-oz) fillets of skin on grouper, snapper, or striped bass
1-2 tsp fish sauce
2-3 tsp fresh lime juice
Blend together basil, cilantro, cumin, coriander, garlic, ginger, one shallot, 1 tsp jalapeno, lemongrass, and coconut cream. Taste and add remaining jalapeno to taste, set aside. Sauce may look broken from the coconut cream, don't worry it will come together in the frying pan.
Turn fish skin side up and score, cutting just through skin. Season with salt spice mix for fish.
Heat oil in large heavy bottom skillet until almost smoking. Lay fish fillets skin side down and cook over
high heat until skin is very crispy, but not burnt. Turn fillets and continue cooking over medium high heat until fish is opaque and flaky all the way through. Remove to serving platter and tent with foil.
Add the other sliced shallot to pan and cook until translucent, about 5-6 minutes. Add curry sauce, fish sauce, and lime juice, simmer for 3-4 minutes so sauce thickens a little and flavors come together. Adjust seasoning if
necessary. Pour half of curry sauce over fish and serve remaining on the side. Serve immediately.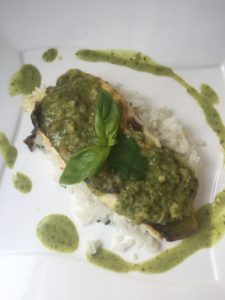 I absolutely love this dish! It is so flavorful and clean tasting. And it is dairy, sugar and gluten free!  But at the same time very filling and satisfying.  I served it with a coconut rice and when my Hubby tasted it tonight for dinner he asked if I would make it again tomorrow night.  It would also be a perfect dish for a dinner party for four people. Super easy and yet very impressive.  As well, anything with cilantro (coriander) is a go to for me as it has so many health benefits!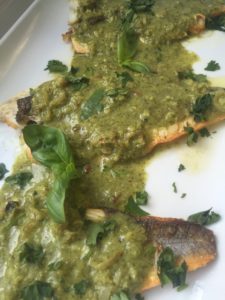 Stephanie is not only innovative in the kitchen but she thinks outside the box when it comes to her philanthropic involvement.  She helps raise funds for Share Our Strength, a charity devoted to helping feed hungry children. When her book "The Girl in the Kitchen" debuted, she did a nationwide promotional tour.  In each stop at the various cities along the way she teamed up with a local chef for a fundraising dinner for SOS.  And if I didn't already have enough about her to love, she also has a four legged furry friend like I have my Stella!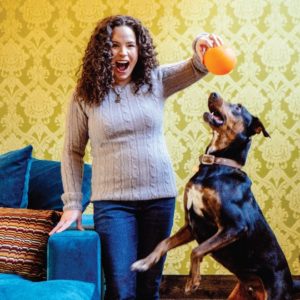 Thanks Stephanie for being a wonderful Woman Crush Wednesday. You are truly a star and such an inspiration!  I wish you and your Hubby well on the birth of your new a baby. Very exciting times indeed in your household
Congrats and Chi town love,
YDP