Guys, I am so so excited right now. Not only is today my fav day of the week, cuz Wednesdays mean crushing on a fabulous female chef.  But also tomorrow is Cinco de Mayo and I LOVE me some Mexican food.  So I had to choose a Woman Crush Wednesday that fits the theme don't you think?  And if choosing one, why not two?  Oh yea!  Hence this week's installment could also be called Women Crush Wednesday as our gorgeous gourmet gals are the incredible Two Hot Tamales:  Susan Finegar and Mary Sue Milliken.
Living in Los Angeles for so many years I can tell you one thing for sure, these two are household names. They are some of the most famous chefs in America, never mind that they are women succeeding in a male dominated profession. They combined forces to bring Latin food to the masses, and opened wildly successful restaurants, one of my all time favs being Border Grill in Santa Monica. They were the pioneers of television cooking shows and foodie radio programs, and their friendly, funny and informative tutorials are still regarded as classic culinary gems!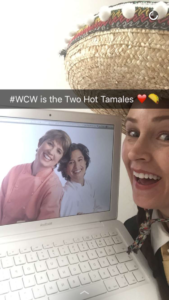 I had the great pleasure of attending one of their cooking demos at their downtown L.A. restaurant Ciudad.  Not only was the food served on the day amazing but my son and I were able to sit very close, so we practically got squirted with fresh lime juice when they were making their famous guacamole!  Of course meeting them personally and getting  a signed cookbook was quite memorable. They know their stuff when it comes to the kitchen and they impart their knowledge freely and generously. With numerous best selling cookbooks and other solo ventures of theirs, they are shooting stars.  I've been to Susan's awesome Street Food restaurant which is delish and Mary Sue was first runner up on Top Chef Masters (winning $40,000 for her chosen charity Share Our Strength).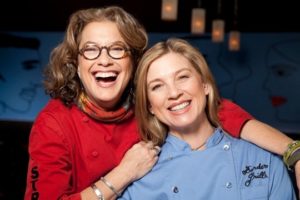 I am so excited to be making a couple of quick and simple recipes of theirs.  Of course I had to make two, cuz they are the TWO HOT TAMALES!  But these recipes will serve all of us in good stead.  Because some people think that prepping for Cinco de Mayo can be daunting.  But even if you only have a little drink such as this Bubbly White Sangria and some nibbles such as this Spicy Nut and Raisin Mix, you will be the most popular one in your bunch of friends.  So lets get going preparing these delectable goodies shall we?
The first recipe is a savory spicy snack.  Really, this is great a reminder to all of us that Latin food nibbles don't have to be just chips and salsa!
Spicy Nut and Raisin Mix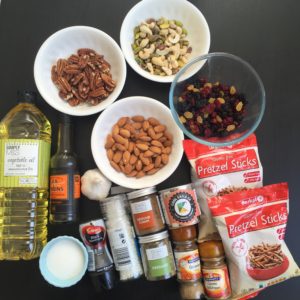 Ingredients:
2 Tbsp peanut oil
2 garlic cloves, mashed into a paste
1 cup (145 g) golden raisins  (I didn't have enough golden raisins so I used a combo of gold and regular raisins and some dried cranberries and currants)
2/3 cup (95 g) unblanched almonds
2/3 cup (66 g) pecans
2/3 cup (90 g)  cashew pieces or shelled pistachios (I used a combo of both)
*2 tsp Chile Powder Mix (see below)
1 tsp cayenne pepper
1/2 tsp freshly ground black pepper
1 Tbsp Worcestershire sauces
1 1/3 cup (90 g) broken thin pretzel sticks (1 inch pieces) I used a gluten free variety
1 tsp coarse salt
pinch of sugar
*For the Chile Powder Mix
Ingredients:
3 Tbsp ancho chile powder
1 Tbsp ground cumin
2 tsp dried oregano
1 tsp ground coriander
1 tsp freshly ground black pepper
1 tsp course salt
Mix ingredients together and store in a sealed container
Instructions:
Preheat oven to 350f/180c
Heat the oil in a large frying  pan. Saute the garlic 1-2 mins. Add the raisins, almonds, pecans, cashews, chili powder, cayenne, and black pepper. Then add the Worcestershire sauce and mix well. Stir in the pretzels and cook, storing frequently, 3-4 mins.
Transfer to a baking sheet. Sprinkle with the salt and sugar and bake, shaking the pan and stirring occasionally, 8-10 mins. Turn the mixture into a serving dish and cool.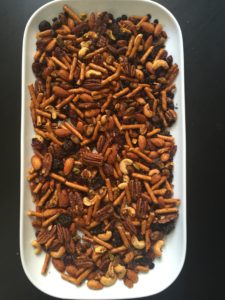 Bubbly White Sangria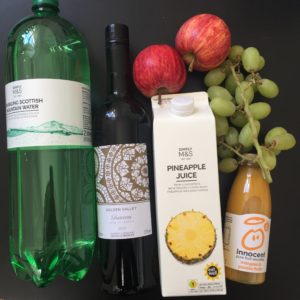 Ingredients:
1/2 pound (250 g) seedless green grapes, stemmed
1 to 2 Red Delicious apples, corded and thinly sliced
1 (750 ml) bottle fruity white wine
1 cup (225 ml) passion fruit or mango nectar
1 cup (225 ml) pineapple juice
2 cups  (450 ml) sparkling water
2 cups ice cubes
Instructions:
Combine the grapes, apples, and wine in a pitcher and let sit, refrigerated for 1 to 2 hours. Pour in the fruit juices and sparkling water, add the ice cubes and serve.
Talk about a perfect flavor combo! The Spicy Nut and Raisin Mix is sweet, salty and spicy with loads of texture and crunch.  I have to say it is quite addictive!  And the cooling and fruity Bubbly White Sangria is the exact liquid follow up.  I love it!  I am not usually a white wine fan, but this is such a tasty treat, and it feels quite healthy!  It was actually a warm sunny day here in London.  So Hubby and I couldn't have enjoyed this more.  Funny enough, there are times he asks if we can take a break from a big dinner (I like my big dinners) and just have something light.  I think these nuts with some cheese and crackers, fruit and veggie sticks, would be a nice summer "nibbles" dinner.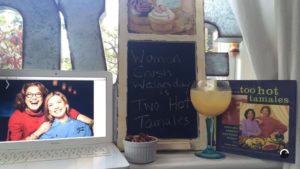 What a wonderful #WCW with these amazing female foodies. Not only accomplished chefs but giving and contributing human beings. They are both involved in philanthropy and active in the Los Angeles community. They have won many awards as chefs and restaurateurs and continue to inspire so many of us. Thank you Susan and Mary Sue for all you do! I am coming to L.A. this weekend and hope while I am in town to stop in to Border Grill for some of your unbelievably awesome creations!
Con amor y gracias a mis profesores,
YDP