Let's be real, I love Mexican food.  I don't even need an excuse to crave it, make it or eat it.  But since it is Tuesday, why not have today's post be all about the Taco?  Hello, I'm all over it! Last Tuesday I made some amazing Shrimp Tacos and did the tutorial on Snapchat (username: blissbakery) and decided to take today to share the recipe and some photos.  And with Cinco de Mayo on Thursday, this just might have to be your 'go-to' main dish to celebrate the day.  Super easy, super delish and super festive!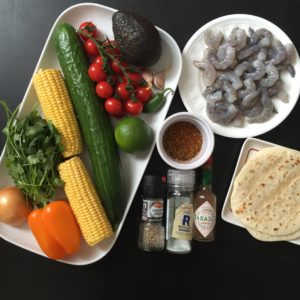 Ingredients:
10 oz (285 g)  peeled and deveined shrimp (or use your choice of protein if you don't care for shrimp, try chicken or beef or even veggies if you prefer)
A sprinkling of Mexican Taco Spice Rub (store bought or recipe below)
Vegetable oil
1/2 Red Onion, chopped
1 clove Garlic, minced
1 Bell Pepper (orange if available), deseeded and chopped
1 Cucumber, deseeded and chopped
12 Cherry Tomatoes, deseeded and quartered
1 Jalapeño Pepper, deseeded and chopped
2 Corn on the Cob, cooked and cut off the cob (or frozen corn defrosted)
Juice of 1-2 limes
1 bunch Cilantro, chopped (if you do not eat cilantro you can substitute with other fresh herbs such as parsley or mint)
Salt and Pepper
1 cup Natural Greek Yogurt
Tabasco sauce
6 Flour or Corn Tortillas (wraps)
Optional 1 Avocado, peeled, stone removed, and cut into chunks
Instructions:
Toss the spice rub on the shrimp and let them marinate a bit
Make the salsa salad by tossing all the prepared veg (the onion, garlic, bell pepper, cucumber, tomatoes, Jalapeño and corn) together in a large container (with a lid ). Season with salt and pepper to taste, the juice of one lime, and a handful of the chopped cilantro. Place the top on the container, shake to coat all the veg and pop into the fridge for an hour.
Heat a large frying pan that has been well coated with some vegetable oil. When it is very hot add the shrimp so that they are laying flat. Once they have turned pink on one side, carefully turn them to the other side with tongs. Continue cooking through until pink on the second side. Remove from the pan onto a heat proof plate and cover with foil.
Prepare the cooling taco topping by mixing together a cup of the natural yogurt, some salt and pepper to taste, a couple of tablespoons of the chopped cilantro and the juice of 1/2 lime.
Heat the tortillas. There are several ways to do this:  Either in an conventional oven at 350f/180 c by wrapping the tortillas in foil and baking for 10 mins, or in a microwave placed on a plate and wrapped with cling film zapped for 30 seconds, or on the stove top (hob) if it is gas, over the flame turning several times until it is heated through but not burnt.
Build the tacos by first placing the tortilla on the plate then piling with the shrimp, then the salsa salad, then the cooling taco topping, then the avocado (if using) and a drop of Tabasco.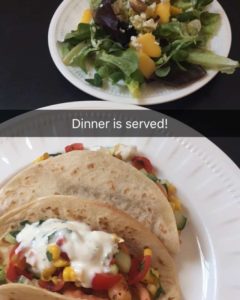 So there you have it, a super healthy and delish din din all together!  Hubby loved it and ate three tacos!  Give it a go yourself and let me know how you get on, and send me a pic if you do!  I'd love to see what you're cooking too!
Mucho amor,
YDP
Mexican Taco Spice Rub Mix (makes about  1/2 cup)
3 Tbsp Ancho Chile Powder
1 Tbsp ground cumin
2 tsp dried oregano
1 tsp ground coriander
1 tsp freshly ground black pepper
1 tsp course salt
1/2 tsp garlic powder
1/2 tsp chili flakes
Mix all together and place in a sealed container. You won't need all of it for this taco recipe, so save the rest for the next time you make them or use in another dish.