Jamie Oliver is one of my all time fav chefs.  I love his recipes!  I've even shared one on here before.  They are tasty, clean and easy to follow.  But more so I love his style and delivery in his cooking tutorials.  I mean, who wouldn't want to make a dish where all you have to do is "Chuck it in the pot" or "Bang it in the oven"?  Just makes it sound like you are having a blast in the kitchen.
So with a sick Hubby I decided to make a stew for dinner tonight and use some healthy veg I had on hand and just chuck it in and see what happened. Well it was a rousing success and Hubby ate two bowls.  Although he referred to it not as stew but as a warmed salad because there was so much green!
I'll get to the recipe in a second, but I just wanted to share a quick little Hollywood story, as I know some of you like the bit of "goss" from my days working and living in La-La Land.  During one of the U.S.A.'s political campaigns things were dicey and people got into their "camps" of "your team vs. my team" mentality.  I am not a political person so I don't even go there.  I always vote, but my beliefs are private.  But many, especially celebrities, use fame as a commodity.  And try to "sway" their "followers" to their "camp".  Anyway, the actor Alec Baldwin said during one of these political seasons that if a certain person was elected president he would chuck it in and leave America full stop.  Well, that certain person WAS elected and Alec was still a resident.  I used to tease my Hubby that if I ever saw Mr. Baldwin in person I'd ask him about his moving plans.
How did I know that he was still a resident?  Well we worked out at the same gym!  One day I was on the treadmill and he came to work out, and as per usual there was a bit of hub bub about when he arrived.  He got on the treadmill, NEXT to me, and I caught a glimpse of Hubby across the gym.  He had a panicked look on his face.  He knows that though I am a very kind person, I can also be feisty.  So as Alec began to trot along on his treadmill, while reading the paper with his thick black rimmed glasses, I started thinking how I might broach the subject of his residency.  When all of the sudden a giant THUD and crash happened.  Alec had fallen off his treadmill.  Everyone in the gym ran over and there were oooohs and aaaaahs.  I stopped walking and started to feel guilty.  OMG what if he was reading my mind and the thought of a confrontation gave him a heart attack?
In a matter of seconds it was determined he was fine, though very embarrassed.  He said, "Geez guys I'm okay, just fell off the treadmill".  I was so stunned.  It was one of those moments that was super funny, but strangely awkward so I didn't dare laugh.  But I also didn't ask him why he hadn't moved yet.  I realized that it didn't actually matter.  He was hurt, well more his ego was hurt, and that we just needed to forget about it and get back on the treadmill of life.
So today, when I read Jamie Oliver's Instagram post I was happy that he could be so free with his opinions.  We are very lucky to live in an open society where we can voice our feelings.  But when he said (paraphrased) that if a certain person was elected that he would "chuck it in" and leave the country, then I could only do one thing.  Make a stew!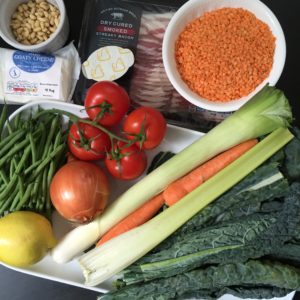 Ingredients:
1 Onion (chopped)
1 Leek (cut in half and sliced into half moons)
1 large or 2 medium carrots (peeled and cut into half moons)
8 slices of smoked Bacon Rashers (if making this vegetarian you can omit) cut into 1 cm wide strips
4 vine ripened tomatoes (cut into chunks)
175 g (6 oz) Green Beans (tip and ends snipped off) and cut into thirds
185 g (1 cup)  red split lentils
1 Chicken Stock Pot (or vegetable if making vegetarian)
2 handfuls Cavolo Nero Kale (remove the tough stems first then roughly chop)
1/2 Lemon
1 Handful of Pine nuts
1 Handful of grated Gouda Goat's cheese or grated Parmesan Cheese
Salt and Pepper to taste
1 Knob of Kerrygold Irish Butter (or 1 and 1/2 TBPS  olive oil)
Optional:
2 cloves garlic, chopped
1 Tbps fresh basil leaves, chopped
Instructions:
Heat butter or olive oil in a large pot on medium low heat. Chuck in the onion, leek, carrot and 1/2 the cut up bacon strips. Sprinkle with a bit of salt and pepper. Cook for 10 minutes uncovered stirring from time to time so it doesn't stick.
Chuck in the lentils, green beans, tomatoes, stock pot, a bit more salt and pepper, and 600 ml of boiling water. Stir well and when it all comes to a boil, reduce heat and cover. Simmer for 20 minutes. Make sure the veg stays covered with liquid. If it gets low add some more boiling water.  Chuck in the Cavolo Nero for last 2 minutes of cooking time. Taste and adjust seasoning with salt and pepper.
Before the stew is finished, cook the other 1/2 of the bacon in a pan. When it is done let it drain on a paper towel. When cooled crumble into pieces. Pour out most of the fat in the pan, leaving just a bit (if making vegetarian, just use olive oil). Fry off the garlic if using, and the pine nuts in the pan. Sprinkle with some salt. When the pine nuts are slightly browned, remove from the heat. Chuck back in the crumbled bacon and the chopped basil. On top of all of this squeeze with the 1/2 lemon and toss.
To serve, chuck stew into a bowl. Top with the bacon/pine nut/ garlic/basil mixture. Then sprinkle with the grated cheese. Enjoy on its own or with some crusty bread!
And be careful when you say you are going to "chuck it in" and leave the country for any reason.  I just might be next to you on the treadmill at the gym…Just waiting to ask you why you are still here!
Lovin and Chuckin,
YDP