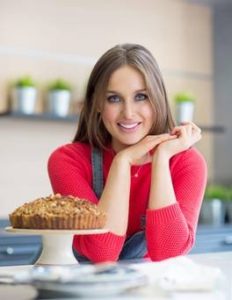 Returning to London with grey and rainy skies doesn't sound very exciting. Especially when it seems everyone else in the world is enjoying a bit of fun in the sun.  This is why a hump day activity such as the 32nd edition of Woman Crush Wednesday is key to bringing happiness and sunshine into our world here on Yankee Doodle Paddy!  No offense to the gastronomic guys, but as a chef myself, I'm just trying to give the female foodies some attention.  And what better honoree to shower with love today than the amazing Rozanna Purcell!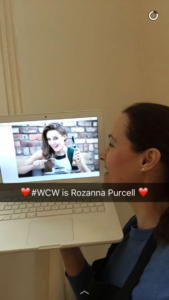 I met Roz at the IBA16 Conference and she was as lovely and sweet in person as you would imagine by looking at her gorgeous photos.  She is a Miss Universe Ireland (2010) and a world famous model, but her beauty radiates from inside out.  And her passion for real, whole, natural food is apparent.  Along with her healthy lifestyle of staying fit and active, she is an inspiration to many.  Her blog and her book Natural Born Feeder, are loaded with delicious recipes to keep people on track, especially with the delectable photos!  One look at her instagram and you'll be drooling too!
When I met her at the IBA16 conference, I gave her one of my S'Mores bars.  I wasn't sure how she'd react, but she said she is actually an 80/20 eater, meaning she's mostly good, but allows herself the little treat.  So for today's recipe, I decided to make one of her treats, the amazing NBF Protein Balls.  While my S'mores bars are in the naughty category, these are nice.  They are packed with goodness and fiber from the chick peas (garbanzo beans), and with the addition of peanut butter I had to give it a go.  The Yankee Doodle part of me gives in to the American obsession with all the nut butters!  Her recipe looks fab and also not too difficult.  Since I am doing the demonstration live on Snapchat (my username is blissbakery), I want to share something that all would feel comfortable re-creating as well.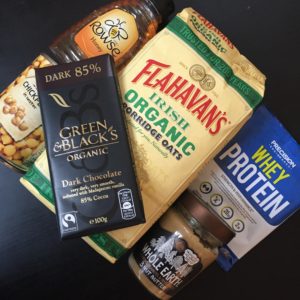 Ingredients
1 can chickpeas (also called Garbanzo Beans, and  I drained out the liquid)
2 scoops whey protein (about 50 g total)
2 tbsp. peanut butter
1 tbsp. honey
50g (1/2 cup) Flahavan's Oats (if you can't find them, use other oats, preferably organic)
70g Dark chocolate for dunking!- optional
Method
In a food processor blend the oats into a fine flour and place into a medium sized bowl.
Place the chickpeas in the food processor and blend until smooth (we don't want to give away any idea these are made of chickpeas!)
Add in the rest of the ingredients and blend until fully combined (I folded in the oat flour with a rubber spatula at the end)
Using your hands take sections and roll into balls (I placed on a parchment lined tray)
Melt the dark chocolate, dunk the balls into the chocolate and allow to cool. These will keep in the fridge for up to 3 days.
These NBF Protein Balls turned out amazing.  So moist and nice and chocolate-y.  I love the texture with the ground oats too.  Once the balls had cooled and the chocolate had hardened I also dusted a bit of Green & Black Organic cocoa powder on top.  The recipe actually seems quite adaptable and one could roll the balls in desiccated coconut or chopped pecans.  The options are endless.  I think these would be a nice treat to have when you're trying to be on the straight and narrow, but still have the urge for a goodie.  You won't feel deprived at all.  And because they are so healthy you actually feel compelled to eat more!  Ooops!  Self control!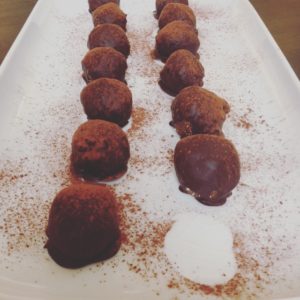 What I really admire about Roz is her honesty about her relationship with food.  Not only when I heard her speak live, but also on her blog, she admits that she wasn't always healthy.  And while in the past she might have tried every diet imaginable, these days she sticks with whole foods.  Nothing processed, and not a restricted diet either.  She mixes things up with veggie and meat, paleo and raw.  So long as it is pure then it gets the green light.  It is about balance and is what fuels her to keep up her exercise regime.  Not just a fan of the gym, she's also an avid cyclist!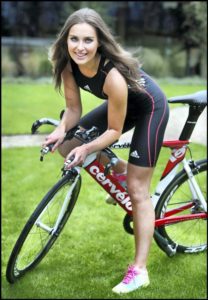 While she is certainly in the lime light and appears often on television and magazines (as well as having a clothing line), she is down to earth.  Roz is a very caring and generous person.  She's involved in a number of charitable causes and interweaves that with participating in foodie shows like Come Dine With Me and The Restaurant.  Of course, because she is also a mommy to her lil Jack Russell named Wilko, she has stolen my heart.  Especially since I am missing my girl doggie Stella who is hanging with her friends in Ireland at the moment.  Probably glad she missed my bad singing and dancing  on the tutorial today! LOL!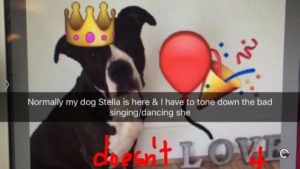 Thanks Roz for the inspiration! Great balls of fiery love!
YDP
P.S. A little side note that Roz and I have both had our likeness drawn by the incredible Holly Shortall (@hollywoulddublin)!