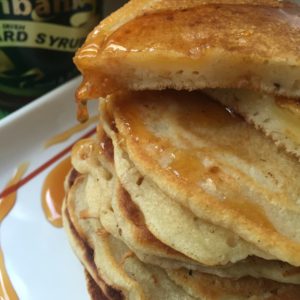 Last week I posted a recipe for Easy Peasy Pancakes. They are delicious and quite healthy, ticking all the boxes of gluten, dairy and sugar free. This week I am posting one of my all time favorite creations.  An amalgam of my Yankee Doodle and Paddy self!  It is a typical  American Buttermilk Pancake recipe with a surprise!  And who doesn't love a surprise?  I've incorporated apple rings inside the batter and have used the most amazing Apple Orchard Syrup from Highbank the Irish artisan farms in Kilkenny. This may not be in the "free from" category, but one taste and I think you will be so delighted that it won't matter. What will matter is how quickly you can get one more bite of these Apple Buttermilk Pancakes!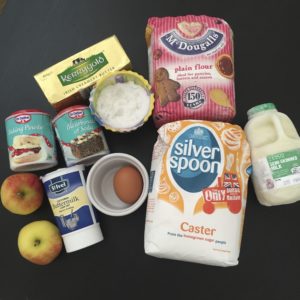 Ingredients:
1 cup (5.6 oz or 159 g) plain flour

1 tablespoon sugar

1 teaspoons baking powder

1/2 teaspoons baking soda (bicarbonate of soda)

1/4 teaspoon salt

1 cup (225 ml) buttermilk

3 Tbsp regular milk

1 egg

2 Tbsp butter, melted and cooled
2 apples peeled, cored and thinly sliced into rings (ps. don't throw away the peels, they make a great snack if you toss them in cinnamon and sugar and bake them in the oven)
Instructions:
Sift the dry ingredients  (flour, sugar, salt, baking powder and soda) into a large bowl
In a separate bowl whisk the wet ingredients (buttermilk, regular milk, egg and butter)
Add the wet ingredients to the dry and carefully fold together, it's okay for it to be a bit lumpy.
Add the apple rings to the batter and let them get totally covered
Melt butter in a large frying pan or pancake griddle. Spoon a dollop of batter onto the hot pan. Then immediately (using tongs) place one apple ring on top of the batter and press down so that the batter rises up to nearly cover the apple ring.
Cook for several minutes until it bubbles, then carefully flip the pancake using a spatula. Cook for another couple of minutes until it is golden.
Remove to a plate and keep warm while continue cooking the rest of the apple rings and batter. You should get 12 pancakes. Serve with the beautiful Irish Organic Highbank Orchard Syrup.  I gave away a bottle of it for one of my competitions, lucky for the person who won. But if you can't find it in a local shop here is a link to get one from the source. However these pancakes taste great with maple syrup as well.
This recipe is easily adapted if you prefer to use chocolate chips or blueberries.  As well you can double or triple the quantities if you need more. I did a tutorial of this for my Snapchat (username: blissbakery). So if you are a bit concerned wondering if it is too fiddly then check out how simple it actually is!  I served them with gorgeous Bramley Apple Sausages, but if you're vegetarian, they are just as delicious on their own.  Hope you enjoy them as much as we did (ahem, yes even Stella).
Apple LOVE,
YDP