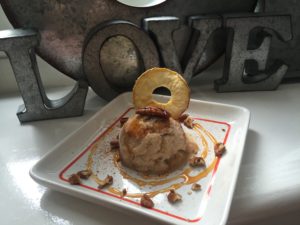 It is heading towards a year now that I have had this blog going.  Hard to believe!  One of the key aspects starting out was to keep things balanced. Well, I have a lot of making up to do! As I said on my ABCs of YDP, I want to keep a balance of "naughty" and "nice" recipes.  And if you do the numbers, I am weighing more heavily on the naughty than nice in the SWEETS section.  I'm doing ok in the SAVORY aspect, just to give myself a little positive reinforcement.
So this recipe is to make amends!  It is sugar free, dairy free and gluten free. But it is not free from fantastical flavors!  It is simple to make and very creamy and delicious.  You can jazz it up to your own tastes.  I made this for the "CookreelTV" takeover of their snapchat account this past Thursday.  I posted the recipes for the Raspberry Chicken and Rice Pilaf that were the main course, but I wanted to share this one on its own.  Why?  Just to highlight its specialness and to remind myself to bust out more of my "nice" (meaning good for you) dessert recipes.
Ingredients:
4 ripe bananas, peeled and wrapped in plastic wrap
handful of toasted pecans, crumbled
2 Tbsp maple syrup
½ cup unsweetened almond milk
1 tsp vanilla extract
½ tsp Sea salt (optional)
sprinkle cinnamon
Drizzle of Irish Highbank Organic Orchard Syrup
Instructions:
Freeze wrapped bananas over night. Alternatively you can slice them and place on a tray lined with parchment paper and freeze at least 3 hours.
Using a food processor fitted with a metal blade, blend frozen bananas, almond milk, vanilla, and  2 Tbsp maple syrup, until completely smooth.
Transfer to 4 bowls and garnish with pecans. Sprinkle each with the cinnamon and sea salt if using.  Then drizzle with Highbank Organic Orchard syrup. If you have  baked Apple Chips you can use as garnish as I have in the picture. Serve while singing the Banana Boat Song (aka Day-O)!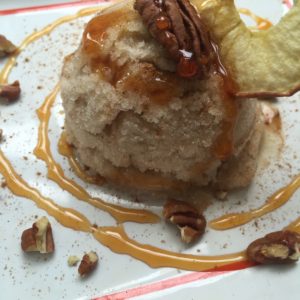 Because I like to do themed musical accompaniment when I do cooking tutorials, I chose a fruit theme for my Cookreel TV snapchat takeover.  I started with Tutti Fruity from Little Richard and made a Carmen Miranda headdress with emojis, and played loads of other fun fruit tunes.   I ended with the Banana Boat song to go along with this dessert.
But what I didn't say was that I have met Harry Belefonte, the lovely man who made the song famous. He happened to be the grandfather of one of my students when I taught preschool in L.A. Each year we hosted an event and invited just the grandparents to spend the day with their grandchildren at the school.  Being that it was L.A., we often had celebrities there.   I must say of the many who attended over those years,  Mr. Harry Belefonte was quite the gentleman. I really loved meeting him.  And I adored teaching his little Maria who must be in university by now. Wow how time flies!  Which is why we need to appreciate every DAY-O!
Bananas in LOVE,
YDP