Why is it that every time we get bananas in the house there are the couple left uneaten turning brown and spotty?  One would think maybe we should just buy a smaller bunch when we go to the supermarket. However, I think we will keep the status quo because my inner baker is always thinking of another way to utilize their sweetness!  Many of the recipes for ripened bananas you see are for banana bread, muffins, cupcakes etc. And though I once tried a healthy three ingredient banana pancake recipe it was a bit too fiddle-y to make.  I was so hungry this morning too, so that is always an incentive to get crackin' in the kitchen.  I made the recipe for a tutorial on my snapchat story (username is blissbakery) and it really lives up to it's name.  This my friends, is an easy peasy pancake recipe that will now be in heavy rotation!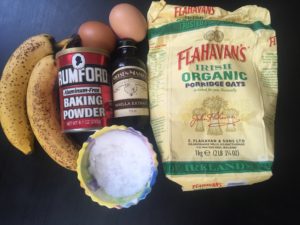 Ingredients:
2 ripe bananas, peeled
2 eggs
1/2 cup (50g) porridge oats
1 tsp baking powder
Pinch of salt
Couple of drops of vanilla extract
Whizz everything up in a blender until smooth. Let sit for a few minutes to thicken up a bit. On the stove top, heat a griddle or frying pan with some melted butter or coconut oil.  If you prefer you can use a non stick pan.  Drop the batter into small rounds using a turkey baster or a spoon.  Cook for a couple minutes then careful turn with a spatula. Continue to cook on the other side until golden brown.  Remove to a plate.  Sprinkle with cinnamon and pecans and drizzle with syrup.  Or you can top with your favourite berries. So delicious and nutritious!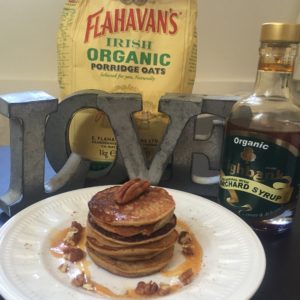 Because I like to support Irish food producers, I used Flahavan's Organic Porridge Oats and Highbank Organic Orchard Syrup. I not only love the taste, but I feel these products are good for your body and the environment.  But you can choose any type you like.  In fact, Hubby had his pancakes with maple syrup instead.  Coming from America, maple syrup is a staple there so he's accustomed to it!  The recipe got the thumbs up as he gobbled up all his pancakes.
The great news is that they reheat well.  Hubby had a dentist appointment just as I was about to serve them. So I went ahead with breakfast and he had his (reheated) when he got home and they were perfect.  As well, these are so light that you don't feel the carbo bloat after you eat them as you do with ordinary pancakes. They are gluten free, dairy free and sugar free.  Give them a go yourself and let me know what you think!
Going bananas with LOVE,
YDP