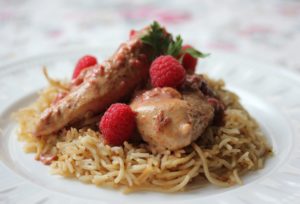 I'm sure you have all heard about how we should be getting our 5 a day fruit servings.  But in our busy lives we might forget. Our breakfast is cereal and milk, lunch is a ham and cheese toasted sambo, and by dinner we think, ah sure what the heck let's just have a chipper. For my non Irish friends that means going to a local take away and having fish and chips. But I have a plan for you to get your daily fruit serving in one fell swoop at dinner!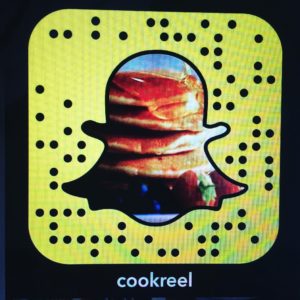 I had the wonderful fortune of being asked to do a "takeover" of CookReelTV's  Snapchat account yesterday.  It will only be up for 24 hours but check them out (@cookreel) as they have great ongoing cooking tutorials.  I did a menu that was quite fruity.  I had some Aperol/Proseco/Orange Liquid Libations, and a couple of easy nibbles. One was a watermelon and feta cheese skewer sandwiched at the ends with a fresh mint leaf and a blueberry.  Add a sprinkling of pepper and drizzle of balsamic vinegar and it is a fresh fruit explosion!  I also demoed my Bacon Wrapped Dates stuffed with Goat's Cheese, for which I have a simple but fun YouTube tutorial if you'd like a peak (click here). But instead of a Balsamic Reduction Sauce on the side, I drizzled Pomegranate Molasses on top for extra fruity flavor.
For the main course I did my fav Raspberry Chicken with a side of Rice Pilaf and Roasted Asparagus. Super easy and delish!  Okay so I use a bit of butter and a touch of cream in the sauce, but other than that it is completely lovely and also gluten free!  And I love my salads so I served a mixed leaf green salad with some fresh sliced nectarines and toasted pine nuts tossed with a light vinaigrette.  So if you find you have ended your day with out some Fruitii-Tutti in your life, give this concept a whirl!
Raspberry Chicken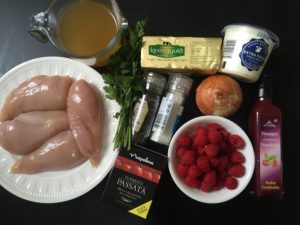 Ingredients:
4 boneless, skinless chicken breasts, flattened
2 tbsp butter
1/4 cup onion, chopped
4 tbsp raspberry vinegar
1/4 cup chicken stock
1/4 cup heavy cream
1 tbsp canned crushed tomatoes (called Passata in this part of the world)
1 cup fresh raspberries, plus more for garnish
Salt and pepper to taste
Flat leaf parsley, chopped
Preparation
1. Melt butter in the skillet. Season chicken breasts with a bit of salt and pepper and cook for about 3 minutes per side or until lightly browned. Remove from skillet and keep warm.
2. Add the onions to the skillet and cook covered over low heat until tender (about 15 minutes)
3. Add the vinegar to the skillet with the onions and raise the heat cooking uncovered (stirring occasionally) until vinegar is reduced to a syrupy spoonful.
4. Whisk in the chicken stock, cream and crushed tomatoes and simmer for 1 minute. Return the chicken breasts to the skillet and gently simmer in the sauce basting often. Cook until the chicken is done and sauce is reduced and thickened (about 5 minutes).
5. Remove the chicken with a slotted spoon and keep warm. Add the raspberries to the sauce and cook over low heat for 1 minute. Do not stir the berries with the spoon, just swirl them in the sauce.
6. Serve the chicken on a plate with the sauce along with the rice pilaf (recipe below) and a nice green veg like roasted asparagus. Garnish with flat leaf parsley.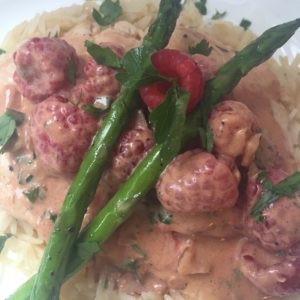 Rice Pilaf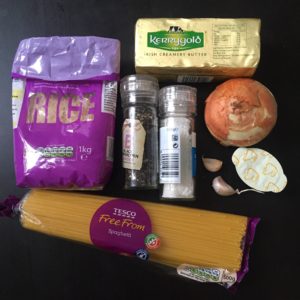 Ingredients
1 tbsp vegetable oil
1 tbsp butter
1 medium yellow onion, minced
2 cloves of garlic, finely minced
2 cups of chicken broth
3/4 cup basmati rice
1/4 cup spaghetti sticks, broken into 1-1 1/2 in pieces (I used gluten free spaghetti)
Salt and fresh ground pepper to taste
2 tbsp flat leaf parsley, chopped
Preparation
Heat oil and butter together in a large skillet. Add onions and cook 2-3 minutes. Add garlic and cook for one minute, stirring frequently. Season with salt and pepper. Add rice and spaghetti, stirring to combine with garlic and onions. Cook for 2-3 minutes until rice and pasta begin to lightly brown. Stir in chicken broth and bring to a boil. Once the liquid is boiling, turn heat down to simmer and cover, cooking for 15-20 minutes or until liquid is absorbed. Add a pinch of salt and pepper if needed. Fluff the cooked rice mixture and add chopped parsley.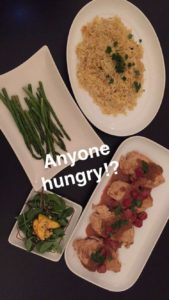 To finish things off nice and fruity-licious, I also did an easy sugar, dairy and gluten free Banana Boat Dessert.  I'll post that recipe separately.  But it is delicious and nutritious.  Plus it is a great way to get rid of ripe bananas that doesn't consist of putting on the oven for a banana bread. I love my baking but it is hot as blazes here in London and so nice to have a sweet treat option that cools you down a bit!
Thanks again to CookReelTV for the opportunity to share some great recipes, even if I did so with some bad singing and dancing.  But sure we had fun over here!  Maybe not my doggie Stella though!  You can watch me on Snapchat (my username is blissbakery) for more food adventures.  All done with LOVE of course!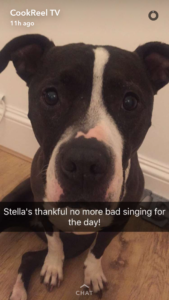 Fruity LOVE,
YDP
P.S. The top photo was taken by my daughter @inherchucks and the Raspberry Chicken is slightly adapted from the Silver Palate Cookbook