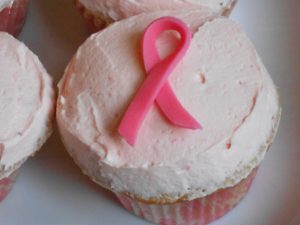 For some reason I was feeling very homesick for Ireland this morning. And since cooking and baking make excellent therapeutic activities, I hit the kitchen. I had some strawberries on hand and thought about the time I made strawberry cupcakes for a Breast Cancer fundraiser on the Emerald Isle!  Only I used Wexford Strawberries, the world's best strawberries in my opinion.  However, even if I didn't have the juiciest, sweetest and most flavorful strawberries in the world, I could just imagine I did!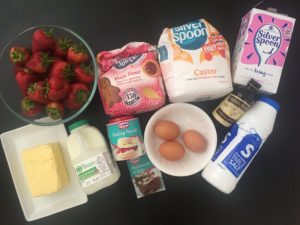 Wexford Strawberry Cupcakes
Cupcake ingredients:
1 ½ cups (220 g) regular flour, sifted
1 tsp baking powder
¼ tsp salt
¼ tsp baking soda
Fresh Strawberries pureed to get 1/3 cup (70 g)
¼ cup milk (50 ml) room temperature
1 tsp vanilla extract
½ cup (114 g or 4 oz =1 stick) unsalted butter
at room temperature
1 cup (215 g) caster sugar
1 large egg + 2 large egg whites
*buttercream ingredients to follow
Instructions:
In a bowl whisk together the flour, baking powder, baking soda and salt. Set aside.
In another bowl mix together the strawberry puree, milk, vanilla. Set aside.
In an electric mixing bowl (using the paddle attachment) beat the butter until fluffy. Add the sugar gradually. When combined and nice and light, turn off the mixer and scrap down the sides.
Then on slow speed gradually add the eggs. Stop and scrap the sides again.
Add ½ of the flour mixture, when blended add the liquid mixture. Stop and scrape the sides again before adding the remaining flour mixture.
Put the batter into a paper lined cupcake tin using an ice cream scooper.
Bake for approx 20 mins or until a toothpick inserted in the center comes out clean.
Cool completely in tin before putting frosting on top of the cupcakes.
Strawberry Buttercream Frosting Ingredients
3 Tbsp strawberry puree
1 cup (8 oz) 227 g (which is = 2 sticks) unsalted butter
pinch of salt
3 ½ cups (480 g) sifted icing sugar (also called confectioners powdered sugar)
½ tsp vanilla extract
drop of pink food coloring (optional)
Instructions:
Beat the butter and salt until creamy in an electric mixer with paddle attachment.
Gradually add the icing sugar and scrape down the sides from time to time.
When the sugar is all incorporated add the strawberry puree and vanilla. Beat until just mixed and smooth, but don't over beat. If using add the food coloring and mix through.
Spread the buttercream on the cooled cupcakes and enjoy!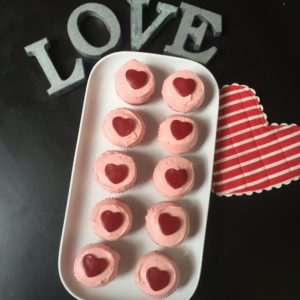 While these may not have the depth of flavor without the use of Wexford Strawberries, they are still delicious.  Hubby ate two in no time at all!  And since I don't need the 14th of February to come around to celebrate hearts and all things LOVE, I decided to go with a very loving themed decor. Because I love Ireland so much!
Strawberry Fields Forever Love,
YDP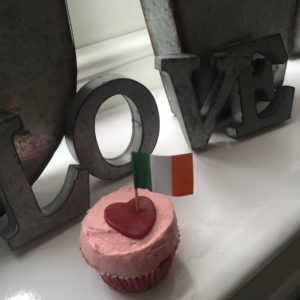 P.S. This is me, with the tri color flag through my heart!