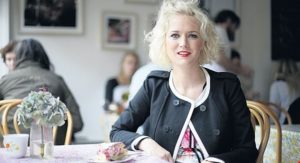 Happy Hump Day folks!  Or as I lovingly refer to it as my favorite day of the week.  I get to try out a new recipe from another gorgeous gourmet gal and share the love for her with you on here, and on my Snapchat cooking tutorial (my username is blissbakery if you'd like to come watch).  Today's Woman Crush Wednesday chef is the beautiful and talented Michelle Darmody.  Her lovely foodie haven The Cake Cafe is tucked away in busy Dublin city center.  An oasis that is oozing with delicious treats.  So of course, today's recipe is going to be sweet!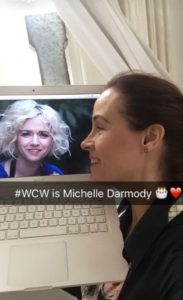 I've been to the The Cake Cafe several times, for breakfast, lunch and even afternoon tea.  It is a quirky, cool, hip place nestled in the patio area of the Daintree Building off Camden Street. You can eat inside or out, but it does get packed as it is so popular. The tables, chairs, linens and crockery are all mismatched to perfection.  But it is the food that stands out thanks to Michelle's love of baking and making the best food possible.
Michelle now has another little sister cafe to add to her arsenal. The Slice is located in the hottest spot in Dublin called Stoneybatter.  I can hardly wait to try it out, but until then here is Michelle's Chocolate Biscuit Cake.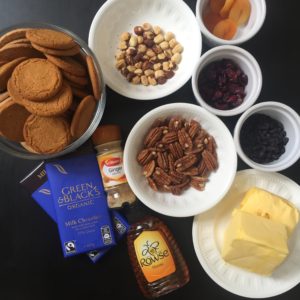 Ingredients:
225 g (8 oz) chocolate
150 g (5 1/2 oz) honey
275 g (10 oz) butter
400 g (14 oz) broken biscuits (you can use digestives, amaretti or ginger nut)
40 g (1 1/2 oz) chopped dried apricots
1 tsp ground ginger
40 g (1 1/2 oz) raisins
40 g (1 1/2 oz) dried cranberries
40 g (1 1/2 oz) chopped hazelnuts
80 g (3 oz) chopped hazelnuts
Instructions:
First, line a 9″Square tin with baking parchment
Melt the chocolate, honey and butter in a bowl. Stir the mixture and make sure the three ingredients are combined.
Mix in the rest of the ingredients and pour the mixture into the tin.
Allow to cool and then place into the fridge to set.  It will take a few hours, so perhaps it is best to make the cake the day before.
How easy is this recipe guys?  No baking even needed!  And it looks like it is an adaptable recipe in that you can substitute various bits and pieces.  For instance, some folks might prefer walnuts to pecans etc.  Or you could make it gluten free by using biscuits made without gluten.   It is a wonderful recipe and would certainly benefit with using the best ingredients possibly sourced.  Of course I am partial to Irish butter, and getting a nice quality chocolate is important.  But it is a wonderful recipe to make and then share with your co-workers or neighbors.  Speaking of which, Michelle is a neighbor of a former co-worker of mine!  Dublin is a small world indeed!
But I have to say I admire Michelle for publishing her own cookery book and doing so without photography but with cool illustrations and graphics.  And her commentary included in the book is lovely as she shares a personal story of how she got to the place she is.  Which in turn affected her ethos on life.  My fav bit is the very last page in small but affectionate letters, " Hugs and butter kisses to all the amazing people who have made this cafe what it is. M.D."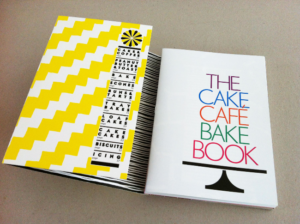 While Michelle has been featured in numerous magazines such as Image and Vogue, and is a food contributor for the Irish Examiner, she is still down to earth.  In an article on Her.ie Michelle reveals that she didn't expect her cafe to become the giant success that it is.  But her philosophy is still the same, to make sure each customer has a happy experience.  Well even the famous American chef Bobby Flay was happy as he said the best breakfast he had in Dublin was at The Cake Cafe!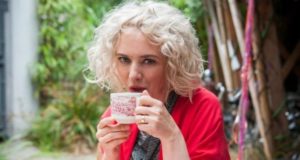 Well I would have to agree!  I also fully support Michelle's article on butter being one of Ireland's cooking assets.  As I have shared on here before, Irish butter is my best friend!  So I might have to work my way through Michelle's cookbook and make each of her buttery delicious desserts!  Until then I am going to enjoy this incredible Chocolate Biscuit Cake!
Thanks Michelle for being an inspiration in the kitchen and in business!
Love from a butter buddy.
YDP