Even though it is hot as blazes in London, I still want sugary treats.  I have a major sweet tooth. While most people are eating ice-cream this time of year,  I'm more of a cake, cookie, brownie person.  But because I don't want to fire up the oven during Woman Crush Wednesday (I learned my lesson last week when it got over 31 degrees), this week's honoree is literally going to save the day!  Enter the gorgeous gourmet gal from Ireland, the fab chef Sharon Hearne Smith.  I nearly met Sharon a couple of years ago at the Ballymaloe Lit Fest.  She was there promoting her book the No Bake Baking Book. I did meet the wonderful Donal Skehan who took the photos for the book, and they are scrumptious looking!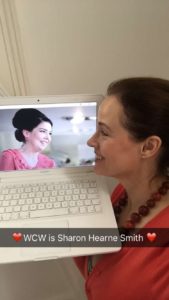 I've been wanting to do a Woman Crush Wednesday for Sharon for some time, and this week the stars aligned.  She is an accomplished chef and cookery book writer, with book number two out now. The No Cook Cookbook, which I am eager to check out as well, is perfect for quick eats and when the weather is just too hot to cook.  But for today, I couldn't resist a bit of sweetness and the chance to make Sharon's Chocolate, Date and  Peanut Butter bars! Yum!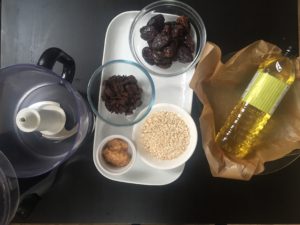 Ingredients:
Sunflower oil, for greasing
350g  (12.6 oz) pitted Medjool dates
100g (3.5 oz) dark chocolate (at least 70% cocoa solids), roughly chopped
75g (2.6 oz or 3/4 cup)  rolled oats, I like to use Flahavan's Organic Porridge Oats
3 tbsp crunchy peanut butter
Edible gold glitter dust, to decorate, optional
Instructions:
Grease the tin with oil and line with parchment paper, leaving 5cm excess hanging over the edges to help with lifting out later.
Blend the dates in a food processor to give a fairly smooth paste. Add the chocolate, oats and peanut butter. Blitz everything together until you have a chunky paste.
Spread the mixture out in the lined tin, levelling the surface with the back of a spoon. Cover with cling film and chill in the fridge for about 2 hours until set.
Lift out of the tin and peel the paper down from the sides. Brush the edible glitter dust (if using) all over the surface. Cut the slab into quarters and then each piece into four fingers. These will keep for up to a week in an airtight container in the fridge.  For extra naughtiness, dip the bars in melted dark, milk or white chocolate and leave to set.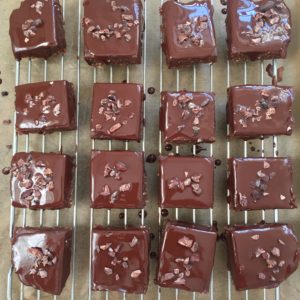 These couldn't be easier to make and if you are a peanut butter fanatic like I am you will be over the moon! I didn't happen to have edible gold glitter on hand, but that didn't matter. They will sparkle and shine on their own merit.  In fact these won't last long enough around here to miss out on the bit of bling!
Besides being an amazing chef, Sharon is a food stylist and has worked with many popular chefs such as Jamie Oliver and some of my Woman Crush Wednesday honorees (such as Ina Garten and Lorraine Pascale).  And if that wasn't enough creativity flowing, Sharon is an amazing crafter as well!  From floral head crowns , to home DIY projects such as trimming her kitchen shelves in lace, she just has a lovely feminine vintage style that I adore!  I get the feeling that another home and lifestyle book might be on the cards next for this super talented lady. And let's not forget that television show, fingers crossed, we all really want to see that become a reality!
Besides being a wife and mommy of two little girls, Sharon is the Irish grocery store SuperValu's Good Food Karma Project ambassador.  The hope is to get Irish people back in the kitchen cooking from scratch at least one more meal per week.  A healthier nation is a happier nation after all!  And because Sharon has a lifelong passion for cooking, there is no better person for the job to instill that enthusiasm than this Wexford born foodie.
Thanks Sharon for being the wonderful role model you are and sharing your love of food with us. Whether through your own recipes or helping other chefs achieve the perfect photos, you are a mover and a shaker in the culinary world. You are simply the best!
Very Vintage LOVE,
YDP