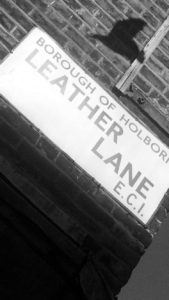 One of the great things about the Foodie Fieldtrip Friday series is that I get to travel to different places that I might not ordinarily go to.  Such was the case this past Friday.  I took my Snapchat friends along as well (my username is blissbakery) and while the story has since expired, I hope this post will continue to inspire folks to go to Good and Proper Tea in London. With three locations, one on Leather Lane that I visited, another on Old Street and a third at the Brockley Market, this business is doing things right.  They also have a G&P Tea Van that travels to festivals.  In fact I remember seeing them at Jamie Oliver's Feastival in the Cotswolds when I went last summer.  Their aim when starting was to source and brew the best tea possible.  They have succeeded.  And on top of that, their crumpets have been touted as the best in London.
While their crumpets are square as opposed to the usual round variety, they serve them the traditional way, buttered, or many other sweet or savory choices. They even have a vegan option!  As well they have numerous cookies, bars and cakes to tempt, but I went specifically for the crumpets. For some reason I've always associated London with tea and crumpets. And when I came upon a great article on the Londonist with a list of the city's best, I decided I must do it for a Foodie Fieldtrip Friday outing.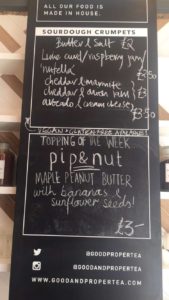 I arrived later than planned but for good reason. I had a lovely surprise meet up with some fellow Irish Snappers.  But I made up for lost time when I arrived at Good and Proper Tea. Ashely and Freddy welcomed me with warm and friendly smiles.  They answered all my questions and offered suggestions about what to order.  I decided since I hadn't had lunch I should order two crumpets!  One sweet and one savory (okay well I only ate half of each taking the rest home for Hubby to taste).  It was so hot that all I wanted was an iced tea to start!
It was quite literally the most refreshing iced tea I have ever had. This coming from an American who lived in Los Angeles for many years.  Ice tea is more popular there than water! But this iced tea was so good in part because it wasn't too sweet and I loved the grapefruit juice tartness.   I really felt like I was drinking liquid vitamin C gold!  I thought a savory crumpet would be best with the iced tea and indeed it was.  I ordered the avocado with cream cheese and chill flakes. It was very moreish I could have eaten the whole thing.  I loved the spongy home baked square crumpet.  There wasn't a hint of stodginess!  I could taste the sourdough in each bite and there were loads of lovely bubbles perfectly baked inside!  It sure got the thumbs up from me!
Now time for round two, sweet crumpets!  I ordered the weekly special which was peanut butter and banana with sunflower seeds. Since I am a self professed peanut butter addict you could only imagine my delight!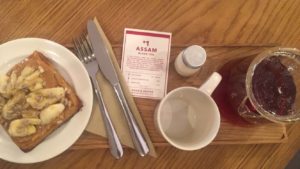 I actually think I died and went to crumpet heaven!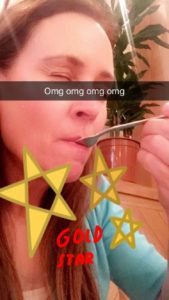 But then it was time to wash it all down with the real McCoy!  Some perfectly brewed tea, and not just any tea!  Only the most popular tea available at Good and Proper!  Even though the temp was warm outside (and London is notorious for not having air conditioning inside of buildings) I went for it.  I LOVED it and the little bottle of milk on the side (so cute) helped cool it down for me!
I love the interior space of Good and Proper Tea.  It is clean, bright and well laid out. With free wifi, nice music and comfy seating I can imagine it being packed at peak hour. Because I was late in the day it wasn't too busy. But it gave me a chance to chat with Ashly and Freddy about the business and all things tea and crumpets!  I also loved perusing the gorgeous teaware selection on offer.  Most certainly great gifts for a tea lover in your life!  Though I didn't buy any thing myself other than my tea and crumpet feast, I definitely want to return with Hubby. However,  I wasn't alone on this trip, as I said my Snapchat friends loved it too!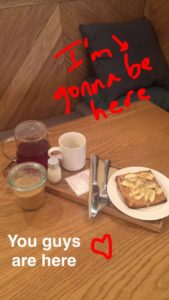 The comments I received from those watching were in alignment with my thoughts about this little adventure.  First off, square crumpets, totally cool!  It is always great to break the ordinary mould in life and make things even better.  Next, the care with which each crumpet was made, the toasting and the spreading of butter prior to the toppings was actually an art form!
Lastly, the method of brewing the tea was new not only to me but those watching. It seems to be engineered in such a way as to infuse the tea to perfection as in a scientific laboratory.  In fact Freddy told me the equipment they use is called a steam pump which was originally used for making coffee. They were able to convert it to their needs for the tea.
I really appreciate an idea that is so passionate that someone would go to great lengths to achieve it.  The owner Emile has done that and with the help of her crowd funding support she can be proud of this wonderful business!  In a country known for centuries as tea drinkers, while the coffee culture may have picked up steam, at least they all know where to go for a good and proper cup of tea. Thanks Emile!
Crazy for Crumpet LOVE,
YDP