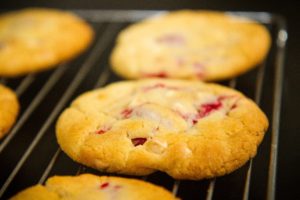 It was another fun CookReel TV Snapchat takeover. I had planned to do a gastronomic expedition and then return home to make a culinary creation. But things were a bit topsy turvy because of the exciting competition vote count for the first Master CookReel Competition!  So I baked up a batch of these amazing cookies and then ventured over to Buckingham Palace.  I mean, it is the number one tourist attraction in London for a reason!
While I wasn't able to give these biscuits (what they call cookies over in this part of the world) to Queen Elizabeth II myself, I figured since berries and chocolate are her two fav foods, maybe I'll be asked back to bake them fresh.  Can you imagine the gorgeous smell of these baking in the Royal oven?  There was a recent media posting that they were looking for a new chef, so I thought the best way to the employer's heart is through their stomach! Until then, hope you give these a try yourself.  They are super easy to make and absolutely mouthwatering!  You could also substitute blueberries or blackberries for the raspberries and even add some lemon zest if you wanted.
Raspberry and White Chocolate Cookies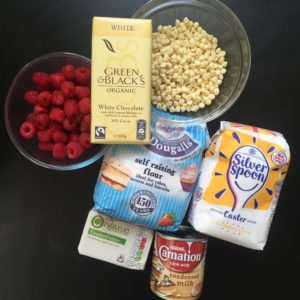 Ingredients:
170 g tube of Condensed Milk
175 g (1 punnet) fresh raspberries
225 g (8 oz) unsalted butter
225 g (8 oz)  caster sugar
350 g (123 oz) self-raising flour, sifted
150 g (5 1/2 oz) White Chocolate bar cut into chunks or use chips
Preheat oven to 180 C/350 F/gas 4.
In a large bowl cream together the butter and sugar until light and fluffy. Add in the condensed milk and continue to beat a bit more, the batter will be pale.
Then, fold in the flour. Finally add the white chocolate carefully.
Put parchment paper on a baking tray. Take a small bit of dough into your fingers and flatten. Place 2-3 raspberries in the middle of the dough and work the dough around it to create a ball. Place on the baking tray leaving plenty of space between the cookie balls to allow for spreading when they bake. Repeat procedure with the rest of the dough.
Bake for 15-18 minutes until golden brown at the edges but still soft. Put the baking tray on a cooling rack. Leave to cool and set before transferring to a plate.
The dough can remain the refrigerator (plain) for a week. Or you can prep the dough with the raspberries and freeze the balls in a freezer proof container for a month.
For this recipe I used the white chocolate chips, but I usually use the Green & Black White chocolate bar chopped up. You could even use a combo of both. I'm normally a milk or dark chocolate girl.  But for these cookies, the white chocolate is the perfect accompaniment to the berries.  And the cookies turn out a bit crunchy on the edges and nice and gooey in the center.  They are my Hubby's favs and I think he pretty much ate the entire batch before they had fully cooled!  That is always a good sign.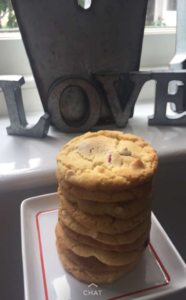 So whether you are meeting the Queen, or miss her because you are late, give this recipe whirl. You won't be disappointed.  I'm sure Hubby would be happy to help you polish them off!
Come again Spoon!  LOVE,
YDP
P.S. You can find me on Snapchat (username blissbakery) everyday, and on Saturdays at 12 noon GMT on the Snapchat take over of CookReel TV (username cookreel). This recipe is from Carnation.