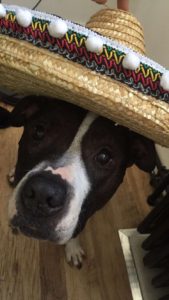 It is safe to say that Mexican food is one of my all time fav cuisines.  And living in Los Angeles for so long I was afforded the luxury of having many great places from which to choose fabulous authentic "South of the Border" cuisine at an affordable price.  I miss that about being in this part of the world.  While it might be hard to find certain ingredients necessary to pull off a great Mexican Fiesta, today's recipe is pretty fool proof no matter where in the world you are.  It is a take off of the traditional tortilla chips with salsa and guacamole. Only this is made with all fruit!  It isn't spicy but deliciously sweet.  And the chips on the side taste like churros, full of cinnamon and sugar. It is also adaptable for folks that don't eat dairy. Just substitute the butter with melted coconut oil, and the whipped cream with whipped coconut cream as I have shown.
This is a perfect dish for a light summer dessert.  Since it is August, there is no better time than now to bust out all the summer fruit recipes.  As well, this is very satisfying for a healthier sweet snack for the kids.  They will love it!  Yet my hubby isn't a kid and he ate almost the whole batch of "Churro-y chips" just on their own.  So here is what you'll need for this no fuss treat.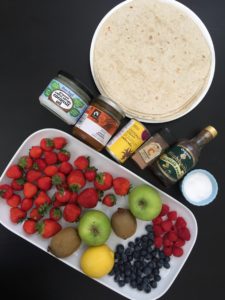 Fruity Salsa with Churro-y Chips
Serves 4-6
2 Granny Smith Apples
2 Kiwis
1 Lemon
½ lb raspberries and blueberries mixed
1 lb strawberries
3 Tbsp Fruit Preserves (you can use any kind you like, today I am using Apricot)
1 Tbsp Brown Sugar or Highbank Organic Orchard Syrup is best
1 tsp Cinnamon
1/3 cup (62 g) Regular Granulated Sugar
A little bit of melted butter or coconut oil
10 Flour Tortillas
Preheat oven to 180 C/350 F/gas 4.
Make the Churro-y Chips: Combine cinnamon and granulated sugar bowl and set aside. Brush both sides of tortillas with melted butter or coconut oil and sprinkle lightly with the cinnamon and sugar mix. Stack several of the tortillas and using a pizza cutter, cut into wedges. Continue until all have been cut. Place on baking sheet and bake for 8-11 minutes until crisp.
Make the Salsa: Zest the lemon and set aside. Peel and finely chop the apple, then squeeze 2 teaspoons of lemon juice over the apples and mix well to combine. Finely chop the strawberries.  Peel and finely chop the kiwis. Gently combine all ingredients. The raspberries will break apart a bit but that's okay. Allow to sit at room temperature for a few minutes before serving.
To serve, place salsa in a nice bowl onto a large platter. Spread Churro-y Chips around. You may also add some lightly whipped cream (or whipped coconut cream if making dairy free) in another small bowl if you desire. Let everyone help themselves!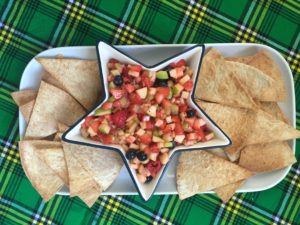 Ah, what a great recipe for the sunny days of summer!  I just think of the beaches of Cabo San Lucas in Mexico when I eat this.  Though I've only been once it is a beautiful place and the fruit is quite luscious.  I suspect one could eat this little snack while wearing a bikini and sitting in a beach chair.  You wouldn't feel too guilty since it's low calorie and not naughty. Though my bikini days were left behind on that beach in Cabo. Yep, true story, I had been working out prior to the trip and proud of the fact I could once again wear a bikini post childbirth. But the first day we were at the waves edge playing with the kids my bikini top literally busted off of me when I bent over. It ricocheted into the ocean!  Mind you this was not a topless beach!  And I am super modest so I was literally mortified and screaming. Um note to self, this only brings more attention to a situation.  So while I will continue to crave delish and nutritious treats, and enjoy my Mexican food, I will forever forgo the bikini aspect of summer!
I Churro LOVE you!
YDP