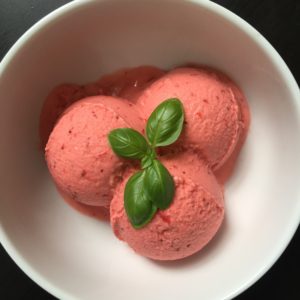 Today I tried a food experiment live on snapchat. It was risky, I mean what if it didn't turn out well?  But with these few ingredients I had a hunch it would be delish. And I was so happy when it did taste the way I envisaged.  Okay, well I'm a massive sugar fan, so I might add more sweetener next time.  But the great thing about this and why it is called "Nicecream" is that there is no refined sugar or dairy.  By the way while I was doing this on snapchat (my username is blissbakery) a lovely girl (username @fightingcal) said she was going to make my "Nice cream" for her son. Brilliant!  I loved that name for it and decided I had to use it!
I happened to have leftover strawberry puree from when I made the strawberry cupcakes (delish but in fact quite naughty, click here to see). And since I hate waste I was thinking of using it to make popsicles (also called iced lollies over here). But I couldn't find those plastic moulds anywhere! And since I am lucky enough to have a fab ice cream maker thanks to my hubby, I said to myself, sure skip the lolly and go for some good old fashioned scoops!  And here it is for you!  So you choose which way you want to enjoy this healthy, dairy free, gluten free and refined sugar free delight!
Strawberry "I Scream for Nice-cream!"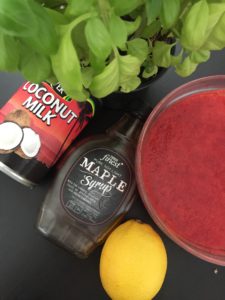 Ingredients:
1 lb (16 oz or 450g) of fresh strawberries (or use frozen)
1 14 oz can of Coconut Milk
2 Tbsp Maple Syrup
Zest of half of a lemon
A few leaves of fresh basil
Instructions
Puree the strawberries. Add the coconut milk and combine.
Add the maple syrup and lemon zest. Puree to incorporate.
Add the fresh basil and pulse to break up the leaves, but
don't over process.
Place into an ice cream maker if you want scooped ice cream
or into plastic popsicle container if you want an iced lolly.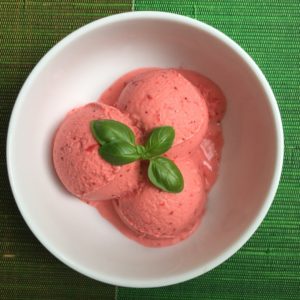 My Grandpa O'Neill loved ice cream. However,there was only one flavor that he would eat. He would take me for ice cream whenever we were together and tell me I could have any flavor I wanted, so long as it was vanilla. I was totally bummed as I wanted Rocky Road. But he was wise and knew I would never finish a whole cone. Which meant he would finish it. So if my grandpa had to eat ice cream he wanted his favorite flavor which was, you guessed it vanilla.
So I'd like to think my grandpa would enjoy this "nice cream. " Though he was so old school he'd say, "what the heck are you putting basil leaves in ice cream for missy?" Well I for one think they bring out the best in the strawberries!
Nice Creamy LOVE,
YDP