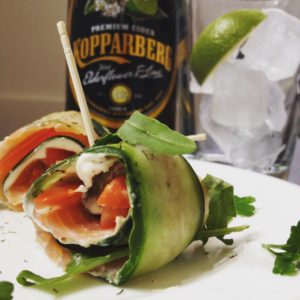 While trying to maintain the balance of naughty and nice, I have a recipe for you today that would definitely fit into the nice category. It is gluten free and filled with veggies and yummy smoked salmon. It is easy to make and very refreshing on a hot summer's day as we've had here in London lately. And if you don't mind the gluten, why you could always put all the bits and pieces into a flour tortilla and make it into a wrap. But I like to do things a bit differently ,as you know, and have used the cucumber itself as the wrap! You just need to have good knife skills or else a mandoline slicer.
Smoked Salmon Cucumber Wraps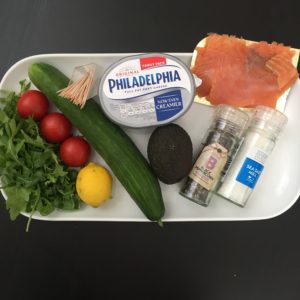 Ingredients:
1 cucumber, sliced lengthwise into thin sheets
1 pkg 100 g smoked salmon
4 Tbsp Philly Cream Cheese
Handful of Rocket (arugula)
2 Tomatoes sliced into strips, removing seeds
1 Avocado, peeled, de-stoned and mashed
Small squeeze of fresh lemon juice
Fresh chopped or dried dill
Salt and Pepper to taste
Toothpicks
To assemble:
Place cucumber sheets in between (kitchen) paper towels to soak up a bit of moisture while you prep other ingredients. Then on a clean cutting board place one cucumber sheet and spread it with cream cheese. Spread avocado on top of cream cheese. Place the smoked salmon on top of that. Season with salt and pepper and a squeeze of lemon juice. Place the tomatoes and rocket leaves on top. Carefully roll from one end of the sheet to the other and secure with toothpick. You should have enough to make 8 rolls. Put on platter and sprinkle with dill.
This Smoked Salmon Cucumber isn't the only wrap. Our time with Quincy Jones here in London is over.  And in showbiz when a event is finished they say, "That's a wrap."  He was here for the weekend for his Royal Albert Hall concert and we were so blessed to be with him. I mentioned our visit with him on Saturday evening.  But to be at The Royal Albert Hall (our first time there) and see him perform was phenomenal.  At 83 this dear friend just keeps on inspiring.  Not just with his talents of course, but his LOVING spirit.  Not sure if we will see him next back at his place in L.A. or other parts unknown.  We were with him at the Montreux Jazz Festival a couple of years ago and have also met up at the Karlovy Vary Film Festival in Czech Republic.  But no matter where or when, we just want to wrap our hearts around each other in gratitude!
LOVE Wrap,
YDP