With this being the first Woman Crush Wednesday of the second year in the life of Yankee Doodle Paddy, I knew we had to honor someone special.  A chef that has made a difference in the lives of others and has charted new food territory.  For us foodies who are in awe at the legacy she has created, we just can't get enough of the beautiful way she puts together top quality ingredients to create a perfect symphony of flavors.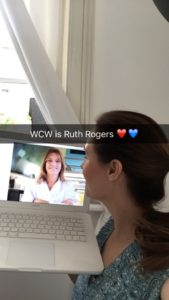 Ruth Rodgers opened The River Cafe back in 1987 with her late business partner Rose Grey. They ventured into new territory for female bosses in a male dominated profession. But they let their food do the talking.  Italian inspired and beyond delicious, their London restaurant eventually won a Michelin Star.  And so many chefs have gone through the kitchens, that Ruth can proudly say she has created something beyond the River Cafe.  Names such as Jamie Oliver, Hugh Fearnley-Whittingsdale and April Bloomfield are just a few who were lucky enough to cook the incredibly creative yet unfussy dishes.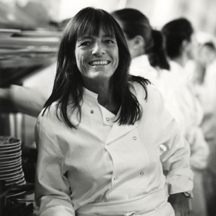 With six award winning books, it was hard to choose a recipe to make.  I always do a recipe on WCW I've never done before but the inventory of dishes in Ruth's arsenal is thick!  But since one of her specialties is the clever yet simple ways she makes pasta come alive, I decided to try the Tagliatelli. When Hubby and I went to The River Cafe for our anniversary back in 2012, I could have eaten every pasta dish on the menu.  But for today, we'll give this one a go.  And I"ll be doing the tutorial live on my Snapchat account (username:  blissbkakery).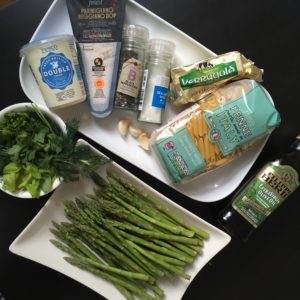 Tagliarini al Bosco (Tagliarini with Asparagus and Herbs)
Ingredients:
675 g (1 1/2 lb) thin asparagus stalks, tough ends trimmed
sea salt and freshly ground pepper
250 ml (8 fl oz) double cream (called heavy cream in U.S.)
4 garlic cloves (peeled 3 whole, 1 chopped)
2 Tbsp olive oil
50 g (2 oz) butter
4 Tbsp finely chopped fresh mixed herbs (basil, mint parsley, oregano)
250 g (9 oz) tagliarini or tagliatelle (I used penne pasta)
120 g (4 1/2 oz) Parmesan, freshly grated
Method:
Cut the asparagus stalks into 2 cm (3/4 in) slices at an angle.  Blanch the stalks in boiling salted water for 1 minute. Blanc the tips for seconds only.  Drain well.
Bring the cream to the boil in a large saucepan with the whole garlic cloves and simmer until the cloves are soft. Remove from heat, and discard the garlic.
Heat the oil and butter in a separate saucepan and fry the remaining garlic until light and brown.  Add the herbs and stalks, and cook briefly just to coat them in the butter and oil, then pour in the flavored cream.  Bring to the boil, reduce the heat, and simmer until the cream behind to thicken, about 6 minutes.  Season with salt and pepper.
Cook the pasta in a generous amount of boiling salted water, then drain thoroughly.  Add to the sauce along with about half of the Parmesan and the asparagus tips.  Serve with the remaining Parmesan.
This pasta was a big hit tonight.  Hubby loved it and even though it is cream based, it actually tasted quite light. The ratio of asparagus to pasta was just right too.  And it was an easy to follow recipe that could be put together even after a long days work.  Since there's only two of us in the house we will look forward to left overs for lunch tomorrow.  The recipe says it serves 6 people, but we sure made a good dent in it because of the fresh and flavorful taste.  I used a combination of herbs but if one only had basil that would suffice.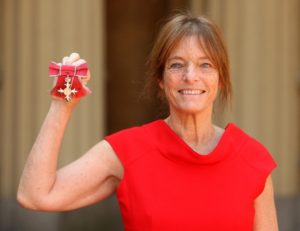 While I have been calling Ruth by her given name, she is actually now know as Lady Rogers. She received the MBE from Queen Elizabeth II in 2010. Pretty amazing considering she was born in New York and lived in America through her college days.  After a move to London where she met her husband, she spent time in France and Italy were she honed her culinary palate for the unctuous Italian food. That was the cuisine on which she and partner Rose Grey chose to base their restaurant when it opened. With an amazing wood fired pizza oven, minimalist interior design, and open kitchen plan, The River Cafe was a step ahead of any other dining establishment at the time.
Even nearly 30 years later there is still a wait to book a table as the legacy has continued to flourish. And Lady Rogers has carried on without her beloved pal and partner Rose.  But likely her spirit is forever there with the whole of The River Cafe team. Truly a remarkable food experience infused with the love of two gorgeous gourmet gals!  And lucky for us they paved the way for other ladies to carve their way into the culinary world.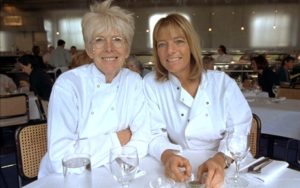 Thank you sweet Lady Rogers (and indeed posthumously Lady Grey) for your contributions to the gastronomic world. We are forever in your debt!
River of LOVE,
YDP