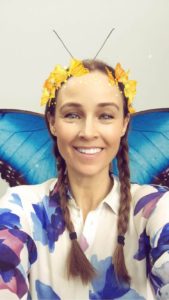 This week for my take over of Cookreel TVs Snapchat account we had the most awesome Food-venture!!  It started with a Gastronomic Expedition at London's famous Natural History Museum. While I didn't have time to go around the whole museum, I did visit the "Sensational Butterflies" exhibit. It was a delight for the senses. I have never experienced anything like it before.  "Color and Vision" as it is dubbed of beautiful butterflies all around! One even landed on my arm.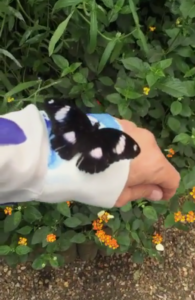 Some might wonder what butterflies have to do with food? Well not only are they an important part of the eco-system and cycle of life, HELLO the name says it all!  BUTTERfly! I've shared on here before about my love affair with butter so of course, I had to check out this naturalists dream come true!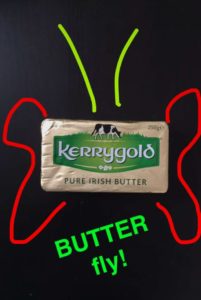 The culinary creation part of the take over had to incorporate the theme, so I made beautiful Butterfly Buns. They are basically vanilla sponge cupcakes with the tops cut off and then make to look like butterfly wings.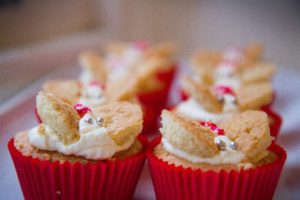 To wash down the deliciousness I made my famous Lemon-Aid which I've shared on here before (click here to get recipe). And for fun I made edible caterpillars. Okay maybe they were really gummy worms I dipped in chocolate and rolled in crushed up Oreo crumbs, but I have a great imagination. Don't you remember one of my early posts about my invisible socks? Well, there is actually a fab recipe for a gluten, dairy, sugar free chocovado pudding (click here). But today's recipes are well stocked with sugar, flour and of course butter!!!
Butterfly Buns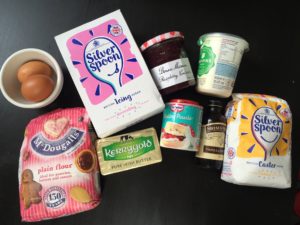 Ingredients:
125 g (4 ½ oz) butter softened
125 g (4 ½ oz) caster sugar (called fine granulated in the U.S)
1 tsp vanilla extract
2 eggs
150 g (5 oz) plain flour (called all-purpose flour in the U.S)
¼ tsp baking powder
For the filling:
100 ml (3 ½ oz) raspberry jam
200 ml sweetened whipped cream, or use double cream (called heavy cream in the U.S) whipped up with 1 Tbsp icing sugar (called confectioner's powdered sugar in the U.S) and 1/4 tsp vanilla extract
Sprinkles of your choice for decoration
Instructions:
Preheat oven to 190c/375 f and line a cupcake tin with paper cases
Cream butter and caster sugar in a mixing bowl until light and fluffy. Add the vanilla extract and beat a few more minutes. Stop and scrape the sides of the bowl.
Add the eggs, one at a time, beating well and stopping to scrape down sides of the bowl in between each addition.
Sift the flour and the baking powder. Add to the butter/sugar mixture  a little at a time, slowly beating as you don't want to over work the batter.
With an ice cream scoop, pop the batter into the paper lined tray and bake for 12-18 minutes. Check if done by putting  a wooden toothpick in the center of one of the cupcakes and if it comes clean (no wet batter or crumbs attached) then it is done.
Take out and cool on in the trays on a rack. Once cool cut off the top of the cupcake and cut the top in half. Then scoop a little cake out to make room for a dollop of raspberry jam. Then a dollop of sweetened whipped cream (you can spoon on or use a piping bag).
Arrange the halved tops onto the cupcake placing them in the whipped cream so they look like wings. Then decorate with your choice of toppings. I used silver balls (called dragees) and some sprinkles.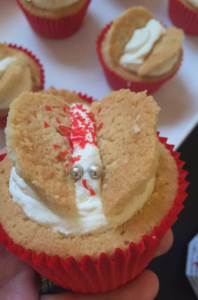 Edible Caterpillars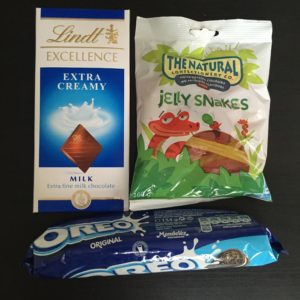 To make the caterpillars, separate 10 oreo cookies and scrape off the white frosting in the middle.  Put the cookies into a ziploc bag and bash to get crumbs. Then put the crumbs onto a plate or a bowl.  Then melt the chocolate in a another bowl (using a microwave or in a double boiler on the stove top). Then dip the gummy worms/snakes into the melted chocolate then dredge in the oreo crumbs and place on a parchment lined tray until cooled.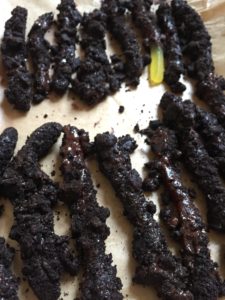 All in all it was a great day and the bonus was that I picked up  the famous children's book The Hungry Caterpillar (but the coloring book versions) by Eric Carle to do as a Cookreel free give away. All that was needed for entry was a photo or drawing or image of a butterfly in the world. It was a way to give back to the good people watching. I know it is a children's book but coloring has become a big trend for adults wanting some mindfulness activities.  In essence, it was a superfly butterfly day!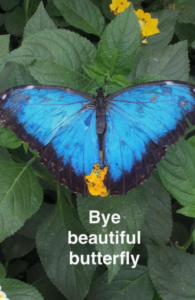 Spread your wings of LOVE,
YDP
ps. The butterfly buns are a variation of a fairy cake recipe from Rachel Allen