I've had a love affair with opera since I was a kid. All thanks to a certain Bugs Bunny cartoon!
I've been blessed to have been able to see numerous live opera performances over the years. And this weekend, for a welcome back treat, Hubby got us tickets to see The Barber of Seville  at the Royal Opera House in London!!! Since it coincided with my weekly Snapchat takeover of Cookreel's account (their username is cookreel) I decided to fashion it into an Italian theme. Yes I know Seville is in Spain, but the composer of the opera is the famous Italian Gioachino Rossini.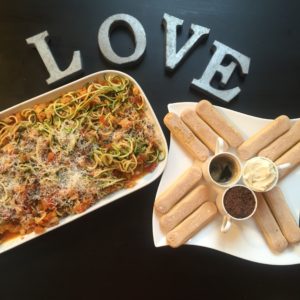 Before our venture up the Thames River into town to the theater, food was on the docket.  What are two of the most iconic Italian dishes, spaghetti and tiramisu of course. But me being me I had to do a spin on each.  So I created a vegetarian gluten free spaghetti made with courgetti (courgette/zucchini noodles) and made a deconstructed tiramisu. Both of these dishes are so delicious and super easy. I have posted the tiramisu recipe on here before, but have never done it for a Snapchat cooking tutorial. By the way my own Snapchat username is blissbakery in case you ever want to check out the fun. This version of the decadent Italian favorite makes for a fun interactive dessert and it doesn't have to be made well in advance as traditional tiramisu recipes. The courgetti is a very flexible recipe and one where you could add prawns/shrimp (as I have done in the past) or chicken if protein was in order. Or you could add some mushrooms for an earthy taste.  It is one of those dishes that adapts to what you have on hand and I love those kind!
Vegetarian Courgetti Spaghetti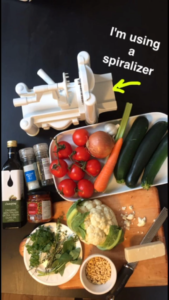 Ingredients
3 large Zucchini aka Courgettes
Tomatoes (use 6-8 large vine ripened tomatoes which have been peeled and chopped or you can use a tin of chopped tomatoes)
2 cloves Garlic, minced
1 Onion, finely chopped
1 stalk of celery chopped
1 carrot, peeled and finely diced
¼ cup mixed fresh chopped herbs (such as rosemary, thyme, oregano, basil, parsley)
6 Sundried Tomatoes, diced (and a couple TBSP of the oil they come packed in. If you can't find them in a jar with the oil, you can buy them dried, but then use olive oil to sauté the veg)
½ head Cauliflower, remove from the stalk and then broken up into tiny bits
1-2 Tbsp red wine
½ cup Pine nuts, toasted to sprinkle on top
Grated parmesan cheese if desired for the top
Salt and pepper
Instructions:
Spiralize the zucchini into noodles and set aside. Heat the oil in the frying pan and sauté the onions for a minute. Season with salt and pepper. Then add the garlic, celery and carrots and herbs. Cook for 5 minutes or until soft. Deglaze the pan by adding the red wine to the pan and let it cook off a bit. Add the tomatoes, sundried tomatoes and cauliflower and season a bit more and cook covered for 10-15 mins. When ready to serve pop the noodles into the pan with the sauce and cook only for a minute or so until the noodle get a bit soft. But not too much or they will become soggy. Taste and adjust seasoning. You could also add some chili pepper flakes if you like a bit of heat. Put on a plate and sprinkle with the pine nuts and grated parmesan cheese.
Deconstructed Tiramisu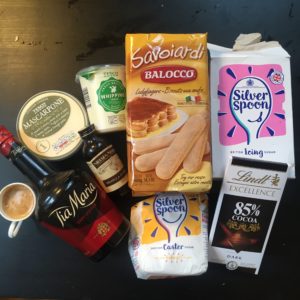 Ingredients:
4 Tbsp strong espresso coffee
2 Tbsp Coffee Liquor
85 g (3 oz) dark chocolate, roughly grated
2 Tbsp caster (fine granulated) sugar
½ cup (4 oz or 116 g) mascarpone cheese
½ cup cream
4 Tbsp icing sugar (powdered sugar)
1 tsp vanilla extract
24 Boudoir Biscuits (Lady Fingers)
Instructions:
Mix the coffee with the sugar in a saucepan. Over a low, heat stir constantly until the sugar dissolves. Simmer over very low heat for one minute. Remove from the heat and add the coffee liquor. Then let it cool, placing it in the fridge when the pan is no longer hot to the touch.
Next place the mascarpone in a bowl, along with cream, icing sugar and the vanilla extract. Whisk until soft peaks just begin to form.
To serve, place the coffee mixture in a small cup, the mascarpone mixture in a small cup and the chocolate shavings in a small cup. Place them on a plate along with three Boudoir Biscuits. The diner can then dip away at their heart's content with a personal deconstructed tiramisu!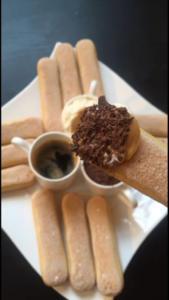 After the culinary creations it was a dash to get into city center to see the opera. But we had some pretty sights of London on the way via our boat on the River Thames.
The opera was simply mesmerizing and it certainly helped we had front row seats. Wow what a treat!  Hubby and I had been to the Royal Opera House Covent Garden once before several years ago, but it was to see the ballet Romeo and Juliet. It is amazing that this theater originally built in 1732 is actually the third construction as the first two were damaged in fires. It is so lush and fancy with all the red velvet and even the audience comes well dressed in tuxedos and ball gowns. But what I love most is that a piece of art, an opera, can still be enjoyed many years after it was first created. Like classic food dishes that can be recreated and appreciated today too. So I hope you enjoy my versions of these Italian delicacies. And most definitely you should check out an opera just to see the beauty of it all!  Even if only on youtube. Like tasting new foods, a small bite helps to wet the palate for more!
Thats Amore LOVE!
YDP
P.S. A massive thanks to Cookreel for the opportunity to share my passion for cooking with all of you via their Snapchat Takeovers. Long may they last! I would write an opera for them if I could, but if you've heard my bad singing you know my musical skills are lacking.  LOL! So I'd better stick to my pots and pans!