Because of travel and other commitments I haven't done a Saturday Cookreel Snapchat take over in a few weeks.  But I've been meaning to share this recipe with you from a takeover I did when I was in the U.S. recently visiting my daughter and her family.  In fact, this recipe is actually from her blog In Her Chucks. Though the blog is dormant for the moment with her mommy and work duties, is is loaded with great recipes.  Like this one for Apple Crisp.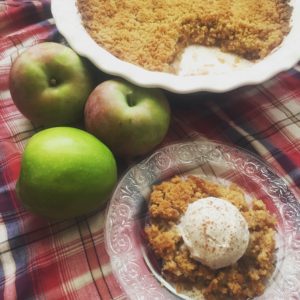 Since I was in Washington State, the home of some of the best apples in the world, this recipe came in handy. In fact, I even used apples for this dish from the apple picking adventure I went on during my takeover. There are some fab farms nearby where you can drink warm apple cider, eat freshly made hot donuts while choosing your own apples.  And the rows of apple trees heavy with ready to be picked fruit make it iconic Americana.  It also makes for a great outing and a super fresh dessert.
Ingredients
3/4 cups (169 g) sugar
1/2 tsp nutmeg
1/2 tsp cinnamon
Dash of salt
2  1/4 cup (337g)  flour, divided
6 cups peeled & thinly sliced Granny Smith apples (about 4-6)
2 sticks or 1 cup butter( 225 g) , chilled and cubed
1 cup (175 g) brown sugar
Preparation
Preheat oven to 425 degrees F.
In a large bowl whisk together sugar, nutmeg, cinnamon, salt, and 1/4 cup flour (37 g).  Add apples and mix until coated.  Pour apples into a 9 x 13 inch glass baking dish.
To prepare crumble, mix 2 cups flour (300 g) , butter and brown sugar by hand until mixture resembles a course meal.  Sprinkle mixture on top of apples.  Bake at 425 degrees F (220 c) for 10 minutes.  Reduce heat to 375 degrees F (190 c) for another 20-30 minutes.
This apple crisp was super easy to make and turned out so delicious.  It was perfect served warm with some vanilla ice cream.  It really is the best dessert to enjoy during the cool autumn and cold winter months. I hope you enjoy it too!
A is for Apples and L is for LOVE,
YDP