While I was in Washington State visiting my family recently I still kept up the weekly Saturday Snapchat Cookreel takeover.  I've been meaning to share a post of one week in particular because it was pretty darn delicious!  I started out by making one of the best recipes of all time. These Red Wine Braised Beef Short Ribs are so easy and though they take a bit of time, are well worth it. You and your dinner guests will be thoroughly satisfied with this melt in your mouth, meat falling off the bone dish.   I served it with my famous "Potat-iflower" Puree (basically mashed potatoes mixed with steamed and pureed cauliflower) and a side of shallot buttered green beans. The perfect comfort food meal for the cold weather!  Restaurant quality is what my hubby likes to say!  I like to say they are Da Bomb!
Da Bomb Red Wine Braised Beef Short Ribs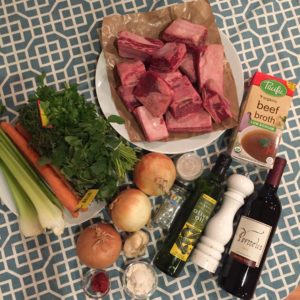 Ingredients:
5 pounds bone-in beef short ribs, cut crosswise into 2-inch pieces
Kosher salt and freshly ground black pepper
3 tablespoons vegetable oil
3 medium onions, chopped
3 medium carrots, peeled, chopped
2 celery stalks, chopped
3 tablespoons all-purpose flour
1 tablespoon tomato paste (called puree in Ireland/UK)
1 750 ml bottle dry red wine (preferably Cabernet Sauvignon)
10 sprigs flat-leaf parsley
8 sprigs thyme
4 sprigs oregano
2 sprigs rosemary
2 fresh or dried bay leaves
1 head of garlic, halved crosswise
4 cups (946 ml) low-salt beef stock/broth
Method:
Preheat oven to 350F/180c. Season short ribs with salt and pepper. Heat oil in a large oven safe pot over medium-high. Working in batches, brown short ribs on all sides, about 8 minutes per batch. Transfer short ribs to a plate. Pour off all but 3 Tbsp. drippings from pot.
Add onions, carrots, and celery to pot and cook over medium-high heat, stirring often, until onions are browned, about 5 minutes. Add flour and tomato paste; cook, stirring constantly, until well combined and deep red, 2-3 minutes. Stir in wine, then add short ribs with any accumulated juices. Bring to a boil; lower heat to medium and simmer until wine is reduced by half, about 25 minutes. Add all herbs to pot along with garlic. Stir in stock. Bring to a boil, cover, and transfer to oven.
Cook until short ribs are tender, 2–2½ hours. Transfer short ribs to a platter. Strain sauce from pot into a measuring cup. Spoon fat from surface of sauce and discard; season sauce to taste with salt and pepper. Serve in shallow bowls over mashed potatoes with sauce spooned over.
After the awesome cooking tutorial with some pretty rocking tunes (and some bad singing to go with it) as well as a bit of silence (while my 1 year old granddaughter napped) I ventured out to a winery. I arrived late in the afternoon on a glorious day at Arbor Crest Winery. It is at the top of a mountain cliff overlooking a valley, river and lake! I ordered a flight of red wines. Though there were four glasses of 1.5 oz each I made sure to take a taxi to and from the location. Safety before tasting.
The United States may not have the reputation that France does for their wines, however, I love the total package.  Wineries in America cater to their customers and encourage these winery tours and tastings.  This helps breed knowledge of the centuries old "liquid of the Gods", not to mention it is a great marketing tool.  I've notices some Old World wineries are getting a bit more friendly to curious consumers who want to immerse themselves into the art that is winemaking. And certainly besides drinking it, wine as an ingredient has the ability to make food taste sublime. Like these "Da Bomb Red Wine Braised Short Ribs" which I hope you make one day! I'd love to know what you would call them.  Because in wine there is truth!
In vino veritas and LOVE,
YDP