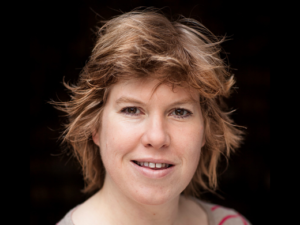 It is flat out cold this week, so our lovely Woman Crush Wednesday chef is going to warm us up!  Without a doubt we have to make a soup, and the gorgeous gourmet gal perfect for inspiration today is Allegra McEvedy. She is also a resident of London so she's probably bundled up as well.  And I hope she enjoys the lovefest over on my Snapchat channel (username blissbakery) where I will recreate live her awesome Beet and Bramley soup recipe!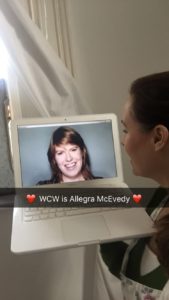 Allegra is a powerhouse in the gastronomic world.  Besides being a Cordon Bleu trained chef, she worked in numerous top kitchens on both sides of the Atlantic. While in America she ran the kitchen of Robert DeNiro's restaurant Tribeca and even catered for President Bill Clinton. And here in the U.K she created the LEON chain of healthy fast food restaurants. I love them because I know I can get something quick and nutritious when I am out and about in London city center. Speaking of quick, this soup recipe, while I've never made it before, looks pretty speedy. So let's get to it shall we?
Beetroot and Bramley Soup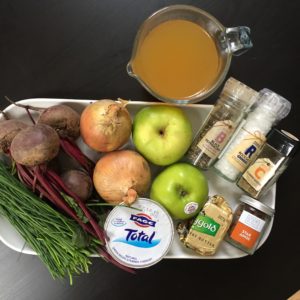 Ingredients:
500g/5 regular sized raw beetroot
2 medium onions, chopped
2 Tbsp butter
2 Bramley apples, peeled and quartered
1 litre stock (chicken or veg)
2 star anise
1 tsp caraway or cumin seeds
Salt and Pepper
Greek Yogurt for topping
A few chives for topping
Instructions:
Preheat the oven to 200c/400f
Put the beetroot into a baking tray with 1 cm of water. Cook for 1-1 ½ hours until knife enters with little resistance, then take them out and run under cold water until you can peel them.
Put a wide, thick bottomed pan on heat and melt the butter in it, along with the spice seeds.
Over a medium heat, sweat the onions with the spices, keeping a lid on and being careful not to let them color.
Slice the core out of the apple quarters and chuck them in with the onions.
Cut the peeled beets into very rough inch pieces (it's going to get blitzed) and toss into the pot.
Pour on the stock, whack the heat up, drop the star anise in and put the lid back on. Season.
Once boiled, turn down heat and simmer for 15 mins. Pick out the star anise and chuck away, then blitz the soup in a blender until pureed.
Serve with chopped chives, greek yoghurt and a spoon.
This soup turned out amazing!  So delicious and good for you too.  It is simple to make and once the beets have been roasted it is super quick to put together. Often beet soups can be too earthy for some tastes.  But the addition of the Bramley apples gives it a nice sweet and tart balance of flavors.  I love this soup and will definitely be making it often during the winter season to ward off the cold!  Considering that it is vegetarian, and can be made vegan by omitting the Greek yogurt dollop on top and swapping olive oil for the butter, this is a heart healthy dish.  Beets contain high amounts of many vitamins,  such as B and C, and are loaded with minerals as well.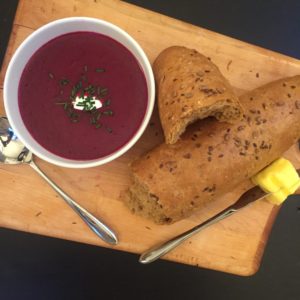 Allegra would know more than a thing or two about food nutrition.  She has written seven cookery books all super successful with the public and critically earning her awards. She has appeared on television as well, such as the Great British Bake Off Junior as a judge,  and is active in philanthropic endeavors.  And she was awarded the MBE (Member of the Order of the British Empire) for her work in the hospitality industry. She is a British jewel in the culinary crown.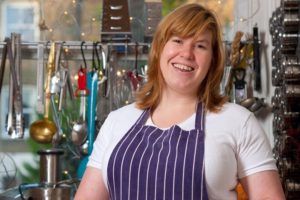 It is such an honor to have spent this day sharing Allegra with you and making one of her recipes.  She's a devoted mom to her daughter and is a wonderful role model for female chefs.  She has proven that you don't have to win a Michelin Star to make a difference in the foodie world.  Her fabulous skills in the kitchen and devotion to causes such as the Fairtrade Foundation and The Food Chain make her a wonderful Woman Crush Wednesday!
HeartBEET of LOVE,
YDP