I am so excited for today for several reasons. First off you know that Wednesday is my favorite day because it is Woman Crush Wednesday and one lovely chef will be getting the love. I am also excited since we are just back from Malta and I will be using some of the ingredients I got while we were there in today's recipe.  And lastly it is day 30 of my #30daysofgratitude Snapchallenge.  So there will be lots of LOVE and appreciation in our midst.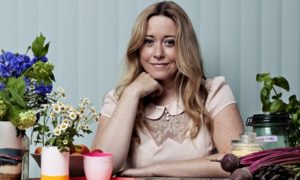 Can I just say how thankful I am for today's honoree?  She is the lovely Anna Jones. A British chef who has literally inspired so many people to follow their dreams! She has worked with the best of the best in the culinary world and some top food brands. She has an effortless style with her food and yet it looks so unbelievably good. Hence she is sought after as a food stylist.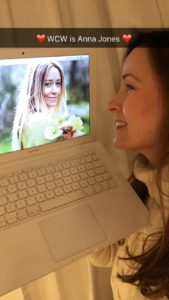 She is also a prolific food writer for various publications.  But it's her own cookery books that knock it out of the park. A Modern Way to Cook and A Modern Way to Eat need to be on every table.  Not on the shelf tucked away, but visible all the times. 'Cuz you'll want to drool over these recipe.  Like I am going to do now!  Yep I will be making Anna's Kale, Tomato and Lemon Zest One Pot Spaghetti live on my Snapchat (username blissbakery).
Ingredients:
400g spaghetti or linguine
400g cherry tomatoes
the zest of 2 large unwaxed lemons
100ml olive oil
2 heaped teaspoons sea salt (if you are using fine-grain table salt, add a bit less)
1 x 400g bag of kale or spinach
Parmesan cheese (I use a vegetarian one) (optional)
Instructions:
Fill and boil a kettle and get all your ingredients and equipment together. You need a large shallow pan with a lid.
Put the pasta into the pan. Quickly and roughly chop the tomatoes in half and throw them into the pan. Grate in the zest of both of the lemons and add the oil and salt. Add 1 litre of boiling water, put a lid on the pan and bring to the boil, then remove the lid and simmer on a high heat for 6 minutes, using a pair of tongs to turn the pasta every 30 seconds or so as it cooks.
Meanwhile, remove any tough stalks from the kale and shred the leaves. Once the pasta has had 6 minutes, add the shredded kale and continue to cook for a further 2 minutes.
Once almost all the water has evaporated, take the pan off the heat and divide between four bowls.
If you like, top with a little Parmesan.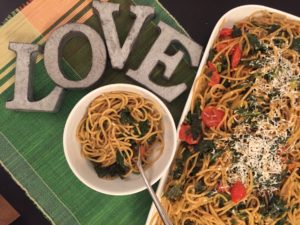 Wow this was so delicious, so easy and no joke will totally revolutionize my life! My hubby helps wash dishes after I make dinner and often says, "can't we just eat cereal next time". So a one pot wonder is always a hit in our house, but this one is divine. The perfect balance of flavors of tomato, lemon zest and kale. It feels so clean and light which is unusual for a pasta dish. It's a winner from a winning chef!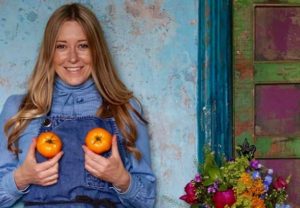 As you can see by the photo above, Anna has a great sense of humor. Though she is serious about cooking and serving healthy foods, she likes to have fun.  She worked with Jamie Oliver for many years and I can only imagine the "craic" (as the Irish say) they had in the kitchen. But now she is a mommy of a nearly one year old boy and her fun is taking another voyage. She's active in philanthropic endeavors and she keeps on exploring, traveling the globe sharing her gastronomic gorgeousness in different parts of the world.
Thanks Anna for your inspiration in the foodie world and in life. I love your ethos of food and wish you continued success!
Modern LOVE,
YDP