Tis the season to break out all the creativity. There are so many opportunities to decorate, bake, and make homemade pressies.  But not everyone is inclined to do it themselves. Time is one reason and another is talent. In our mind we might look at something on pinterest and think "oh I can re-create that" and it turns out nothing like the photo. They even have a whole webpage of "pinterest fails" which is sadly funny!
You can still feel crafty through giving something that is homemade even if not with your own hands. Here are a few of my fav people making their mark in the handmade artistry realm!
Designs by Dainty: Catherine from Dublin has a successful blog called Dainty Dress Diaries.  Not only does she share her home decor ideas but she makes gorgeous handmade cushions and memory bears. They are darling and sewn from a sentimental fabric (such as grandpa's special shirt).  Or Catherine can make a family of pretty bears for a bride to give to her bridal party. They also come with lovely sewn on personalized message. LOVE these!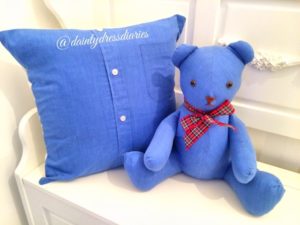 Sharon Leavy the famous Irish blogger of Behind Green Eyes is quite crafty.  And this year she took the plunge and opened an Etsy shop. Guess what?  It is a smash hit.  In fact the most talked about Christmas card this year flying around the globe is one of her designs. She's also is a wiz at cross stitch. With a busy family life I don't know how she does it, but even if you don't buy something from her this year, watch her snapchat (@sharonleavy) to see the amazing homemade advent calendar box she created for her three boys.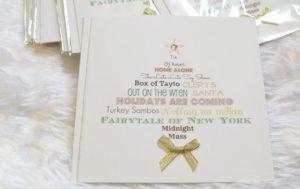 Una Burke is an award winning luxury leather artisan. While living and working in London she is originally from a farm in Ireland. So her understanding of animal skins and leather helps her when she is handcrafting each piece. Though top celebrities wear her pieces, you too can have a once in a lifetime keepsake piece from her extensive collection. Whether it is a handbag, belt or keychain, the quality and handmade touches will blow your mind.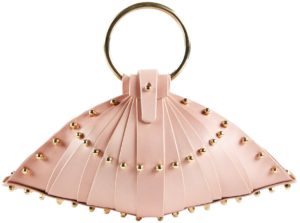 Kyle Lane by Joanne Condon of County Tipperary Ireland is a genius at upcyling furniture which she sells in her shop and online. You might be thinking that a gorgeous chair won't fit in your loved one's Christmas stocking. True, but a gift voucher will and Joanne hosts upcycled furniture workshops where she provides all the bits and pieces for a full day of fun! And at the end you can proudly sit in your own chair.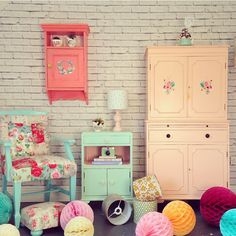 Simply Smashing Things by Colleen of Chicago, loves to work with glass. But not any glass, wine and beer bottles. She melts them and molds them into all sorts of shapes and then decorates them with beads. She made one for me that I use when I am entertaining. You can put nuts or olives and it is a great conversation piece. And if there is a special bottle of champers from a wedding, how cool would it be for it to be turned into a usable keepsake like this?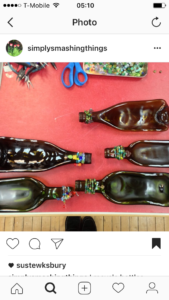 There are loads of places you can pick up handmade items, online through Etsy or as near as your local church Christmas bazaar.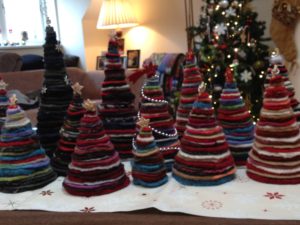 If you do want to give the arts and crafts a go (or arfs and cracks as we call them in my family), then try something that isn't too impossible. My fav is the super easy Christmas Tree made from Jumpers (or sweaters as they are called in the U.S.) that have been felted, cut into circles and strung with some wire.  I have made quite a few of them over the years and they are always a big hit. Last year I even sent some of the circle templates in the mail to some who watch my Snapchat and wanted to join in the fun.  I learned the very easy technique at an American Women's Club of Dublin gathering years ago. What is cool about this gift is that if you have a special someone you're missing this year, you can make a tree from a one of their jumpers and it becomes a keepsake. I like to give one along with some of my homemade mini red velvet cupcakes.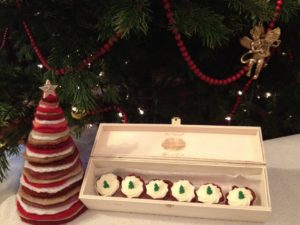 Lastly, even if you have gotten a store bought present for your loved one, you can always wrap it up in a very cozy way by using brown paper, string and some stamping fun. Cheep, cheerful and a crafty Christmas nonetheless!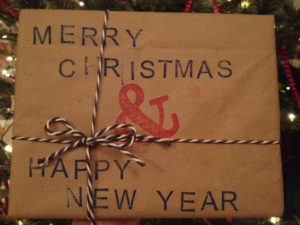 Keeping it Crafty with LOVE,
YDP