Recipes this time of year are usually related to festive fare. Yet we still need food to eat beyond the Christmas table. Unfortunately most people are so busy with shopping and parties, meal time is the last thing on their list.  So quick trip to a take away or pizza delivery suffices.  We could use a recipe that is quick and easy and still relatively healthy. Because we will have enough indulgence for the month of December, right? Enter the Honey Mustard Apple Chicken. Served with a nice rice pilaf and green beans sauteed in shallots and this could become your go to dinner for 2017!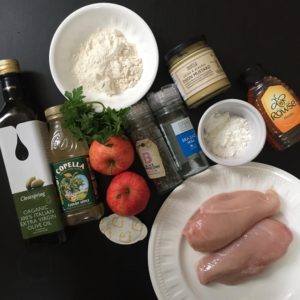 Ingredients:
1/2 cup (118 ml) sweet apple cider (apple juice, non alcoholic)
1 1/2 teaspoons cornstarch (also called corn flour in Ireland/UK)
Salt
Freshly ground black pepper
1 Tbsp honey
2 Tbsp Dijon mustard
1/2 cup (60 g) plain flour, for dredging the chicken breasts
1 pound (454 g) boneless, skinless chicken breasts
2 Tbsp olive oil
2 small unpeeled apples, cored and cut into eighths
1/2 cup (118 ml) chicken broth also called chicken stock in UK/Ireland
Fresh parsley for garnish
Instructions:
1. Whisk apple cider, cornstarch, mustard, honey, and pepper in a bowl. Set aside.
2. Salt the chicken on both sides and dredge in flour.
3. In a large frying pan, heat the oil. Once the oil is hot add the chicken breasts to the pan. Cook until browned on one side, about 3-4 minutes.
Turn chicken, add apple slices, and cook until the chicken has browned on the other side.
4. Add chicken stock and cider mixture to the pan and bring to a boil. Turn the heat down to low, cover the pot and simmer for 15 minutes.
5. Remove the chicken and apples to the plates. Increase the heat of the pan to high and simmer the sauce for a minute or two until it thickens. Pour the sauce over the chicken and enjoy!
I was introduced to this recipe by my daughter.  A busy mom of two young daughters, dinner time can be a challenge. When I was visiting her recently she gave me this recipe and asked me to make it. Well one taste and I realized it was a winner.  I've made it a few times now for Hubby and he likes it too. So give it a go and let me know what you think.  Instead of getting take out, save the calories and money for a fun party or get together this holiday season and make this delicious, healthy, budget friendly dinner!
LOVE and Season's Greetings!
YDP
P.S. Recipe is from simply recipes