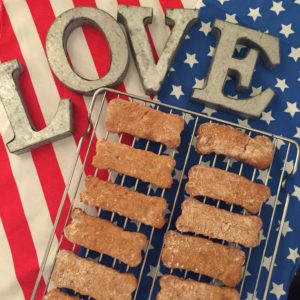 With Christmas around the corner, it's a good time to think about your furry friends too and what they might like in their stocking. And this recipe for healthy doggie treats is not only perfect, but super easy to make. Even if you don't have a dog yourself, you could bake these for your friends or neighbors that have a pooch!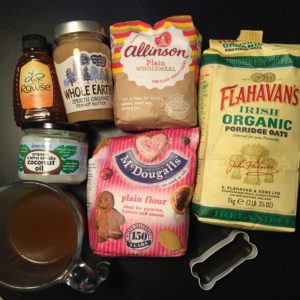 Ingredients:
1/2 cup (132 g) of peanut butter
¼ (82 g) cup honey
1 tablespoon of virgin coconut oil
1 cup (236 ml) chicken broth
1 cup (86 g) rolled oats
1 cup (150 g) whole wheat flour
1 cup (150 g) all-purpose flour
Instructions:
Preheat oven to 350 degrees. Whisk together peanut butter, honey, oil and chicken broth. In a separate bowl, combine flours and oatmeal. Mix dry ingredients into wet ingredients. Place dough on flour dusted surface. Roll or press dough out to about 1/4" inch thick. Use a small dog bone shaped cookie cutter to cut out cookies. Put cut out cookies onto a parchment lined baking sheet. Bake for 14-16 minutes. Transfer to a cooling rack. And if your dog is like Stella, they too will want to watch the treats cool.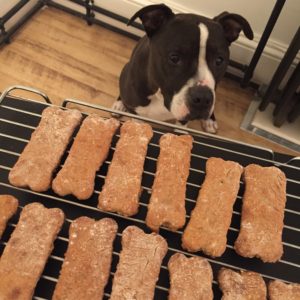 I baked these for a Cookreel snapchat takeover I did recently and the whole day was a doggie theme. Stella was delighted!  I also visited a famous restaurant in London called Bubble Dogs.  They serve gourmet hot dogs and champagne!   Super delish and inventive.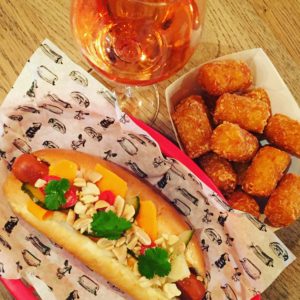 And on the way I even flew on the Emerites Skyline over the Thames River to the Excel Convention Center for the London Dog Event.  It was a dog show and expo all in one. I've never seen so many breeds of dogs, or kiosks with doggie paraphernalia in my life!
It was fun, but I'll stick to my only pup Stella, even if she once ate a wedding cake I made!  You should see the pictures (click here) and yet I forgave her.  But keeping her supplied with her new fav treat, these doggie bones will keep her away from my cakes!!
Doggie Kisses and LOVE,
YDP