As the line from the famous festive song says "I'll be home for the holidays", that is where I am at the moment. Well, I am in America with my family and since home is where the heart is, then I am home.  So I won't be doing a Sunday Spotlight Snap Sista episode today. But I thought it would be a good time to do another recap. Since I have done three recaps before (which you can read if you click here, here and here), I'd like to give the final twelve of the 39 amazing honorees their moment in the blogosphere sun. You see, not everyone who reads the blog is on Snapchat, so it's always nice for them to learn about some really cool people out there in social media who got some love from me on their special day.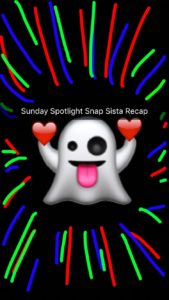 And what does  a special day for a Sunday Spotlight Snap Sista look like? Well I upload approximately 25 "snaps" which are roughly 10 seconds in length to my "story" on my account. I spend that time showering that week's chosen "Snap Sista" with LOVE, and shining the spotlight on them so that anyone watching can learn more about them. I use songs (and sing along badly mind you) and show photos, images of the honoree's social media pages and blog where applicable. And I present them with a foodie related gift that I have purchased just for them. Tailored to their unique personality! Finally I present a quote which is a gift for all of us, and is inspired by the Sunday Spotlight Snap Sista! While I also post the announcement on Twitter and Instagram, I wait to do a blog round up when I have completed around ten or so.
So here is the list of fab folks for this round up, and next to their names I have included their Snapchat username in parentheses. So if you are on Snapchat you might like to give them a follow!
Grace Hanna (@graciehanna)
Grace is one of the funniest people I've ever met. Yes I am lucky to say that I have had the pleasure of meeting Grace on two occasions. Which I have to say, it is so cool to meet someone in person that you chat with regularly on Snapchat. She is a working mom of two cute boys and lives in Dublin. And one thing she "gives out about"(aka jokingly complains about), is that her life with two boys is consumed with LEGOs blocks. So the quote for her spotlight was from the LEGO movie: "Everything is awesome, everything is cool, when you're part of a team. Everything is awesome when we're living our dream". They are actually lyrics from the movie theme song, but it's funnier if you listen to that!  Anyway her gift was her own set of LEGOs, albeit very adult! It's a LEGO wine opener and bottle opener set.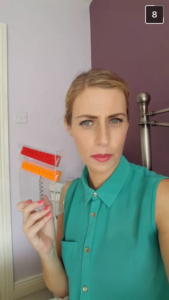 Karen Constantine (@lovelygirlybits)
If you live in Ireland you can't think about Snapchat without thinking of "The Bridies".  It is a group of four super popular Snappers and Karen is the third I've spotlighted. She's the queen of beauty bloggers and has the most fun of any person I've ever met.  Her laugh just makes me laugh, hence her chosen quote:   "There is nothing in the world so irresistibly contagious as laughter and good humor". I made her gift at my Spun Candy Foodie Fieldtrip Friday outing.  A giant handmade rainbow lollipop with her own name written on it and tutti fruity flavor!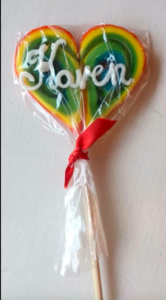 Maria (@juniper82)
A blogger and a carer for the disabled, Maria is one of the most genuine people I've ever met. She is also very funny and I love how she looks at life. She did a whole tutorial one day on Snapchat of how to dunk a cookie. Her gift was a placemat note pad with whimsical foodie activities and a pack of foodie scented pens. Because every time, including meals, must be fun for her. I know that first hand as I was blessed to meet her and enjoy a meal with her.  We laughed and the night just flew by!  Therefore her quote was just another extension of her way of life :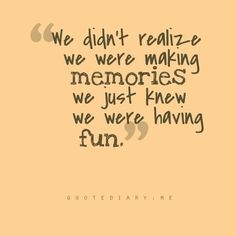 Russell and Patrick (@gastrogays)
These Irish lads living in London are some of my all time fav snappers to watch. They are always going on some incredible journey. They love to travel and share it on their snaps. And they are fab at summarizing the experience into what is the best of things to do, where to eat etc. So helpful.  And they are fab cooks as well.  It is always enjoyable to watch what foodie creations they are whipping up. They are nice guys too, and salt of the earth, hence their gift was a set of flavored sea salts. I also gave them a special corn on the cob from my trip to Nebraska (where I was when I did their spotlight) that cooks up into bowl of popcorn in the microwave! Perfect food to try out a sprinkle of their salts. Their quote: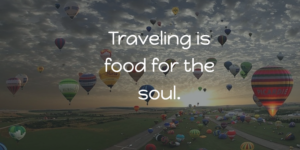 Aine (@theporcelaine)
One of the most beautiful people (inside and out) that I have met on social media, Aine is like an angel. She is a blogger with a difference. Her purpose is all about helping others accept their own beauty. She happens to be a lovely fair skinned, red headed Irish lass!  Each week she hosts a Mindful Monday series on her Snaps that I just love! And her day job is helping the homeless in Dublin!  Since I couldn't give her the sainthood she deserves I got her a super fancy pizza cutter. I know practically the same LOL. But she and her fiancé are avid pizza makers and so I thought this foodie gift would come in handy!  Her quote: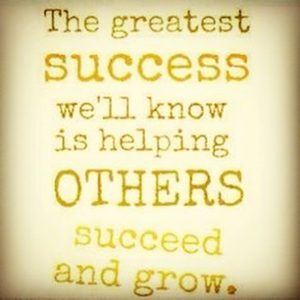 Brandon Reis (@breisil)
I met NY chef Brandon through Cookreel. He and I have both been featured on their Snapchat account on cooking "takeovers" Brandon snaps like no other person I have ever seen and I love it. He doesn't speak but uses fab music and awesome visuals. He is a photographer so he knows how to make the food look so delicious. And he makes eggs a lot! I think he invented the slo mo egg yolk porn! So it made sense to get him a special skull shaped egg mold since it was near Halloween. P.S. the eggs and bacon were not included in the box.   His quote: "Photography is the only language that can be understood anywhere in the world."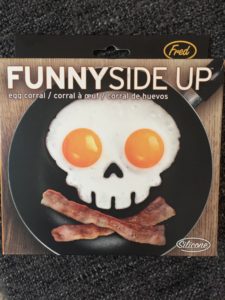 Claire Balding (@claire.balding)
Claire's gift was a shower cap. But not any shower cap it was made to look like a cupcake!  An Irish mommy of two Claire is a pure inspiration. She started on Snapchat to bring awareness to alopecia.  While she suffers with this auto immune disorder that causes profound hair loss, Claire is always positive. She is a very honest and funny person as well and has participated in my #tellthetruththursday weekly episodes. Her outlandish yet true stories are always popular.  I'm so sorry for her struggle but am grateful to have met her because of it. She's made a big difference in many lives already.  Her quote brings tears to my eyes:  "What makes us Special makes us Strong". Oh and I think the cupcake shower cap was a hit. She put it on straight away after  she received it.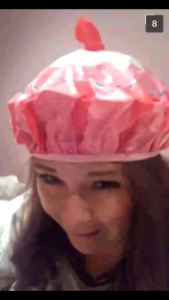 Lisa Canavan (@LuvLisaxx)
Lisa's gift was a set of ceramic measuring cups in the shape of hearts. Her username gave me a clue she loves love as much as I do. And with a gorgeous family this working Irish mom has a lot of love in her life. She is also a major fashionista with a new clothing line out. With all she has juggling she still finds time to have fun. And as Snappy's current foster momma I hope they are doing just that!  Lisa's quote: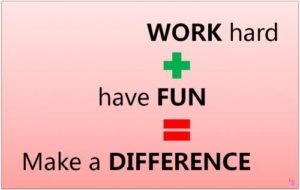 Emma (@emmab82)
Emma is a vintage clothing store owner and blogger living in the U.K. Since her gift then had to be vintage and foodie, and I found the perfect thing. A  vintage china teacup and saucer set that was made into a candle.  Emma is plus size advocate and also on Youtube as the Polka Dot Dollies with some funny vlogs. A proud mommy to handsome lad Joshua, she is a super supportive Snapper and always reaching out to say a kind word to others. A wonderful role model for her son. Her quote came from her Instagram account and is bang on fab: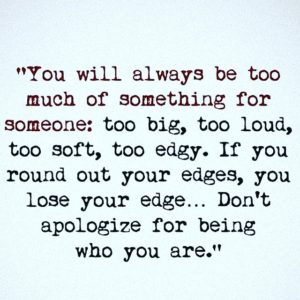 David and Stephen Flynn (@thehappypear)
Two rose gold colored monogramed wall hooks, a D and an S, the perfect gift because these two get mistaken for each other so often that at least they can hang their aprons without getting them confused. Twin brothers from County Wicklow in Ireland, they created the restaurant and food brand The Happy Pear. I visited their cafe for one of my Foodie Fieldtrip Friday episodes.  I love their energy, ethos and enthusiasm. They have written two award winning cookery books and are on a mission to spread the good news of healthy living. It is more than eating right, they share their daily yoga and sea swims on Snapchat too. And they are both happily married with lovely wives and gorgeous children. Their true treasure. Therefore their quote was so apropos:  "Today be thankful and think how rich you are. Your family is priceless, your time is gold and your health is wealth"
Nicola Naessen (@simplyhomemadeblog)
Well known Irish foodie blogger Nicola is busy raising 5 kids. But she still takes time to engage on social media. And her snaps at the moment are all festive and Christmas-y with the daily goings on of Jingles the Elf on the shelf.  I recommended Nicola's famous Christmas pudding recipe on a recent post. So of course I couldn't resist getting the Christmas pudding bin liners (trash bags). Luckily Nicola saw the humor in it. She is such a sweet person and very supportive to everyone on Snapchat. Her quote:  "It is the sweet simple things in life which are the real ones afterall"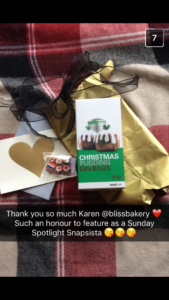 Ger McDonnell (@puppetlady-1)
A busy and sought after Puppeteer from County Mayo in Ireland, Ger is also a mom to four girls. She and I have been friends on Snapchat practically since I started. We finally met a few months ago when I was visiting my family not far from her home. She's such a lovely lady and super supportive. I spoke of her in a blog post about more mature snappers (click here to read).  Her snaps of her puppets are adorable, but it's not just for kids. She has a witty outlook on life that anyone would enjoy. Since it is Christmas time I gave her a pretty ornament for her tree. But it was a cupacke that was nearly good enough to eat. Her quote: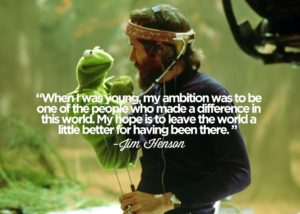 With so much LOVE and respect for not only these twelve but for all of the 39 Sunday Spotlight Snap Sistas! Thanks for all the inspiration and support,
YDP