Yep, it's the day after.  The 26th of December can mean many things to many different people:  Dealing with a disastrous house, food coma, hangover, sugar high, sleep deprivation, financial depletion, or rummaging through the mall in the chaos of post Christmas sales.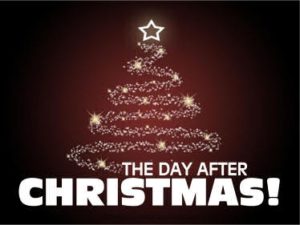 But imagine what it was like back in the day.  It was called Boxing Day for a reason.  In English history it was the one day that the servants were given off and allowed to go visit their families. With them they took a box of the unwanted gifts and leftover food. So does that mean  this was where "re-gifting" started?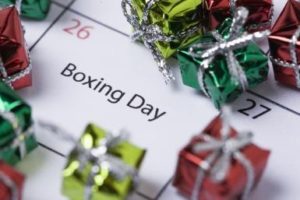 In other countries such as Ireland we celebrate St. Stephen's Day on December 26th.  It is a day to commemorate St. Stephen, the first Christian Martyr, who was stoned to death.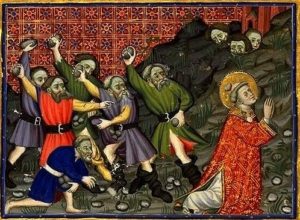 Both Boxing Day and St. Stephen's Day are public holidays.  In fact, living in this part of the world, I must say I appreciate the slower pace over the Christmas weekend with so many places closed.  Whereas in America, the day after Christmas is business as usual. No holiday at all. Because of the multifaceted and diverse religious fabric of the United States, business as usual happens on Christmas as well. You don't have to worry about running out of any provisions.  Most stores, shops, restaurants, movie theaters, petrol stations and the like are open.
Personally, I like to think of December 26th as a day to reflect and count our blessings. And top of that list is my marriage and friendship with my Hubby. While we don't exchange Christmas "gifts" very often we do enjoy our presence as a present. We like to just hang out, watch movies, work out and then eat leftover Christmas food.  In fact this year he cooked Christmas dinner for me!  He usually cooks once a year, on my birthday. But if he misses that day he will bust out the apron and recipes on Thanksgiving or Christmas. He made a delicious Swedish Meatballs recipe from Aquavit.  It is one of my top fav cookery books as I shared on here recently.
Another thing to do on the day after, which I often did when my kids were young, is donate clothes and toys to the needy.  Practically speaking, this makes space for the new Christmas haul.  But it is also a chance to share our blessings with those less fortunate.  So much of what we may see on social media is an abundance of consumerism. That has to be tough for people who can't afford to buy all those high ticket items. And I've even noticed a trend of people posting pics of things they bought for themselves for Christmas while they were supposed to be out gift shopping for others.  Were they thinking,  "Sure a new pair of Jimmy Choo shoes for yours truly is the perfect pressie for the whole family.  Cuz a happy me will make a happy them too, right?"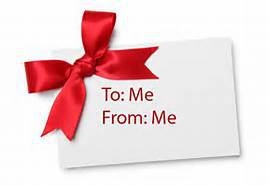 One of the most profound post Christmas experiences is a giant sigh of relief for many, many people. There is such a lead up, build up and hype up of the big day that people are often suffering holiday fatigue before it even arrives. Especially those dealing with grief, loneliness or depression. They might desperately miss a loved one who's passed and a festive dinner isn't the same. Or for some, being on their own certainly isn't celebratory.  Therefore, watching another M&S Christmas commercial can put them over the edge. There are many who long for a child and it is so painful to see everyone posting Facebook pics of their kids with Santa.  For all of them, this day is a welcome treat. They made it through and glad its all over and done with until next year.
I suppose this blog post is just to recognize the day, in all its forms. Whether it is good or bad, happy or sad, let's take a breath and be glad.  We are still here.  It seems so many didn't make it this far in 2016.  They won't be with us to ring in the New Year.  But keep in mind the saddest thing isn't death. The saddest thing is dying and meeting the self you could have been.
Let's use these last few days of 2016 in gratitude of the past and also in hope of the future. While can't change what was, we do have influence over what we can become.  And though this is the day after Christmas, it is also the day before the rest of our lives.
In LOVE and hope.
YDP
P.S. Prior to the awesome dinner Hubby made yesterday, we drove around London city center to admire the lights and decorations. And my radar spotted something incredible down a tiny lane way to Carnaby Street. A giant LOVE sign. I had to have him pull the car over so I could take a pic. A most wonderful Christmas surprise that I am still savoring the day after!