If you were a type of pie what would you be?  My granddaughter Harper gave me a lovely little book for Christmas called "What I LOVE About You Grandma".   On each of the 50 pages there is a prompt sentence and a place where she could write her response.  They all brought so much joy to me when I read them.  But one page in particular gave me a chuckle. "Grandma if you were a pie you'd be…" and she wrote "apple".
I do LOVE apple pie, because I love apples.  I have shared some apple recipes on the blog before, Here, here here and here.  Some are naughty and some are nice, some are savory and some are sweet recipes.   But my fav apple post ever is inspired by my favorite book ever, called The Giving Tree.  And yes that post also has a fab recipe.
Today I am giving you a recipe for the quickest apple pie ever, so easy to make.  In fact let's call it Easy Peasy Apple Pie then shall we? Oh and they are handy individual portions!  It's not the traditional apple pie your granny makes with shortcrust pastry.  It is baked with a ready made puff pastry.  But if you are so inclined you can also make the puff pastry from scratch.  However, as much as I love the process of homemade puff pastry, it isn't quick. Therefore the name would have to be changed to protect the innocent!
Easy Peasy Apple Pie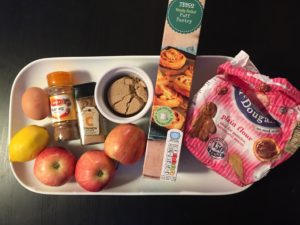 Ingredients:
1 sheet (rectangular in shape) of frozen puff pastry thawed (320 g or 11.3 ounces)
3  small or 2 medium apples of your choice, my fav is Gala
1/3 cup (60 g) brown sugar
2 Tbsp flour
1 tsp cinnamon
½ tsp ground nutmeg
1 tsp freshly squeezed lemon juice
egg wash (1 egg, cracked into a bowl and whisked with a drop of water)
1 Tbsp granulated sugar
Instructions:
Preheat oven to 350F/180c
Peel the apples and cut them into small diced chunks, discarding the core.
In a bowl toss the diced apples with the lemon juice. Then toss in the brown sugar, flour, cinnamon and nutmeg. Set the bowl aside.
Roll the thawed puff pastry onto a lightly floured surface and cut into 8 equal portions.
Place one portion onto a parchment paper lined baking tray (or a silicone pad if you have one).
Top the middle of the pastry with a large Tbsp of the diced apples mixture. With a pastry brush, brush all around the edges, the outer frame, of the pastry portion but not getting on the apple mixture.
Take another portion of pastry and place on top of the other pastry and press down with your fingers along the edges (the frame) so that the part you egg washed will act like a glue. Then take a fork and pinch the edges all the way around the pastry to firm up the two portions of pastry together to make a parcel.
Make a small cut on the top of the pastry and fold it back a bit to allow an opening.
Brush some egg wash on the whole top of the apple pie parcel. Sprinkle the parcel with a pinch of the granulated sugar.
Continue with all of the pastry and apple mixture in the same way. Will make four apple pie parcels.
Bake in the preheated oven for 20 minutes or until nice and golden.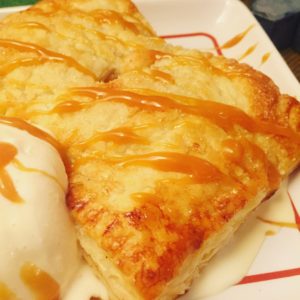 I served these individual pies with vanilla ice cream and drizzled them with warmed salted caramel sauce.  Both can be store bought or made from scratch as well.  However, in my experience, people often want a simple dessert that doesn't take all day to make but looks like it did!  If you can relate, then this the perfect recipe for you.  And you can thank me in advance because your house will smell amazing!  My hubby loved this dessert so much he had a second portion. Ah good man, he's the apple of my pie!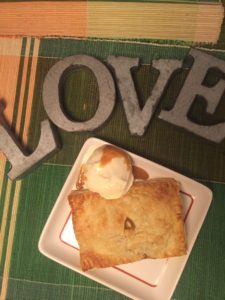 Apple-y Sweet LOVE,
YDP
P.S. So tell me, it's your turn…if you were a type of pie, what type would you be? Leave a comment below with your answer and you will be in to win a goodie!