Most people realize home cooked food is better for us then eating out.  We certainly know exactly what is in each dish we cook.  It can also be a massive financial savings.  However, for busy people the shopping and prepping of the food can put them off the benefits of eating at home.  So enter a new rising star…food boxes delivered to your door.  In America the popular one is Blue Apron, in the U.K it is Hello Fresh. All come with the necessary ingredients and easy to follow instruction recipe cards for your sit down restaurant quality dinner at home.  How does this fit into Soup Scentral week you ask?
Recently I was in the U.S. visiting my daughter and family.  She signed on to a vegan food box delivery called Green Chef.   I had fun making all the dishes and my daughter enjoyed the break from the kitchen. But there was one recipe that stood out for me that I wanted to share on here. And so this is for "the week that's in it". Yep since it is Soup Scentral, I felt it was the perfect opportunity to share not just a soup recipe, not just a vegan recipe, but also highlight the ease of this new style of cooking at home.
This Veggie Tofu Pho Noodle Soup recipe is easy, nutritious and delicious. Of course it was easy, all the bits and pieces were delivered in a box. Surprising though how much packaging is involved with the fresh food boxes services.  However, you still have to do the last minute chopping and prepping of the veg.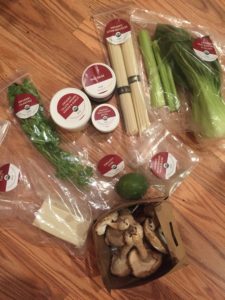 Ingredients:
Baby bok choy
Celery
Shiitake mushrooms
yellow onions (they arrived in pkg already chopped)
ginger (in pkg already prepped)
garlic (in pkg already prepped)
Cliantro (called Coriander in UK and Ireland)
Lime
Sprouted tofu
Udon noodles
Spicy Hoisin sauce
Anise-ginger spice blend
Pho base
Cooking oil
Salt and Pepper
Instructions:
Prep Veggies: Slice celery into 1/4 in pieces.  Halve the baby boy chop lengthwise. Rinse to remove dirt between layers.  Cut across into about 1/2 inch wide ribbons. Remove stems from the Shiitake mushrooms (the tender stems are fine).  Cut into about 1/2 inch thick slices.
Cook Veggies:  Heat about 1 1/2 Tbsp cooking oil in a large pot over medium with heat. Add celery, bok choy and mushrooms to the hot pot. Stir. Add the yellow onions, ginger, and garlic. Store to combine. Lightly season with salt and pepper. Cook 3 minutes, stirring occasionally.
Build Pho:  Add anise-ginger spice blend to pot with veggies; stir.  Cook 1 minute.  Add pho base, 1-2 tsp spicy hoisin sauce (reserve the rest), and 4 1/2 cups water. Stir. Bring to a boil then reduce heat to medium.  Simmer 5 minutes, stirring occasionally.
Prep Tofu:  Meanwhile, cut sprouted tofu into about 1-inch cubes.
Finish Pho:  Add tofu and udon noodles to pot with pho. Increase heat to medium high.  Simmer 8 minutes until noodles are tender, stirring occasionally. Salt and pepper to taste.
Prep herbs and lime:  Meanwhile, destem cilantro; roughly chop leaves. Cut lime into wedges.
Plate your dish:  Ladle veggie tofu between bowls. Drizzle desired amount of remaining spicy hoisin sauce over top (or omit). Garnish with cilantro. Serve lime wedges on the side. Enjoy!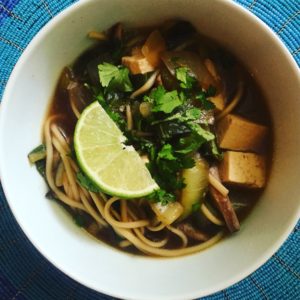 I must say this soup turned out so flavorful and filling. I had already started to eat it before I realized I'd better snap this pic before it was all gone!  All of the ingredients were organic and I really felt satisfied and energized after eating it. It was so quick to make as well. Pho  (pronounced "FO") is a Vietnamese staple and I used to eat it often when I lived in Los Angeles. There is a large population of Vietnamese immigrants there and it is easy to find good and affordable Pho take out restaurants. However, as you can see here, making it at home is very simple. And there is no concern about MSG or other nasty ingredients that might exist in take away foods.
All in all I am very impressed with this fresh food box concept. However, I enjoy the cooking and prepping of my own food, as it is my life's work. But this could be an option for Hubby if I am ever traveling. As he is known to eat a bowl of cereal or two if I am not around. LOL! And for anyone wondering the quantities in the recipe, unfortunately I didn't weigh them. They arrived packaged without the portion noted.
However, never fear, I found a wonderful Pho recipe at the blog In Sonnet's Kitchen. There are great photos of each step as well. I am going to try it out myself and will keep you posted on how it goes. Until then, have a think about whether getting a fresh food box delivery would suit you or not. I noticed that many services are offering promotions for the month of January. Some are even half off!  And I know a few bloggers that have been able to swap a box for a promise of a review. "Will write for food" could be your New Year's mantra!
I LOVE you Pho much!
YDP